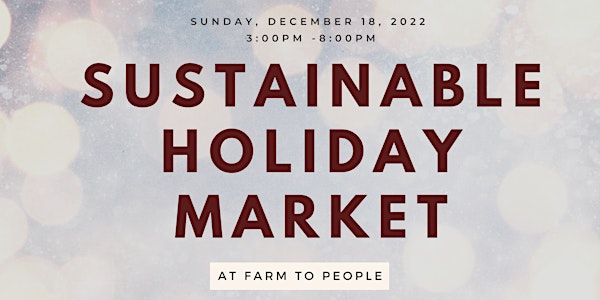 2nd Annual Sustainable Holiday Market
Shop, mingle, learn and enjoy local food and beverages at our 2nd annual Sustainable Holiday Market!
When and where
Location
Farm To People 1100 Flushing Avenue Brooklyn, NY 11237
About this event
Shop, mingle, learn and enjoy local food and beverages at our 2nd annual Sustainable Holiday Market!
Stop by the Farm to People warehouse anytime on Saturday, December 18th from 3-8pm. Shop local, low-waste vendors, socialize with other sustainable and eco-minded neighbors, and enjoy delicious drinks and snacks.
Makers include:
Wildgrid - Renewable energy
Good Bottle Refill Shop - Eco friendly wares and refills
UpRoot Design Studio - Joyful art, kits & tools for sustainable living
2nd Ground - Upcycled coffee soaps
ZEN-AMI - Sustainable, tribal & vintage jewelry
Corvus Jewels - Handmade jewelry made with vintage and upcycled beads
Honey Tellus - Ceramics
Samplemade - Pillows and wallets made from discontinued upholstery fabric
Pharm.NYC - Organic CBD health & wellness products
Third Date Lingerie - Sustainable, slow fashion lingerie ethically created in Brooklyn using 100% reclaimed fabric waste
Subject Matter - Vintage, preloved apparel and accessories
Stashe - one-of-a-kind upcycled clothing and accessories
House of Good Deeds - nonprofit dedicated to building community, leading by example, and improving the world through Altruism, one Good Deed at a time: everyone, everywhere, every day.
Rescuing Leftover Cuisine - nonprofit food rescue organization, operating across the US and headquartered in New York City, that redistributes excess food to people experiencing food insecurity.
Sanitation Foundation - official nonprofit of DSNY
Demos/Tastings:
Maranda from EcoBronx LLC will be leading a demo showing creative ways to upcycle common materials to wrap your special holiday gifts! They will also have some already-upcycled wrapping decor items for sale.
At 5pm sharp, Ronna from Purple Kale Kitchen works will be leading:
BEYOND PIE: One Apple: Three Ways.
For the nimble cook, apples are a tinkerer's treasure. In an apple, the nimble cook sees three different parts--the peel, core, and flesh--which lead down three different paths for great things to eat. Tastings include: apple peel slaw, apple core agrodolce, apples roasted with olive oil.
Food and drink will be available for purchase.