This virtual event is for Tribal Veterans and their families, providers, and stakeholders.
About this event
The 2nd Annual Statewide Tribal Veteran Symposium is a collaborative effort between Health Choice Arizona Tribal Program, Northern Arizona VA Health Care System and US Representative Tom O'Halleran's Northern Arizona Tribal Program. On behalf of the planning committee, we would like to welcome you to this year's virtual event. The Statewide Tribal Veteran Symposium was created to focus on Tribal Veteran Health, Healthcare and Wellness. This year, due to COVID-19 pandemic, we are not able to host an in person event, but we are happy to be able to connect virtually. We have a great line up of presenters and we are very excited and honored to feature D.J. Vanas as this year's Keynote presenter.
Once you have registered, be sure to go to the ONLINE EVENT PAGE to register for the scheduled presentations.
Presentations
2nd Annual Statewide Tribal Veteran Symposium Opening Session - November 2, 2020, 10:00am - 12:00pm
Moral Injury Perspective - Jeanette Devevo, LCSW, Suicide Prevention Team Program, PVAHCS (Phx VA) - November 2, 2020, 1:30pm - 2:45pm
Discharge Upgrade - Phoenix VA Regional Office (VBA) - November 4, 2020, 10:00am - 11:15am
Veteran Employment & Training Services - Adam Garrard, Veteran Workforce Specialist, USAF Ret. - November 4, 2020, 1:30pm - 2:45pm
Keynote - The Warrior Within by D.J. Vanas - November 5, 2020 9:00am - 11:00am
Post-Traumatic Stress Disorder (PTSD) & Family Support - Mark Godwin, LCSW, PTSD Specialist, NAVAHCS - November 5, 2020, 1:30pm - 2:45pm
Native American Cold Talkers - Holly Figueroa, Tribal Liaison, Health Choice Arizona - November 6, 2020, 9:30am - 11:00am
Traditional Healing Panel - Harrison Jim, John Tsosie, - November 9, 2020, 10:00am - 12:00pm
VA Video Connect and the Digital Divide - Amber Tea, RN, SAVAHCS - November 9, 2020, 1:30pm - 2:30pm
Infection Protection and You - Jamie Buchholz, MSN, RN, Infection Prevention and Control Professional PVAHCS - November 10, 2020 9:00am - 10:15am
Suicide Prevention - Lisa Lahaie, LCSW, Suicide Prevention Coordiantor - November 10, 2020, 1:30pm - 2:45pm
Veterans Day Cultural Exchange - Mighty Arrow Drum Group (Northern Cheyenne/Lakota) & Michael David Enis (Tohono O'Odham), November 11, 2020 12:00 noon - 1:00 pm
VA Health Care Benefits Enrollment & Eligibility - Aretha Scott, Chief of Health Benefits & Enrollment, PVAHCS - November 12, 2020, 10:00am - 11:15am
Cultural Exchange - Black Mountain Bird Singers (Colorado River Indian Tribe) & Shawn Namoki Sr.(Hopi), November 12, 2020, 12:00 noon - 1:00 pm
VA Community Care Network & TriWest Healthcare Alliance (A Joint Presentation) - Julie Vedda & Patrick Shipley - November 12, 2020, 1:30pm - 3:00pm
Transition & Care Management - Maggie Shewack, LCSW, PVAHCS - November 13, 2020, 10:00am - 11:15am
How to File a Disability Claim & More - Sherry LaMountain, Military Services Coordinator - November 16, 2020, 9:00am - 10:15am
Burial Benefits - Judy Dillman, Cemetery Administrator, AZDVS - November 16, 2020, 1:30pm - 2:45pm
Coming Home, Reintegration to Native American Ways of Life - November 17, 2020, 10:00am - 12:00pm
My HealtheVet - Paula Newsome-Williams, MA, BS, My HealtheVet Coordinator - November 17, 2020, 1:30pm - 2:45pm
Arizona Tribal Veterans Ceremonial Healing and Substance Use Disorder Best Practice - Dino Haley, SUDTP Social Worker - November 18, 2020, 10:00am - 11:15am
Introduction to Whole Health - Jerad Miles, MS, Registered Dietician, Community Living Center Dietician - November 18, 2020, 1:30pm - 2:45pm
Caregiver Support Program - Michele Heck, Chief of Social Work - November 19, 2020, 10:00am - 11:15am
VA Indian Health Service/Tribal Health Program Reimbursement Agreement - LoRae (Homana) Pawiki, Tribal Government Relations Specialist - November 19, 2020, 1:30pm - 2:45pm
Operation Shockwave - CaS Facciponti, MAJ(R) US Army - November 20, 2020, 9:00am - 10:00am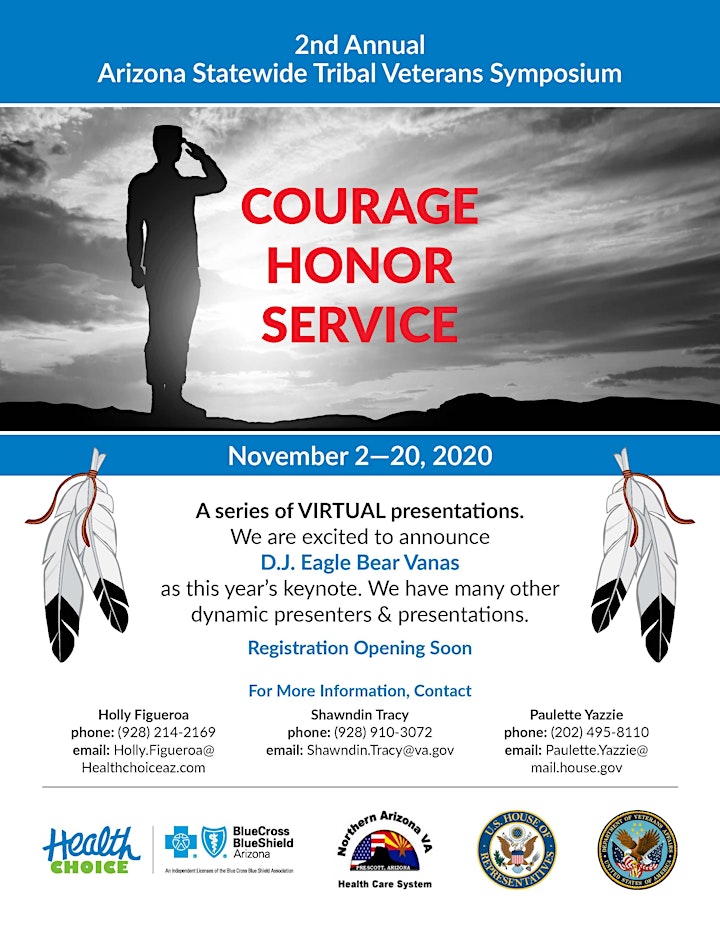 Organizer of 2nd Annual Statewide Tribal Veteran Symposium