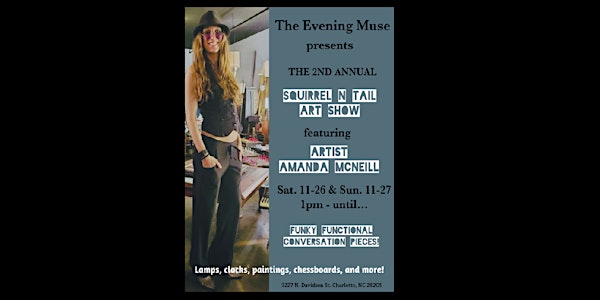 2nd Annual Squirrel N Tail Art Show - FREE and Open to the Public
ALL AGES
Amanda NcNeill & The Evening Muse
Artist McNeill presents "funky functional conversation pieces".
When and where
Location
The Evening Muse 3227 N. Davidson Street Charlotte, NC 28205
About this event
Everyone in the local Noda neighborhood knows her as "Squirrel" but Amanda McNeill needs to be known for her eclectic funky fun art pieces. MS McNeill is a living testimony to the old adage, "One man's junk is another man's treasure"! Join her at Evening Muse for this 2 day pop-up art gallery. Have a drink, talk with the artist and take home a treasure or more.
Sometimes it takes an extraordinary event to make you stop and ACTUALLY think and reflect on life. Not all extraordinary events are good…at least, not at first. My name is Amanda McNeill, also known as Squirrel, and I discovered art about 5 years ago, through such an event.
I'm a visual artist, so my medium entails a bit of everything…as long as it's broken or discarded! I bring back to life, usually with a new or different purpose, items that I find via dumpster diving, roadside shopping, or manifestation. My body of work includes funky, functional conversation pieces such as lamps, clocks, chessboards/pieces, tables, paintings, and anything else I conjure up in my squirrelly brain. For instance, my collection of lamps, titled 'Broke, But Lit,' are made from broken musical instruments! Just because a cymbal is broken and can't play music, doesn't mean it can't be a really dope lamp!
My art provides me a platform to showcase that broken is not synonymous with useless.