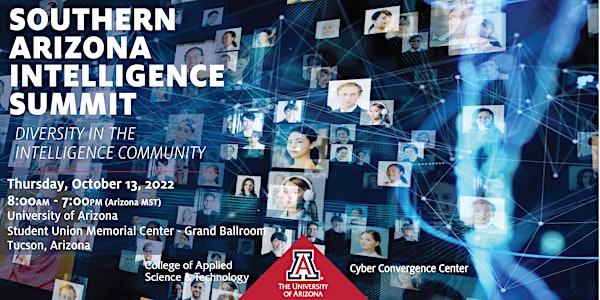 2nd Annual Southern Arizona Intelligence Summit
Register TODAY for the 2nd Annual Southern Arizona Intelligence Summit! (IN PERSON EVENT)
When and where
Location
University of Arizona Student Union Grand Ballroom 1303 E University Blvd Tucson, AZ 85719
About this event
STUDENTS: At the moment we are sold out, but we are studying options to open new spots. PLEASE DO NOT REGISTER UNDER ACADEMIA (UA Faculty and Staff ONLY).
Hosted by the University of Arizona, College of Applied Science & Technology in Sierra Vista, AZ, the 2nd Annual Southern Arizona Intelligence Summit (SAIS) will focus on "Diversity in the Intelligence Community". Our Keynote Speaker will be the Director of National Intelligence, Avril Haines.
FREE EVENT!
The 2022 Southern Arizona Intelligence Summit (SAIS) provides a unique opportunity for participants to hear from and engage with senior officials from the Intelligence Community (IC), Industry, and Academia. Our guest speakers will offer insights into the importance of diversity of thought within the Intelligence Community. Bringing together different perspectives will allow the IC to overcome the lack of creativity and imagination that leads to group think. This critical issue must be examined and actively managed in order to provide the Nation the ability foresee and prepare for future global challenges.
The 2022 SAIS will feature guest speakers and recruiters from the Office of the Director of National Intelligence (ODNI), the Central Intelligence Agency (CIA), the National Security Agency (NSA), the Federal Bureau of Investigation (FBI), SPACEFORCE, the Department of Defense, Department of State, Department of Homeland Security, the Arizona Counter Terror Intelligence Center (ACTIC), and the Arizona's Governor's Office.
Invited to attend are distinguished representatives from Fort Huachuca and the United States Army Intelligence Center of Excellence (USAICoE), Davis-Monthan Air Force Base, Luke Air Force Base, the Arizona National Guard, the Arizona's Governor's Office, members and staff from the Arizona Congressional delegation, Arizona State legislators, the Defense Information Systems Agency (DISA), the United States Air Force Academy, leaders from the Cities of Sierra Vista and Tucson, as well as senior leaders from the Arizona Board of Regents and the University of Arizona.
* A portion of the proceeds from the event will be used to provide scholarships to the next generation of Intelligence Professionals at the University of Arizona.
REGISTER TODAY! This is a FREE event.