Bakersfield Sister City invites the public to the 2nd annual Sister City Gardens Festival--celebrating our cultural diversity and community.
About this event
IT'S BACK! THE SECOND ANNUAL SISTER CITY GARDENS FESTIVAL
In November 2018, Bakersfield Sister worked with Councilman Andrae Gonzales and the City of Bakersfield to sponsor the first Sister City Gardens Festival. The festival, which was held in the Sister City Gardens at Mill Creek, showcased the foods and cultures of Bakersfield's five current Sister Cities. There were also activities for children at activity booths throughout the gardens. All attendees were encouraged to pick up a passport at the "Passport Office", and have it stamped as they visited each garden and completed an activity there.
The first festival was an unqualified success, both as a fun and educational activity for Bakersfield families and as a way to boost public awareness of Bakersfield Sister City programs.
If you missed this fabulous festival, don't despair. The Sister City Gardens Festival is returning:
WHEN: Saturday, November 16, 2018: 10 am ~ 3 pm
WHERE: The Sister City Gardens: 18th Street between R and V Streets.
The City of Bakersfield & Bakersfield Sister City Project Corporation invite the public to the Second Annual Sister City Gardens Festival. Join us in celebrating our city's cultural diversity and community spirit. Explore the five Sister City Gardens and learn more about the people and cultures of Bakersfield's current Sister Cities of Amritsar, India; Bucheon, South Korea; Cixi, China; Santiago de Queretaro, Mexico; and Wakayama, Japan. Also, learn about Bakersfield's soon-to-be newest Sister City: Saint Jean de Luz, France—a Basque city on the Bay of Biscay.
Entertainment will include performance groups representing the cultures of the various sister cities, including dancers, martial arts demonstrations, and more. There will also be fun activities for children.
Be sure to have your child pick up a passport and have it stamped at each activity booth.
A variety of ethnic foods and drink will be available for purchase from vendors.
Don't miss this unique opportunity to learn more about Bakersfield's Sister City programs.
Fun for the Whole Family!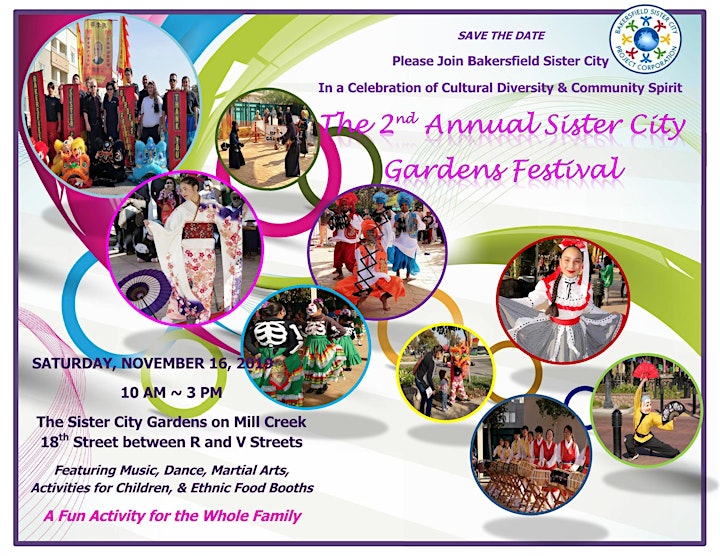 Organizer of 2nd Annual Sister City Gardens Festival
Bakersfield Sister City is an all-volunteer, non-profit oraganization that serves as Bakersfield's link to the international community and especially to the governments and citizens of Bakersfield's six Sister Cities:
The Sister City program provides the opportunity both for cultural, educational, municipal, business, professional and technical exchanges between different cities and for local community development and volunteer action by motivating and empowering private citizens, municipal officials and business leaders to conduct long-term programs of mutual benefit.