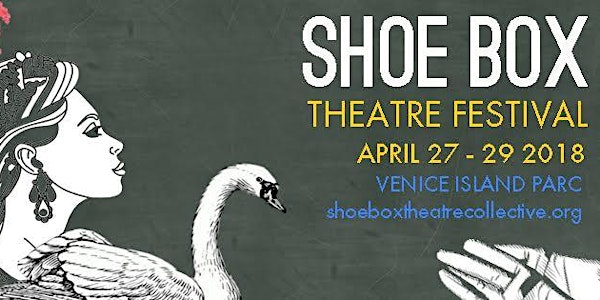 2nd Annual Shoe Box Collective Short Theatre Festival
When and where
Location
Venice Island Performing Arts & Recreation Center 7 Lock Street Philadelphia, PA 19127
Refund Policy
Refunds up to 7 days before event
Description
The 2nd Annual Shoe Box Short Theatre Festival!
The Shoe Box Short Theatre Festival is a weekend-long celebration of live theatre featuring an interdisciplinary array of performance styles: comedy and drama, dance and movement, cabaret and improv. The full listing of events, as well as show descriptions and cast lists, can be found below.

The festival will take place at The Venice Island Performing Arts Center from 4/27 - 4/29. Food and refreshments will be sold at the venue. For information and ticket links, visit our facebook event:

https://www.facebook.com/events/405642699861444/
www.shoeboxtheatrecollective.org


FRIDAY EVENING 4/27

7:00 - White Gloves
There is no such thing as merely wanting to be a butler. You have to dream to become a butler. The International Butler Academy is a very real institution that takes the mere fantasies of maintaining status and poise and turns them into reality. For becoming a butler is not merely maintaining a manor, but is the achievement of a dream.
Tom England: Director
Derek Muller: Assistant Director
Tara Leomporra: Stage Manager
Tom England & Skip Robinson: Producers
Cast:
William: Skip Robinson
Headmaster: Ken Scudder
Audrey: Annie Briskey
Harold: Jacob Smolinski
Brother: Tom England
Playwrights:
Tom England & Skip Robinson

7:45 - Modern City Clown Girl
What a gloriously awful garbage-fire this past year has been. Through a series of stand-up monologues and comedic interpretive dance, one disillusioned shell of a human will delve into the past year of her life and find the source of all the nonsense.
Creator/Performer: Bonnie Baldini
Producer: Griffin Back

8:30 - Rainbow Children, Angel Babies and Fruitless Fig Trees
Inspired by the structural format of "For Colored Girls..." and "Women on Fire" this piece is an exploration of infertility, loss and barrenness in support of pregnancy and infant loss awareness. Through a series of monologues, song and dance, "Rainbow Children, Angel Babies and Fruitless Fig Trees expresses the stages of grief (denial, anger, bargaining, depression and acceptance) for those who have experienced loss or inability to have children.
Director: Cynthia L. Dorsey
Playwright and Performer: Veronique LaShell MacRae

9:00 - Let's Build a Ritual!
The space to be a part of society is predicated by the mythological roles we are allowed to partake in. In this piece, there is space for any thing or any one to be metaphysically significant. Together, actors and audience explore the nature of ritual to assign meaning, challenging and questioning meaning in the process. Through physical movement, call and response, and the development of rites, the piece builds to a final climax--the unbound space to create meaning.
Cast: Owen Corey, Lisa VillaMil, Kate Sparacio
Director: Patrick Derrickson
Crew: Owen Corey, Lisa VillaMil, Kate Sparacio

9:30 - A Night of No's
"A Night of No's" or, "a study relating to the meaning of being an artist". A cavalier, quirky, and comedic cabaret about one actress just trying to find her "type."
Performer: Kaitlin Healy
Accompanist: Damien Figueras


SATURDAY AFTERNOON 4/28

2:00 - Ugly Swan
Ugly Swan, written by Rory Kennison, follows Felix throughout his childhood and into young adulthood. Growing up is hard, and as Felix comes to grips with all the various roles he must play in his life, he also has to find time to figure out what role the wings he was born with play in his life.
Rory Kennison - Director and Playwright
Actors:
Kat Larson
Cat Slanski
Victoria Hartson
Kate Smokowicz
Theodora Rodine
Margot Wisel
Joseph (Johanna) Loh
Saria Rosenhaj
Props specialist - Amy Radbill
Dramaturg - Catharine Slusar

3:00 - The Architecture of Twinness
On architecture and on Bodies, similar and distinct.
Director/Choreographer: KC Chung Manning
Performed by:
Camilla Dely and
Jo Vito Ramirez

3:30 - Forbidden Apple
Everything in teenager Eve Mitchell's life was going fine until God decided to tell the world that she was the anti-christ, set about to bring the end of the world. As the clock counts down to the apocalypse, Eve must navigate her relationships with her loved ones in this play about how inner-demons affect our lives.
Cast:
Emily Shue as Eve
Angela Bey as Fran
Allison Rohr as Jill
Jordan Hodess as John
Satchel Harp-Monseau as Radio Announcer
Taahira Davis as Caller 1/Caller 2/Jess.

4:00 - Dates with Ex-Lovers: A Historical Retrospective
Excerpted from my full-length show, A Wake For Love, the piece is a cabaret of vignettes smack in the middle of my messiest, most glorious, most terrible romances, lived out as dates with sweethearts from modern American history--- James Bond, Ringo Starr, Tom Jones, and John F. Kennedy to name a few. These vignettes manifest as puppet shows, burlesque performances, straight storytelling, drinking games, and moments of audience engagement that create space for thinking about intimacy and heartbreak in the midst of this great disaster story of love.
Written, directed, and performed by Erica Rice


SATURDAY EVENING 4/28

7:00 - Film Noir Improv
An improvised romp through the world of fedoras and femme fatales. Two actors will create a Noir based on a title suggested by the audience and the only guarantee is there will be no third man.
Cast and Crew: Kayla Tyson and Stephen Kadwell

7:45 - Tammy Whynot: Why Not One Night Only
After decades in show business, Tammy Whynot returns to the Twin Falls Opry House where it all began. Songs, stories and surprises abound.
Cast and Crew: Nate Biagiotti.

8:30 - Sheep!
Sheep! showcases two sheep who have been trained to perform a magic show for human audiences. They can't read books or write poems or even ride a bike, but they can wow and enchant their audiences with brilliant magic acts. Is that the existence they really deserve though? Are sheep meant to solely obey instructions and entertain their masters? Or could it be time for a sheep to think for herself and write her own destiny? Sheep! explores the absurd and cartoonish to reveal the somber existence that we all endure.
Playwright: J. Gulotta
Director: Rae Labadie
Company: Becca Khalil, Morriah Aleese Young, Claire Pitts, Nic Labadie-Bartz, J. Gulotta

9:30 - LATE LATE LATE LATE LATE with Sir Daffodil

Carson. Cavett. Letterman. Conan. Arsenio. Daffodil.
These are the titans of the late night talk show, that most storied American television phenomenon. Or at least, most of them are. Sir Daffodil hasn't really made a name for himself yet. To do that, he needs to find his schtick. What makes a simple Clown stand out in the hypercompetitive talk show ecosystem?

LATE LATE LATE LATE LATE is a devised Clown comedy about one late night host's journey of self-expression, and the cavalcade of absurdity that he surrounds himself with.
Director: Ryan Rebel
Cast:
Alexis Howland as Sir Daffodil
Jo Vito Ramírez as Compote
Chris Esperance as TBD​
Erica Gooch as TBD
Sara Group as TBD


SUNDAY AFTERNOON 4/29

2:00 - The Yellow Wallpaper
What happens when a woman is put in a room for three months, with little to no outside stimulation and only a repugnant gaudy wallpaper for company? Adapted from Charlotte Perkins Gilman's short story of the same name, The Yellow Wallpaper delves into the psychosis wrought from extreme isolation and depression, in this psychological thriller.
SMOOCH Productions
Cast:
Neena Boyle
Billy McHattie
Megan Edelman
Director/Playwright:
Geremy Webne-Behrman

2:30 - Deserted
"Deserted" is a ten-minute play chronically the dramatic last moments of Private Kevin Crawford's life, as he wanders aimlessly through the desert after going AWOL from his base in Iraq. During the course of the play, Crawford is visited by phantom figures of important male role-models in his life including a mysterious appearance from a Corporal from Crawford's camp, a vision of Crawford's high school English teacher, as well as an encounter with the private's deceased father. Crawford wriggles through the sand and empties his pack as he goes along, leaving behind the physical and metaphorical weight of his memories and learning the importance of letting them go.

3:00 - Elysian Fields
Elysian Fields improvises a 45 minute play in the style of Tennessee Williams, channeling a world of tortured, desperate characters while fearlessly exploring the themes of instability, marital strife, and repression featured in the works of the great American playwright. The cast creates a show ripe with unfulfilled dreams, desires, and the struggle to find escape from a harsh reality.
Elysian Fields is:
Rachel Greenman
Chris Berg
Kevin Zakszewski
Rudy Flesher
Shirin El Garhy
Kelly Watana
Ruthie Iglesias

3:45 - Balance & Bind
Balance & Bind focuses on a girl who has to look inside herself as she deals with the heartbreak and happiness of all the relationships (both romantic and friendly) in her life. She uses her yoga practice to help her come to terms with who she is as she navigates the changes that come with growing up.
Cast: Maria Eliades

4:00 - A Final Impossibility
A Final Impossibility is a new play about examining the infinite histories of the Universe and America through the lens of Norman Rockwell's collaboration with Pierre Mion on three paintings commissioned by NASA to commemorate the 1969 Lunar Landing. The play alternates between the narrative of existential crisis unfolding in Rockwell's studio and vignette scenes of past events which (may) have occured exactly in the place of the theater hundreds or even thousands of years ago. A Final Impossibility straddles the line between play and art study — reaching out for the heroes of Stoppard, Churchill, and Beckett. The play questions the very role of the venue in which it is performed and also the space and time in which it exists. More than anything, A Final Impossibility is concerned with being alive, and how being alive necessitates talking about it. What do Norman Rockwell and the speed of light have in common?
Norman Rockwell: Gorman John Ruggiero
Pierre Mion: Cameron Delgrosso
Vignette Performer: Maya Knell
Violinist: Zaki Hagins
Tap Dancer: Jessica Money