2nd Annual RocketSpace Open Innovation Summit

Monday, September 9, 2013 at 1:00 PM

-

Tuesday, September 10, 2013 at 12:00 AM (PDT)
Event Details
Online Registration for this Event is now closed. Limited tickets are available at the door. 
2nd Annual RocketSpace Open Innovation Summit 
You are invited to join an exclusive gathering of futurists, thought leaders, and change makers in corporate innovation for a two day interactive summit.
This event is designed for innovation practioners, investment managers, and platform evangelists tasked with charting the future of their industry and driving technology diffusion through their innovation programs. 


Featured Participants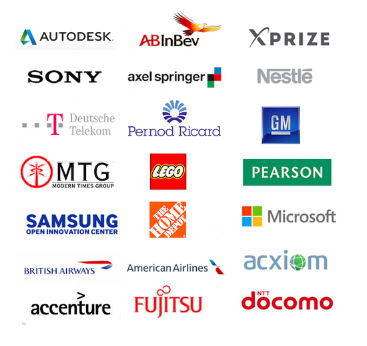 Day 1: Charting the Future
 
1:00 - 1:30 pm Coffee & Registration

1:30 - 2:00 pm Day-1 Welcome Address
 

 Duncan Logan
 founder/ CEO
 RocketSpace


2:00 - 3:00 pm Charting the Future: accessing cross-industry emerging technology opportunities 

 Bernhard Gold 
 Investment Director
 T-Venture of America 

 Brian Killen
 Chief Strategist
 Acxiom

 Dave Chou
 Cloud Solutions Architect
 Lockheed Martin



 Jennifer Fielding
 Head of Digital Ventures
 BBC
 

 Winston Wang
 Global Director of Strategic Innovations 
 Anheuser Busch



 Mike Chen  (Moderator)
 Program Dir, Corporate Innovation     
 RocketSpace  


3:00 - 4:00 pm Abundance 360: Exponential Technologies & Tools
                      Keynote by Peter Diamandis, founder of X-Prize & Singularity University




Peter Diamandis is the founder and chair of the X Prize Foundation, a nonprofit whose mission is simply "to bring about radical breakthroughs for the benefit of humanity." By offering a big cash prize for a specific accomplishment, the X Prize stimulates competition and excitement around some of the planet's most important goals. Diamandis is also co-founder and chairman of Singularity University which runs Exponential Technologies Executive and Graduate Student Programs.
Diamandis' background is in space exploration -- before the X Prize, he ran a company that studied low-cost launching technologies and Zero-G which offers the public the chance to train like an astronaut and experience weightlessness. But though the X Prize's first $10 million went to a space-themed challenge, Diamandis' goal now is to extend the prize into health care, social policy, education and many other fields that could use a dose of competitive innovation.

4:00 - 7:00 pm Startup Networking Reception Mixer
 
 
Day 2: Innovation Management
 
1:00 - 1:30 pm Day-2 Welcome Address
 

Eryc Branham
 CRO 
 RocketSpace


1:30 - 3:30 pm Innovation Genome Workshop
                      Bill O'Connor Autodesk, founder of Innovation Genome Project

Bill O'Connor works on the Corporate Strategy + Engagement team at Autodesk, where he co-manages the company's thought leadership platform, edits the Autodesk POV journal, works on the Autodesk vision team, and serves as the primary speechwriter for Autodesk's CEO and CTO. His role at the company is to take the big ideas that are important to Autodesk and make them more valuable inside and outside the company. This involves tracking and analyzing trends in design, technology, business, and society, and applying those trends to Autodesk and its customers. Bill also runs The Innovation Genome Project, where he and his team are in the process of researching the top 1,000 innovations in world history, looking for practical patterns and insights that people can apply to their day-to-day work. Bill has written and presented widely on all things Internet, including a piece called "Create or Be Created: The Internet Renaissance" on the peer-reviewed journal First Monday.Org, as well as appearances on CNN and at Yale University. He currently serves on the advisory boards of two Bay Area technology startups.


3:30 - 4:15 pm Disruption from Within: Keys to Successful Innovation Programs



 Brendon Kim 
 Managing Director 
 Samsung Open Innovation Fund
                                                    

 Brian Gorbett
 Principal
 Microsoft Ventures      
 

Diana Stepner 
 Head of Future Technologies
 Pearson  
                                                            


 Regan Long 
 Business Innovation Manager 
 Mercedes-Benz 
                                                                   

  Mike Chen (Moderator)
  Program Dir, Corporate Innovation     
  RocketSpace                          
 
 
4:15 - 5:15 pm Startup Showcase
 
Atooma (4:15)
Atooma is a contextually aware horizontal intelligence platform that enables the connection between software sensors, hard sensors, and physical world's hard sensors like wearable devices, smart tv, connected cars, and potentially many other devices. Our cloud based engine makes different worlds talk together and create a pre-emptive layer around the users.  
 
Kanjoya (4:30)
Crane Emotional Intelligence Platform™ is the leading emotion analytics platform powered by advanced natural language processing (NLP) technologies. Our algorithm enables companies to unlock the knowledge within rich and valuable narratives in online forums, transcripts from call centers, customer and employee surveys and social media conversations to reveal the meanings and emotions behind users' intentions and decisions.
 
Incentive Challenge Foundation (4:45)
Our mission is to accelerate the invention and market availability of technologies that reduce gun-related injuries and death. As a thought leader in the area of innovation, our founder and president Monty Kosma will bring together the strongest talent and drive development of marketable products that will transform ultimate problem of violence. By forging an ecosystem of innovation with strategic application, we will drive social change and curb the tide of gun violence, giving Americans and their communities the opportunity to lead safer lives.
Nanosatisfi (5:00)
Affordable access to space through a user programmable imaging and data platform. For $250/week. The satellites (2 launched Aug 2013, 1 scheduled for Dec 2013 and more coming in 2014 and beyond) cost an order of magnitude less to build, launch and operate than traditional satellites. They are based on the flexible CubeSat standard form factor, meaning they do not require a dedicated rocket launch, and are no bigger than a nice bottle of wine. Nanosatisfi is bringing Moore's Law to space, leveraging off-the-shelf technology advancements here on Earth, and the economies of scale enjoyed by consumer electronics companies to deliver unprecedented access to space. 

6:00 - 9:00 pm Innovation executive dinner @ RSVP before 9/6

* conference attendees are encouraged to attend TechCrunch Disrupt or enjoy complimentary workstation access at RocketSpace Open Innovation Campus in the mornings.
 

Video from Last Year

Attendee List
Sort by:
Date
When & Where

RocketSpace Studios
340 Pine St
San Francisco, CA 94104


Monday, September 9, 2013 at 1:00 PM

-

Tuesday, September 10, 2013 at 12:00 AM (PDT)
Add to my calendar