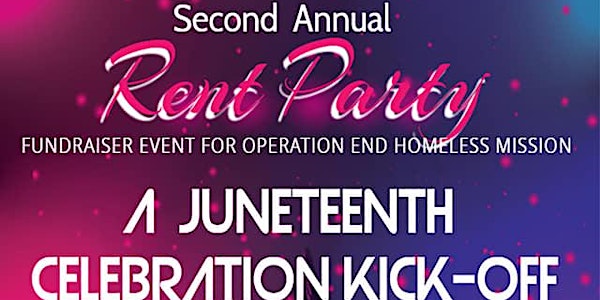 2ND ANNUAL "RENT PARTY" FUNDRAISING EVENT FOR OPERATION END HOMELESS MISSIO...
Location
Masonic Prince Hall Grand
4525 Olive Street.
St. Louis, Missouri 68108
Sales Have Ended
Registrations are closed
Visit the Operation End Homeless Mission website for updated information and details for the raffle here: https://www.EndHomelessMission.org
Description
THIS EVENT IS CANCELLED AT THIS LOCATION, VISIT WEBSITE FOR UPDATES FOR OUR NEW LOCATION, DATE AND TIME.
PURCHASE ONE OF THE 4 VENDOR SPOT WHILE THEY ARE AVAILABLE! YOU'LL GET A 2ND DAY FOR HALF OFF AT OUR NEXT EVENT IN JUNE. THE NEXT EVENT WILL BE AT HARRIS-STOWE STATE UNIVERSITY JUNE 17- 22, 2019. YOU CAN GET A 3RD VENDOR SPACE WITH US FOR FREE IF YOU GET THIS OFFER BEFORE APRIL 2ND HERE ON EVENTBRITE. IT'S YOUR CHOICE FOR THE 3RD VENDOR EVENT IN JUNE OR SAVE IT FOR NEXT YEAR. THERE ARE MANY PLANNED EVENTS THROUGH THIS SUMMER, INCLUDING OUR MAJOR FUNDRAISERS IN JULY. WE ARE WORKING DILIGENTLY TO RENT THE CONVENTION CENTER AND DOME THIS YEAR. THE RENT PARTY FUNDRAISER AND THE EVENTS AT HARRIS-STOWE ARE FUNDRAISERS TO HELP US WITH THE EXPENSIVE NEEDED TO RENT THE CONVENTION CENTER AND DOME EVENT.
SO GET IN NOW FOR THIS OPPORTUNITY AND SUPPORT A GREAT CAUSE TO HELP END HOMELESSNESS FOR MANY PEOPLE!
******** Details on the website and below. *******
This event is a fundraiser for Operation End Homeless Mission. We're coming together to raise the funds that are needed to help with expenses for a much larger event in June and July. Our goal is to use the St. Louis Convention Center and Dome Stadium in July to raise the millions needed to help many families get out of homelessness or avoid it. The 2nd Annual "Rent Party" for June 8th will help cover a bigger event in June at Harris-Stowe State University. Because Harris-Stowe is a HBCU and now one of our supporting sponsors we are combining our JUNETEENTH CELEBRATION with our COMEDY FESTIVAL. These events will help cover the July events for our Comedy Festival Finals and Guinness World Record attempt at the Dome. All these events are fundraisers to help the END HOMELESS MISSION.
At this year 2nd Annual "RENT PARTY" we will have raffles for Gift Cards and Rental/Mortgage Assistance Prizes to help a some of our attendees supporting our efforts to help the End Homeless Mission. We will also raffle off some gifts from local businesses supporting our efforts. If you would like to be a sponsor or donate some items for our raffle please contact us at 314-243-6034.
Please visit Operation End Homeless Mission website link for more details about this event and all upcoming events.
Thank you in advance for supporting this event and helping us help other's get their lives on track!
Sponsored by Midwest Show Me Funny Entertainment