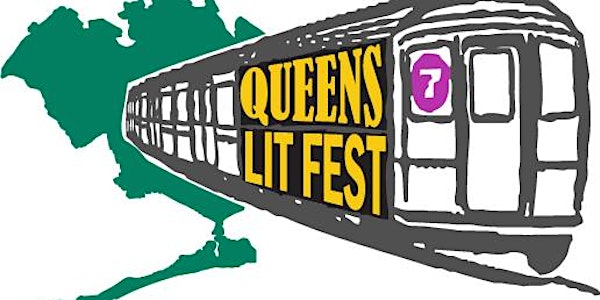 2nd Annual Queens NYC Lit Fest - Poetry, Prose, Spoken Word @ LIC Landing
Location
LIC Landing
52-10 Center Boulevard
Queens, NY 11101
Description
InspiredWordNYC and PoetryTeachersNYC in collaboration with Hunters Point Parks Conservancy and COFFEED present a two-day summer weekend celebration of the literary arts community in the New York City borough of Queens - the 2nd annual Queens Lit Fest @ LIC Landing.

*****
When: Saturday/Sunday, July 16-17, 2016
Time: 11:00am-8:00pm both days (open mic sign-up starts @ 11am)
Where: LIC Landing
Hunters Point South Park
Long Island City, Queens, NY 11101
http://www.liclanding.com/

ALL Ages Welcome!
Admission: FREE
RSVP now! And please SHARE on social media with the hashtags #QueensLitFest & #QueensLitFest2016
Find us on Facebook, Twitter, and Instagram @QueensLitFest.

*****
Queens Lit Fest Organizers:
Mike Geffner, Queens Lit Fest Founder, Founder/Producer, Mike Geffner Presents The Inspired Word - http://inspiredwordnyc.com/
Megan DiBello, Founder, Poetry Teachers NYC - https://www.poetryteachersnyc.com/
Mark Christie. President, Friends of Queens Library of Hunters Point
Mission: 1) to bridge the gap and bring together the diverse Queens literary arts community @ LIC Landing, a stunning symbol of the NEW Queens, in the heart of the borough's booming section of Long Island City and 2) to create a dynamic event that is unpretentious, all-inclusive, and filled with heart, soul, and love.
*****
This event is funded in part by Poets & Writers with public funds from the New York State Council on the Arts with the support of Governor Andrew Cuomo and the New York State Legislature.
*****
The Story Behind the Queens Lit Fest -
http://www.pw.org/content/queens_lit_fest
*****
The Progamming:
On the utterly gorgeous waterfront Long Island City space of LIC Landing, with its unfeterred, breathtaking view of the Manhattan skyline, the 2nd Annual Queens Lit Fest will include a compelling two-day program of three open mic portions each day (five-minute slots of poetry, prose, and spoken word that can be secured online; you can ONLY SIGN UP ONCE over the two days lest your order be deleted; NO MUSIC), featured writers (such as longtime Queens Poet Laureate Paolo Javier), showcased Queens-based reading series, groups, and organizations, as well as four musical interludes by top-notch musicians.
Please support our efforts with any donation of $1 and up. It will be much appreciated. Anything $50 and up will be considered sponsorship. If you're a sponsor, we will place your name/business name on this page in the order of contribution (from highest to lowest), as well as share your generosity on our various social media channels (which reaches 50K+).
100% of donations/sponsorship dollars will help defray costs and pay for featured artists.
*****
Hosts
Megan DiBello
Berry
Featured Writer
Paolo Javier - Queens Poet Laureate (2010-2014)
*****
Schedule:
Saturday, July 16
11:00am – Open Mic Sign-up
11:30am-1:00pm – Event Begins with Open Mic
1:00-1:30pm - Mystery Writers of America/Queens Edition (Lyndsay Faye, Alex Segura, Laura Joh Rowland, Radha Vatsal, Nancy Bilyeau)
1:30-2:00pm - Line Break Reading Series (Kambri Crews, Andrew Willette, William Shunn)
2:00-2:30pm – Former Queens Poet Laureate Paolo Javier

2:30-3:30pm - Open Mic
3:30-4:00pm - Bard High School Early College (Fleidy Aponte, Adrian Tomby, Brandon Ekweonu, Judah Lange)
4:00-4:30pm - PoetryTeachersNYC/InspiredWordNYC (Jonathan Cherlin, Lucy Torres, Bryan Ogilvie)
4:30-5:00pm - Hip Hop Artist Billy Conahan
5:00-6:30p,m - Open Mic
6:30-7:00pm - InspiredWordNYC (Richie Alexandro, Linda Kleinbub, Sana Hussain)
6:30-6:40pm - Joan Willette, founder of The Enchanted Goddess: Literary Creative Arts Community

6:40-6:50pm - Safiel Vonay, founder of TheNYCGrind
6:50-7:00PM - Kevin Anglade, Flowered Concrete
7:00-7:30pm - Singer/Songwriter Samantha Leon
7:30-8:00pm - Open Mic

Event Ends
*****
Sunday, July 17
11am – Open Mic Sign-up
11:30am-1:00pm – Event Begins with Open Mic
1:00-1:30pm - Risk of Discovery Reading Series (Susan Weiman, Peter Marra, Tony Paterniti, Micah Eaton Zevin)
1:30-2:00pm - Singer/Songwriters Katelyn Richards and Shako Khiski
2:00-3:30pm - Open Mic
3:30-4:00pm - Nature of the Muse Reading Series (Audrey Dimola, Jack Feldstein, Tippy Rex, Timothy Bell)
4:00-4:30pm - Queens Writers' Lab (Mary Lannon, Jared Harel, Meera Nair, Catherine Fletcher)
4:30-5:00pm - Oh, Bernice! Reading Series (John Reid Currie, Ann Podracky, Jenna Telesca, John Rice)
5:00-6:00p,m - Open Mic
6:00-6:30pm - Singer/Songwriter Olithea

6:30-7:00pm - InspiredWordNYC/PoetryTeachersNYC (Kevin Marquez, Alyssa D'Amico, Jennifer Harmon, Jessica Torres)

7:00-7:30pm - Singer/Songwriter Marc Montfleury
7:30-8:00pm - Open Mic

Event Ends
*****
Sponsors
Funkadelic Studios - http://funkadelicstudios.com/
Joan Becht Willette - https://www.facebook.com/theliterarygoddess
Bargain Printing - https://www.bargainprinting.com/
Kevin Marquez - http://tinyurl.com/j9y4fe5
Interested in a table? Use the Contact the Organizer option on this page.