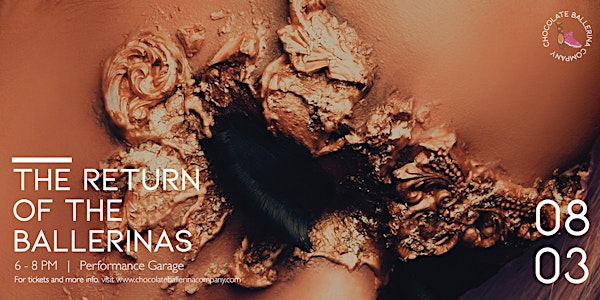 2nd Annual Premier Prima | The Return of the Ballerinas
By Chocolate Ballerina Company
Date and time
Saturday, August 3, 2019 · 6 - 8pm EDT
Location
Performance Garage 1515 Brandywine Street Philadelphia, PA 19130
Description
Doors open at 5:30 PM
Chocolate Ballerina Company, led by Artistic and Executive Director Chanel Holland, presents the 2nd Annual Premier Prima, featuring The Return of the Ballerinas, a full-length masquerade themed ballet with choreographic works by Chanel Holland, Choreographer in Residence Ashley Hackney, and a premiere from our Principal Dancer Aliya Anderson.
Influenced by the classic Broadway musical, Phantom of the Opera shares a realistic struggle for granting women lead roles. The Return of the Ballerinas sheds light on the political injustices of women. Other aspects include judicial prejudices of African American men, society's social influences, and the hard truth of Black ballerinas in the arts.
Guest appearance by Outbreak Dance Company, a Philadelphia-based contemporary dance training company co-founded by Ashley Hackney and Shanti Singleton.
The dramatized ballet will illustrate the beauty of Balanchine, Graham, and Horton techniques, including diverse music from Stevie Wonder, Lyn Collins, and Kirk Franklin. Stage sets designed by architect majors at Temple University's Tyler School of Art + Architecture.
Chocolate Ballerina Company is delighted to partner with these organizations to celebrate artistry, empower the next generation, and inspire change in society.
Post-Performance Activities
Oh, and let us not forget! Join us for a meet + greet session with Chocolate Ballerina Company and enjoy a fruity wine cocktail by Adorned By Her, refreshing summertime beverage by Farrah Made Lemonade, handmade sweets by Raw Desserts, and snacks from In the Kitchen with Kitta.
About the organizer
Chocolate Ballerina Company is a contemporary community-based dance organization that caters to hidden talents in youth and adult artists of color in the Greater Philadelphia region. Traditional ballet poses infused with urban pop culture dance form; Chocolate Ballerina displays a unique genre to the community. Illustrating the cross between cultural differences and passion similarities, we use dance as a powerful tool to engage, educate, and perform for all people. As we continue to grow, on and off stage, we strive to fight for artists' equal opportunity to express feelings and emotions through dance and gain the confidence to carry the legacy of this unique form.