2nd Annual PenCraft Award Ceremony for Literary Excellence (Public Invited)

Saturday, November 10, 2018 from 7:00 PM to 10:00 PM (CST)
Event Details
The 2018 PenCraft Award committee cordially invites you to our Second Annual PenCraft Award Recognition Celebration. 
On November 10, 2018, ten award-winning authors from across the country will share an evening at the PenCraft Award Ceremony and Dinner at Book Nook Inn, Lumberton, Texas. They will be there to accept their awards, meet and greet fans, members of the press and other authors. If you've ever wanted to know who those people are whose imaginations create the stories you read, see on TV and in movies, this is your chance. The public is cordially invited to join the authors for their "meet and greet," their dinner, and award ceremony. The "meet and greet" and dinner starts at 7 pm. Come and enjoy a different kind of a night in an elegant setting with some of today's most talented authors. Seating is limited, so get your tickets early.

At the conclusion of the ceremony and dinner,  drawings will be held for over $600 worth of Door Prizes which will be given to some lucky guests.   In addition to the door prizes, we will culminate the evening's festivities with a reading of 20 Powerball® lottery tickets especially bought for the event.  If we're lucky and have winning numbers – the winnings will be split among all who have bought PenCraft Award event tickets and came to the event.
So November 10, 2018, you get to meet some great Authors, share in their victories, hear how they did it, enjoy a great meal with friends, and get 20 more chances to win the Powerball® Jackpot. What other event offers all that?
The award-winning Authors scheduled to attend this special PenCraft Award dinner and the "meet and greet" include Anne Howard, the author of the nonfictional book, "His Garden: Conversations with a Serial Killer." Howard's book will be featured in an episode of "21st Century Serial Killers," airing on Netflix in Europe in late 2018 and in America in 2019.  Interviews with Howard were also featured in a recent episode of "Crime Watch Daily." Howard looks forward to answering your questions about her book and her upcoming NetFlix episode.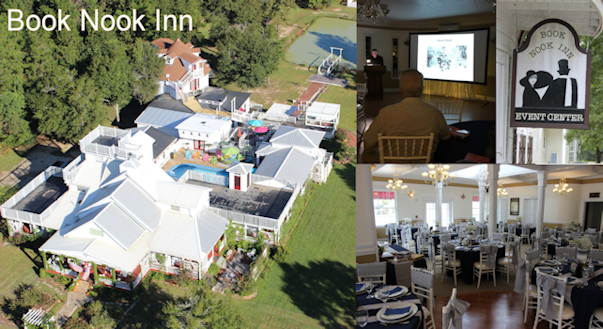 Brad Chisholm & Claire Kim from California, co-authors of "Kat & Maus" and "K-Town Confidential." are winners of multiple book awards. Their book, K-Town Confidential has that noir element that is centered around crime and featuring characters that are rendered powerless by situations rarely resolvable with a happy ending. The LA/K-Town setting is dark and mean and speaks to the difficult struggle of Korean immigrants assimilating to American culture. They will be present to answer questions about writing as a duo and questions about their two winning books.
Kishan Paul author of The Second Wife: The Second Wife Series (our book of the year) - A fast-paced psychologically stunning, intricately written piece of fiction that parallels the real-life dilemmas of the many women who are annually kidnapped in our world to be married off or to be used as sexual slaves. The National Crime Information Center (NCIC), reported that in 2010, the US had reported 355,243 women missing and unfortunately in 2018 the numbers will be worse.
Mark A. Hewitt, author of Airshow and Blown Cover - A first place winner in two categories. One of his books is a high-octane thriller with the protagonist, Duncan Hunter, a guy who makes the impossible possible. Hunter is one real cool customer even while he's also 'the hunted' by his enemies.  Hunter isn't simply some brawny guy with lots of guns, he's also educated and has proven himself as an adjunct college professor. Mark A. Hewitt is touring the U.S. and will be available at the "meet and greet." He will be honored at the PenCraft Award Dinner for his excellent literary contributions.
Chris Kelsey, author of Where the Hurt Is and our winner of best fiction book of the year will be flying in from New York to be a part of this event. Kelsey's book is a story about the murder of a young African-American woman whose naked, battered body is found by the railroad tracks in a small dusty all white west Oklahoma town. The story takes place in the spring of 1965 with racial tensions boiling over across the nation. Ex-Marine Emmett Hardy, the town's police chief is thrust into solving the murder which most town folks just want to forget. Chief Emmett Hardy is not going to let that happen.
Isabella Murphy, the author of "From Dark to Light," wrote the book when she was a 5th grader. A couple of years later, Isabella's book was published by Pink Umbrella Publishing. Her delightful book, beautifully illustrated by Natalia Perez, caught our eye and won 1st place for the PenCraft Award in the category of Children Books. Since the release of her book, Isabella has been an inspiration to other writers both young and old. Isabella who is from California and is now an 8th grader will be available to answer your questions about her life as an award-winning author.
Guillermo Marquez-Sterling the author of Praying for an Eclipse: Mother Moon (Volume 1) is a startling look at an oppressive World and life that most of us will never experience. He possesses a gift that enables him to paint a picture of fascinating characters and their surroundings, along with a credible dialogue that further illuminates the world he writes about; the cultural clashes, the characters torn between family obligations, societal forces, and passion. The novel is alive with memorable piercing images that are deeply disturbing yet true testaments of the life forced upon people viewed as society's chaff.  Guillermo a pastor, educator, and activist for sustainable change will be flying in from Florida to attend the Award Ceremony and answer questions about his book and the immigration quagmire.
Sharon K. Middleton the author of "Beyond McCarron's Corner: Sassy's Story,"  is based on historical events and set during the bittersweet years of our Revolution.  The story is filled with the hope and faith that fortified our young nation in its Infancy. Middleton weaves her story around the famous Culper Spy Ring, organized in 1778, which ended up providing the kind of Information needed to defeat the British. The Culper Spy Ring became the most important spy rings organized by the Americans during the war and would supply General Washington with critical information that would help win the American Revolutionary War. Sharon K. Middleton will be available for the meet and greet and at the PenCraft Award dinner. She looks forward to meeting all attendees.
Philip Derrick  is the author of "Facing the Dragon," a Vietnam thriller about a young man's struggle fighting not only the Vietcong but a killer among the troops that he will have to face. If you served in Vietnam, many of the locations and the descriptions of life as a grunt will ring true. Philip Derrick is a Vietnam veteran, so what he writes is quite authentic because he saw and lived it.  Philip will be flying in from Seattle, Washington for the event. Veterans and their families are cordially invited to attend the event to help honor Philip Derrick, a brother in arms, scholar, and award-winning author.
Robert Shemeld  won 1st Place in the category of Fiction - Thriller - Terrorist  with his novel "The Narragansett Files." It is a fast-paced spy and action thriller with a nautical twist. Shemeld wastes no time launching into his intriguing narrative. Within the first few pages of the novel, you discover the main character, Steele, is busy with the task of disposing of a body. What could have gone so terribly wrong on a sailing vacation with a couple, and their close friend? Well, piracy kidnapping and murder just might be at the top of the list. Shemeld is from Virginia.
B Alan Bourgeois the founder and director of Texas Authors Inc., a nonprofit that supports and markets Texas writers. He is also the founder of Indi-Beacon which provides a variety of services, events, and opportunities to all authors. During the event, Alan will be addressing the winners and guest. The PenCraft Awards are grateful to him and his organization for the support they have provided for our event. 

The authors' "meet and greet" is a new addition to the PenCraft Award ceremony. It offers a rare opportunity for fans, members of the press and authors to meet each other and enjoy all the award ceremony and dinner have to offer.
David Hearne, the event coordinator, said: "This year we're sharing the excitement and fun with everyone!"
Guest interested in getting an autograph or photo with the authors are encouraged to bring their own camera.
Ticket Refunds will be made if the event is canceled by event organizers.
When & Where

Book Nook Inn
10405 Cooks Lake Road
Lumberton, TX 77657


Saturday, November 10, 2018 from 7:00 PM to 10:00 PM (CST)
Add to my calendar