Location
Southside Park
Southside Park Loop
Beaufort, SC 29902
Description
SO...YOU THINK YOUR CHILI IS HOT STUFF?
Or do you just LOVE chili?
Step 1: Are you a Chef? Register today and read below.
Fill out your packet, check-out and get cookin'.
Step 2: Chili Lover, too? Buy an all-u-can-eat wristband.
Step 3: Make a theme for your team! Try to win the SPICIEST SPACE award!
Step 4: SPREAD THE HOT WORD...
Southside Park, Beaufort, SC, October 17, 2015– The Lowcountry Jaycees host the ONLY local International Chili Society sanctioned cookoff to benefit Jaycee Camp Hope - the 2nd Annual Party in the Park Chili Cookoff. This event will feature an International Chili Society competition: Traditional Red Chili and fun for all ages. Register your team today! Amateurs and professionals are all welcome.
First place in the Traditional Red Chili category is $1000!
Chefs will also compete for the People's Choice Award, so encourage attendees and friends to help vote you to victory! Mark your calendar for Saturday, October 17, 2015 at Southside Park in Beaufort.
Gates will open rain or shine at 11:00 a.m. and the event 4:00 p.m. Bring the whole family and spend the day at the new Southside Park, at the intersection of Battery Creek Rd and Southside Blvd. Live music, craft beer, plenty of activities for kids of all ages, and a variety of food vendors for even the non-chili eaters. Plenty of parking is available.
The 2nd Annual Party in the Park Chili Cookoff is open to the public with FREE admission. Purchase all-you-can-eat chili wristbands for $20 each and/ or at the gate on event day.
Registered chefs will begin cooking promptly at 11:00 a.m. and end at 2:00 p.m. with judging beginning at 2:30 p.m. Awards will be announced before the conclusion of the event. An award for the best themed team and display will also be a highlight of the day.
The 2nd Annual Party in the Park Chili Cookoff is hosted by the Lowcountry Jaycees and managed and produced by Plum Productions. Additional questions or media, please contact Melanie Ott at events@lcjaycees.org or Robin with Plum Productions at robin@plum-productions.com.
Chef's Corner
Important Details About Event Expectations
If you are competing in and ICS sanctioned category, an ICS membership is required.

You must provide your own propane cooker. No other types of cookers will be allowed. Your cooker will be subject to inspection by the fire department prior to the event. This will sit just outside of your tent.

You must provide a fire extinguisher at your cooking site.

Please remember that all COMPETITION chili must be prepared on site. All other ingredients must be chopped or prepared during the preparation and you may not cook anything prior to the official start time.

You may bring up to 2 people to help you. (Teams may consist of no more than 3 people.)

All teams are strongly encouraged to provide tastings for a minimum of 250 guests in addition to their 32 oz. of competition chili that will be submitted to the judges according to the rules. These tastings will be served in 3oz cups that will be provided the morning of the event.

You must provide and wear gloves while handling all food, to include serving.

We will provide the following, which is included in your entry fee.

1- 10x10 area of white tent (Providing your own tent is not an option.)

Tasting cups and spoons

Tables are available for rent at $12 per table.

You may bring tables, chairs, displays, etc. so long as they fit in your given area.

You may, and are encouraged to, bring your own table coverings and decorations. There is a prize for the "Spiciest Space"! All displays must be removed without damage to the tent at the end of the event.

All other items such as cooking/serving utensils, coolers, seasonings, pots/pan, etc. must be provided by the contestant.

Electricity is not provided at this event. Please plan accordingly.

Traditional Red Chili

may not

contain beans or pasta.


At least one member of each team is required to attend the cooks meeting on the night before the event. Details of the meeting will be emailed to approved contestants. Any team that is absent will be disqualified without refund. You will be required to submit 2 copies of your chili recipe at this meeting, or before. The winner of each category will have their recipe published.

Failure to follow the ICS Rules and Regulations will result in disqualification. SEE RULES BELOW.

ICS winners will progress to the next level of competition for the International Chili Cookoff; People's Choice winners will become local heroes with the right to say, "People think I make the best chili in Beaufort!"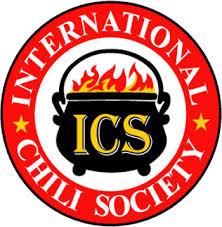 Rules and Regulations – PLEASE READ CAREFULLY
Traditional Red Chili is defined by the International Chili Society as any kind of meat or combination of meats, cooked with red chili peppers, various spices and other ingredients, with the exception of BEANS and PASTA which are strictly forbidden. No garnish is allowed.

For competition chili, no ingredient may be pre-cooked in any way prior to the commencement of the official cookoff. The only exceptions are canned or bottled tomatoes, tomato sauce, peppers, pepper sauce, beverages, broth and grinding and/or mixing of spices. Meat may be treated, pre-cut or ground. The ICS does not prefer one over the other.

Competition chili MEAT MAY NOT BE PRE-COOKED, in any manner. All other ingredients must be chopped or prepared during the preparation period.

You must be an ACTIVE ICS member to compete in any ICS competition including Traditional Red Chili. You must be at least 18 years old.

The competition chili cooking period will be a minimum of 3 hours and a maximum of 4 hours. The exact starting and ending of the cooking period is to be announced by the Lowcountry Jaycees from the event stage. Cooking during entire cooking period is at the sole discretion of the contestant.

A representative of the Lowcountry Jaycees shall conduct a contestant's meeting, at which time final instructions are to be given and questions answered, no later than 1 hour prior to the official starting time of the cookoff.

Contestants are responsible for supplying all of their own cooking utensils, etc. and should be prepared to provide a fire extinguisher and washing station, as they may be required by the sponsoring organization. The sponsors of the cookoff will provide an area for each contestant.

Each contestant must cook a minimum of two quarts of competition chili prepared in one pot which will be submitted for judging. Sharing or splitting Chili, Chili Verde or Salsa for judging with another contestant for the purpose of increasing the number of entries in any event will result in suspension of ICS membership for a minimum of one year. Any cookoff chairman, chief judge or scorekeeper knowingly allowing cheating in any way at their event will result in non-sanctioning of their event the following year, no exceptions.

Each contestant will be assigned a contestant's number by the Chief Scorekeeper and given an official 32 oz. ICS judging cup. In order for a cook to receive the judging cup for their specific contest, they must sign the contestant list and provide their active ICS membership number. Each contestant should verify that the number on the bottom of their cup is the same as their assigned contestant number. Each contestant is responsible to deliver their cup, which must be filled to the bottom of the cup's rim, to the judging area at the official time for judging.

Judges will be told that they should vote for the chili, as defined by the ICS, based on the following major considerations: good chili flavor, texture of the meat, consistency, blend of spices, aroma and color.
If you have any questions regarding the rules and regulations of this cookoff, you may contact us at events@lcjaycees.org
ENTRY OPTIONS
There are two levels of participation in the 2nd Annual Party in the Park Chili Cookoff. Competitors may compete in either category, but not both.

Compete for the opportunity to advance to next level of International Chili Society competition and win prize money and a trophy. Chili must be prepared on-site for a panel of local judges, and must adhere to all ICS Rules and Regulations. It must be prepared by the ICS member whose name appears on the official contestant list and who signs for the official judging cup. You must provide 32 ounces of chili for judging.
Prizes:
All winners will receive a trophy/plaque and the following cash prizes:
1st Place- $1000
2nd Place- $500
3rd Place- $250
OTHER PRIZES

Open to any individual, family, or group. Serve up at as many guests as you can for the most votes! Guests will vote with cash at your space for the best chili of the day. The team with the most cash at the end of the event will be awarded the prestigious "People's Choice" trophy. All donations will go directly towards Jaycee Camp Hope. Please feel free to bring this chili pre-prepared for ease of service.
Trophy and Bragging Rights! (No cash prize given.)


A team of judges will award a first and second place prize to the chili cookoff team whose creativity, team spirit, decorations, and attitude reflects a level of showmanship that deserves to be recognized. Get creative and get crazy!!
Trophy and Bragging Rights! (No cash prize given.)