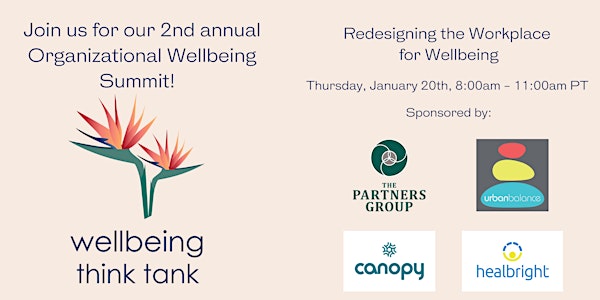 2nd Annual Organizational Wellbeing Summit
Join the Wellbeing Think Tank for our 2nd Annual Organizational Wellbeing Summit
Refund Policy
Refunds up to 7 days before event
Eventbrite's fee is nonrefundable.
About this event
Join the Wellbeing Think Tank for our 2nd Annual Organizational Wellbeing Summit. Our 2022 event will be fully virtual and will be held in a meeting format to maximize interactivity between our speakers and the audience.
Please click here to review our online program guide.
A portion of all of ticket sales will benefit Playworks, which helps kids to stay active and build valuable life skills through play. Questions? Please email contact@wellbeingthinktank.org.
Keynote: Healthy Leadership In The Time Of Uncertainty Goblins - 8:15am PT
Based on both research and practice, there are a variety of exercises, tools, programs, and strategies that support the health, wellbeing, and resilience of leaders at all levels (supervisor, manager, executive). This presentation will provide an overview of OWLS integration of Leadership Development, "Heart-Centered Leadership," and Stress Potentiation (Raw Coping Power) models, along with brief exercises to help participants tap into their inner magician and keep the uncertainty goblins at bay. SHAZAAM!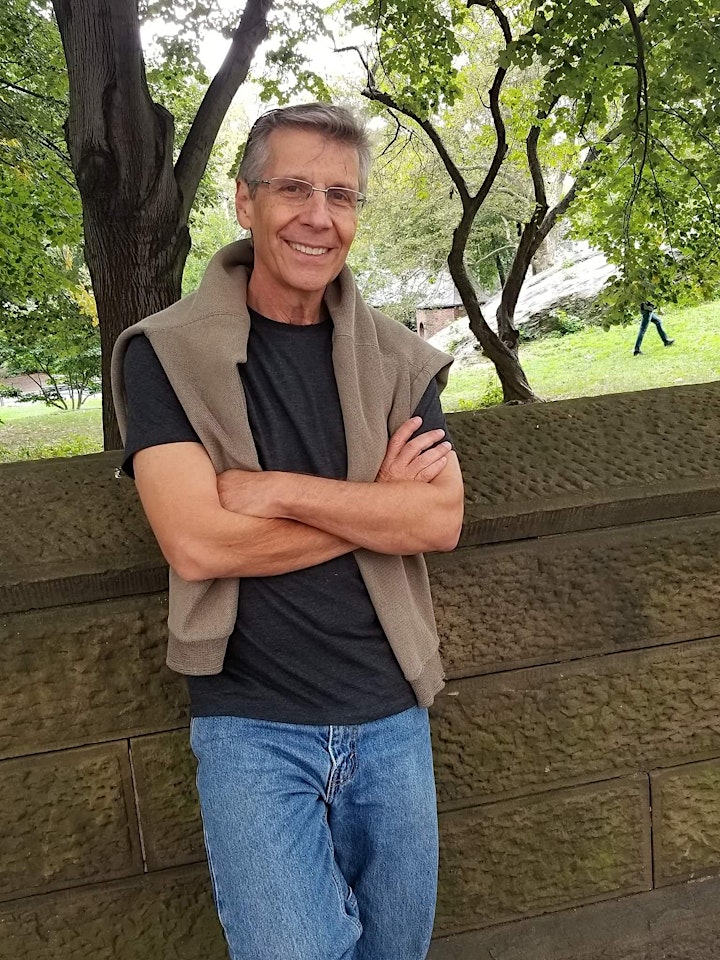 Keynote Speaker: Joel Bennett, PhD, MA, CWP - Founder/CEO, Organizational Wellness & Learning Systems (OWLS).
Joel Bennett, PhD, is President of Organizational Wellness & Learning Systems (OWLS), a consulting firm that specializes in evidence-based wellness and e-learning technologies to promote organizational health and employee well-being. Dr. Bennett first delivered stress management programming in 1985 and OWLS programs have since reached close to 250,000 workers across the United States and abroad. He is primary developer of "Team Awareness" and "Team Resilience," evidence-based, culture of health programs recognized by the U.S. Dept. of Health as effective in reducing employee behavioral risks. Team Awareness has been adapted by the U.S. National Guard as one of their flagship prevention programs and it has been used by municipalities, hospitals, restaurants, electrician training centers, small businesses, Native American tribal government, and in Italy and South Africa. In 2008, he was acknowledged with the Service Leadership award from the National Wellness Institute. He earned his Bachelor's Degree in Psychology and Philosophy from State University of New York (Purchase) and his MA and PhD in Psychology from University of Texas-Austin. Dr. Bennett was previously on the board of the Academy of Managements' "Spirituality and Religion Interest Group (MSR)" and is currently on the Board of Directors for the National Wellness Institute. He provides keynote speaking and continues to train facilitators in team (culture of health) and resilience workshops. Email: owls@organizationalwellness.com
How to Use Data to Inform and Evaluate Your Wellness Program - 9:10am PT
Healthcare claims, employee surveys, DEI metrics, participation. These are all data points that are critical to both inform and measure your wellness program. In this panel we'll talk to a variety of experts about what factors you should consider around the health, wellbeing, and productivity of your workforce.
Presenters:
Case Esher, Managing Director, Interas
Mary Imboden, PhD - Director of Research, HERO. Assistant Professor, George Fox University
Megan Flanagan, MPH, CHES - Workforce Health Consultant, Kaiser Permanente
Sara Martin, CEO, WELCOA
Moderated by: Alexa Galluzzo, Director, Legacy Medicaid, PacificSource
Redesigning the Workplace for Wellbeing - Panel - 10:00am PT
In this session we'll talk to a panel of experts about how workplace wellbeing has shifted since the onset of the pandemic. Work as we know it is going through a major paradigm shift and workplaces need to evolve to meet the needs of their stakeholders. What do organizations need to be doing now to protect and enhance the health and wellbeing of their workforce?
Anna Meiners, Vice President, Customer Success, Canopy
Brighid Sullivan, Director, Wellable Labs
Tia B. Coachman, MBA, SHRM-SCP - Founder, Principal Consultant, Affirma Consultancy
Chase Sterling, CWP, Founder, Wellbeing Think Tank & Managing Consultant, PartnerWell
Moderated by: Brandon Laws - Senior Director of Marketing and Product, Xenium HR