About this Event
The WashU 2nd Olin Africa Business Forum 2019 is poised to convene thought-leaders, business leaders, policy advisers, and students to share more on the Opportunities, Challenges, and Strategies for Africa's development hence our theme.
Our Theme: Africa Ascending: Opportunities, Challenges, and Strategies was carefully selected to showcase the positive rising trend in entrepreneurship, governance, and private investment in Africa. During this Forum, we will explore various sectors including; Agro-Tech, Public Policy & Leadership and Public Health/Social Impact presented by the WashU Brown School.
We are excited to host you and welcome you to the WashU campus and stay engaged in future events.
Dress Business Casual
Food Provided (Light Breakfast, African inspired Lunch & Reception Cocktail.)
Stay tuned to this page for updates.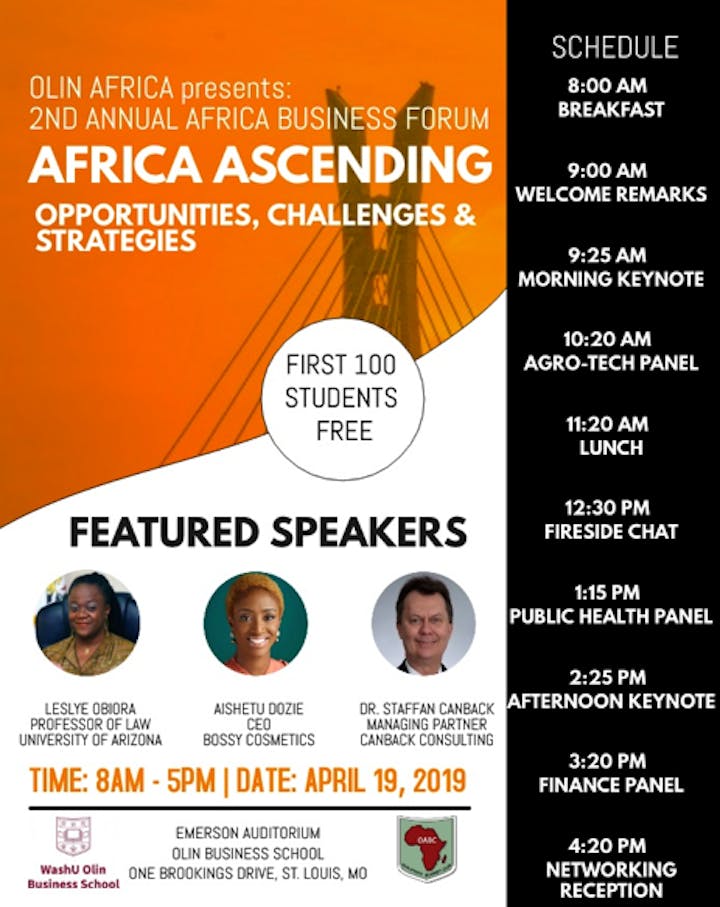 Industry Panels: We utilize industry panels to learn more about current trends in Africa providing an opportunity to have a dialogue on pressing needs. This year we will be focusing on 3 Panels and a Fireside Chat
Agro-Tech:
Africa's population is projected to increase by over 1B by 2050 to 2.2B providing an opportunity for agricultural institutions and companies to feed this ever growing population while providing jobs. The role of technology in enabling this growth can't be overlooked. Join the conversation at the intersection of Agriculture and Technology in powering Africa's food security. This panel will focus on how science, technology and agricultural best practices will increase yield and income for African farmers and processors.
Financing Innovation:
A discussion from the investor and entrepreneur perspective on investing or obtaining capital. This panel will examine key attributes of successful startups that have raised significant funding, best practices to secure funding, and ways in which investors and startups can partner to better align their interests.
Public Health & Social Impact:
Led by the Brown School of Social Work and Public Health at Washington University in St. Louis, this panel will focus on the state of public health and its social and economic impact. Panelists will also discuss research-based solutions to enhance public health figures and implement policies.
Fireside Chat: Consulting in Africa; Lessons Learned.
A fireside chat with Dr Staffan Canback to highlight the economic potential of Africa from a global consultant's view. Dr. Canback is the founder and managing director of Canback. He has been a management consultant for more than 30 years. His consulting work focuses on issues relevant to CEOs of large corporations. This includes corporate strategy, mergers and acquisitions, organizational performance, board / corporate leadership dynamics, and corporate finance.
Between 1984 and 1994, Dr. Canback was a management consultant at McKinsey & Company in Scandinavia, where he was elected partner in 1989. He worked primarily in the insurance and industrial manufacturing sectors. He was a partner at Monitor Company from 1994 till 2002 and served, among other duties, as global head of the financial services practice. He further consulted extensively in the telecom sector.
Dr. Canback received his doctorate from Henley Management College/Brunel University. His dissertation, "Bureaucratic Limits of Firm Size: Empirical Analysis Using Transaction Cost Economics," received first prize in the European Doctoral Dissertation Competition in 2003. Dr. Canback also holds an MBA from Harvard Business School which he attended as a Fulbright scholar, and an MSc in Electrical Engineering from the Royal Institute of Technology where he graduated summa cum laude.
He is a regular contributor on TV and radio, and is featured in print articles around the world.
Confirmed Speakers & Panels
Morning Keynote
Leslye Obiora – University of Arizona Law School, Professor of Law | Federal Government of Nigeria, Ministry of Mines and Steel Development, Former Cabinet Minister
Afternoon Keynote
Aishetu Dozie - Bossy Cosmetics CEO & Founder, Rand Merchant Bank Nigeria Limited, Former General Manager and Division Head, Investment Banking West Africa
Fireside Chat: Consulting in Africa; Lessons learned
Staffan Canback - EIU Canback Consulting, Managing Director | McKinsey & Company, Former Partner
Agro-Tech Panel
Stella Salvo- Bayer Crop Science, Development & Deployment Lead
Natalie DiNicola - Benson Hill Biosystems, Chief Communications Officer.
Matt Plummer - The Yield Lab, Principal
Public Health & Social Impact Panel
Dr. Proscovia Nabunya - WashU Brown School of Social Work, Research Assistant Professor & Assistant Director of the Africa Initiative
Thabani Nyomi - WashU Brown School of Social Work, Ph.D Candidate
Dr. Christine Ekenga - WashU Brown School of Social Work, Asst. Professor.
Dr. Joshua Muia - WashU Medical School, Hematology Instructor.
Financing Innovation
Akin Sawyerr - Feleman, Managing Director
Yinka Adegoke - Quartz, Editor
Dr. Habiba Ibrahim - WashU Brown School, Post Doctoral Fellow
Vik Sasi - Dreamers VC, Principal
More speakers to be announced..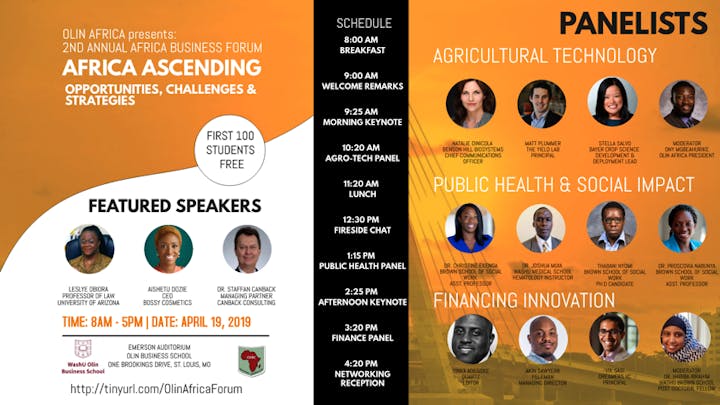 Tentative Schedule
8am – 9 am : Breakfast & Registration
9am – 9:10am: Club President Welcome Remarks
9:10am – 9:25am: WashU Olin Business School Dean Taylor Remarks
9:25am – 10:10 am: Morning Keynote Speaker - Prof. Leslye Obiora
10:10am – 10:20 am: Break
10:20 am – 11:20 am: Agro-Tech Panel
11:20 am – 12:30 pm: Lunch
12:30 pm - 1:15 pm: Fireside Chat - Dr Staffan Canback
1:15 pm – 2:15 pm: Public Health & Social Impact Panel
2:15 pm – 2:25 pm: Africa Trailblazer Award
2:25 pm – 3:10 pm : Afternoon Keynote - Aishetu Dozie
3:10 pm – 3:20 pm: Break
3:20 pm – 4:20pm : Financing Innovation Panel
4:20 pm – 5:30pm: Networking & Reception
#OlinAfrica19 #AfricaBusiness #WashU #OlinBusinessSchool
Olin Africa Business Club Mission: To increase the awareness of business opportunities, culture, politics, and economic potential of Africa at Olin & WashU community