Description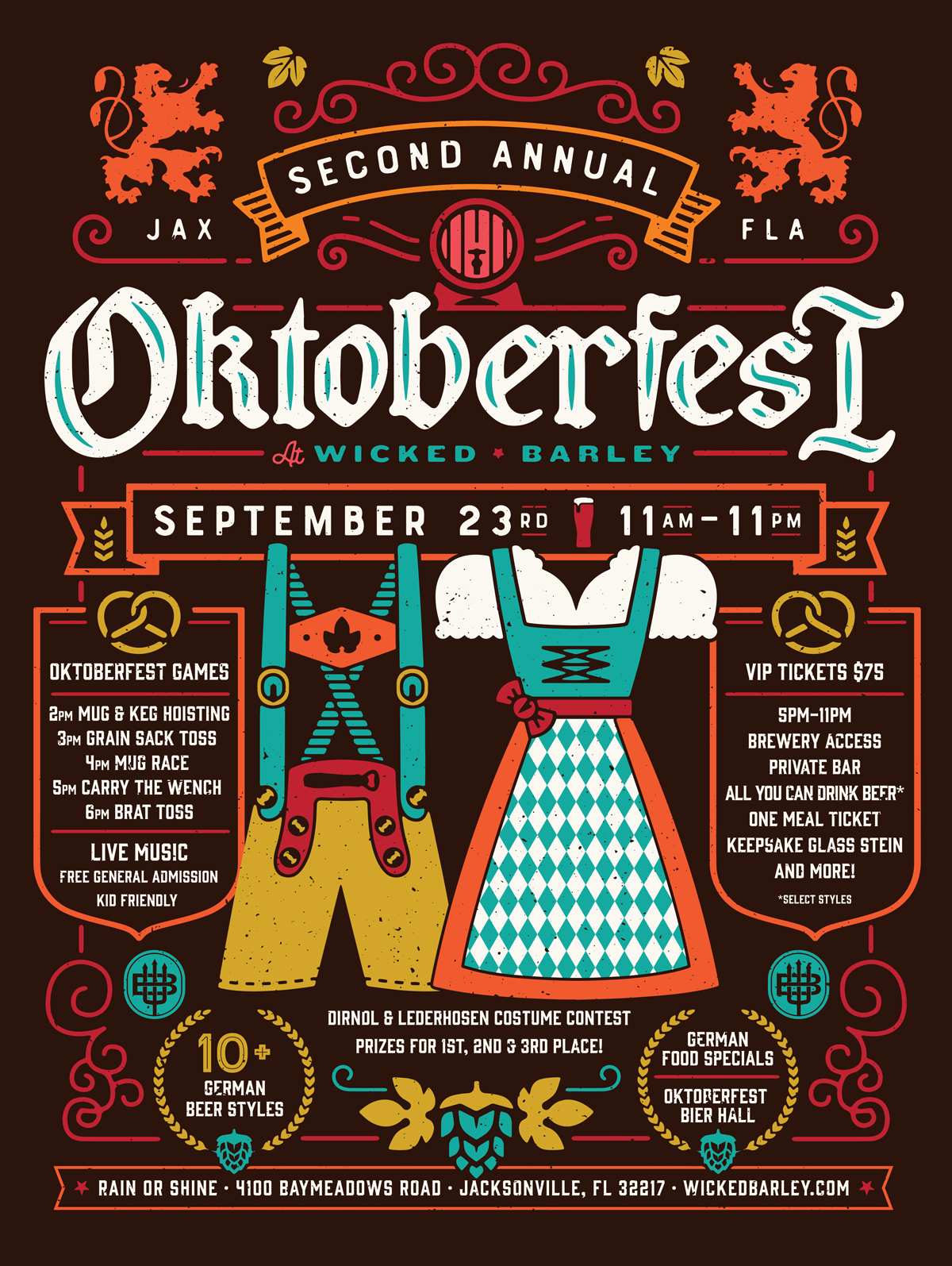 You are invited to join us for a VIP experience at Wicked Barley's 2nd Annual Oktoberfest on Saturday, September 23rd!
VIP access will begin at 5pm!

VIP TICKETS:
Interested in a Wicked Oktoberfest experience? Come party in the Wicked Barley Brewery from 5pm-11pm.
Please note, there are a limited number of VIP tickets available for purchase.
VIP tickets are $75 each and include:

VIP access to the Wicked Barley Brewery
Private Bar
ALL YOU CAN DRINK BEER*
One (1) Meal Ticket
Keepsake Glass Stein
Special Release Beer Sampling
Private Bathroom
Meet and Greet with the Owners and Brewers of Wicked Barley

EVENT DETAILS
Costume Contest:
Dress your Oktoberfest best! Wear your Dirndl & Lederhosen for your change to WIN a Wicked Barley gift card! Prizes will be awarded for 1st, 2nd and 3rd place!
Oktoberfest Games:

2pm- Mug and Keg Hoisting
3pm- Grain Sack Toss
4pm- Mug Race
5pm- Carry the Wench
6pm- Brat Toss
Live Music:

1-4pm Robby and Felix
4:30-7:30pm Side Hustle Duo
All You Can Drink Beer:
AYCD Beer will include select styles inside the Wicked Barley Brewery.
VIP ticket holders will not be able to order the select AYCD beer styles from the taproom or beirgarden bar.
VIP ticket holders will be able to purchase other beer styles (not included on the AYCD list, wine and additional food items from the private bar in VIP.
German Food Specials:
Oktoberfest Burger
Bratwurst
Pork Schnitzel served with German Potato Salad
We will be releasing 10+ German Style Beers at this years Oktoberfest!:


Frequetly Asked Questions:

What if it rains? The party will continue RAIN or SHINE. We rented a large tent for the beirgarten
Can I bring my kids? The Wicked Barley Oktoberfest event is Family Friendly. This years VIP will be for guests 21+ due to the all you can drink beer.
What if I want a beer that is not on the AYCD beer list? VIP ticket holders will be able to purchase other beers on the tap list from the private bar in VIP.
Can I drink out of my glass stein during the event? No, VIP ticket holders will receive their Keepsake Glass Stein as they are leaving for the evening.
OKTOBERFEST TICKETS ARE NON REFUNDABLE!