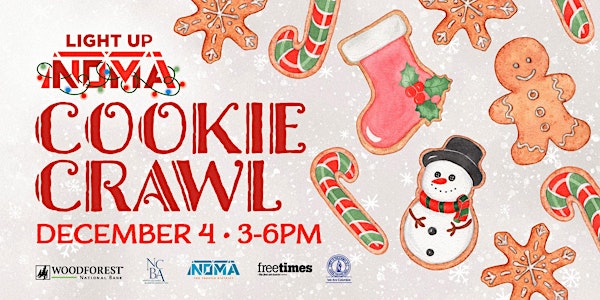 2nd Annual NOMA Cookie Crawl at Light UP NOMA
Enjoy freshly baked holiday cookies from local NOMA bakeries as you crawl through the NOMA district during Light Up NOMA
Refund Policy
Contact the organizer to request a refund.
Eventbrite's fee is nonrefundable.
About this event
Back by popular demand! Please join us this year on a Saturday in the bustling NOMA District, December 4th, 3-4:30PM, for the 2nd Annual NOMA Cookie Crawl. The Cookie Crawl is in conjunction with the annual Light UP NOMA event which will run from 3-6PM. You will receive a professionally designed cookie tin and crawl to nine locations to pick up freshly baked holiday cookies from the district's talented bakeries and merchants.
The Cookie Crawl is in conjunction with the Light Up NOMA district-wide event in the heart of the North Main District. NOMA will officially kick-off the holiday season. Merchants will open their doors and offer samplings of products, show off their goods and invite the public in for a festive afternoon. The NOMA tree lighting will occur at 6PM and Christmas Story reading will be at the NOMA Warehouse location, 2222 Sumter Street. During the Light UP NOMA event, Santa Clause will be at the NOMA Bistro.
Light Up NOMA is a free event. The NOMA Cookie Crawl is only $20 per ticket. If there are any tickets available they will be $30 day of. Please be aware there are only 250 tickets and this event sold out early in its first year in 2019. You must pick up your Cookie tin between 3-4:30PM but you can continue the crawl at participating locations until 6PM.
*Allergy warning: the cookies you receive may contain or be created in a location that contains the top 9 allergens: milk, eggs, fish, shellfish, tree nuts/nuts, peanuts, wheat, soybean and corn*
Come out and enjoy delicious treats, participate in the Cookie Crawl and enjoy a night of festivities!
Participating Cookie Crawl locations:
*Main Street Bakery & Gift - 3307 Main Street (PICK UP TINS HERE ONLY)
Carolina Imports- 2965 Main Street
Cromers - 3030 North Main Street
Vino Garage - 2501 Main Street
NOMA Bistro By Al Amir -2431 Main Street
J Brown Studio - 2430 B Main Street
Rambo Fat Cat and biscuit - 2430 Main Street
Palmetto Payroll-9 Belleview Cir,
Indah Coffee 2238 Sumter Street
NOMA WAREHOUSE - 2222 Sumter Street
(Gardner outpost- vendor in the NOMA warehouse)
(Woodforest National Bank vendor at NOMA Warehouse)
Chiropractic professional -1301 Elmwood Ave
Transportation will be provided directly to many of the cookie crawl locations to make it as convenient as possible. The crawl will begin at Main Street Bakery, 3307 Main Street (the check-in location). There you will show your tickets from your phone to a volunteer and they will provide you a cookie tin and a list of participating cookie locations and transportation for the crawl. We encourage participants of the cookie crawl to park at Earlewood Park, 1113 Recreation Drive, and catch transportation to the various cookie crawl stops. YOU WILL HAVE TO WALK TO MAIN STREET BAKERY FIRST! From there you will be able to crawl to the participating locations at your leisure.
Light UP NOMA participants
Mattie's Thrift store food ,drinks door prizes and yard sale (6319 N Main Street)
Main Street bakery 10% off all orders 3 to 5:00 pm (3307 Main Street )
Carolina imports all gifts and accessory items will be on sale (2965 Main Street)
Cooks & Moe's deli and bakery and hot chocolate all meals,10% off (6317 North Main Street)
Noma bistro by Al Amir musical entertainment with free shoes for the kids while supplies last (2431 Main Street)
Indah Coffee - Live entertainment (2238 Sumter Street)
Red Rooster Bar & Grill – (7500 Wilson Blvd)
Vino Garage - Live Music and 10% of wine (2501 Main Street)
After Light UP NOMA:
The House of Hathor – (6820 N Main St suite b)
Poetry slam and jam session exhibits shows African Culture mask- Necklaces from 7:00 to 9:00pm.
Light Up NOMA Entertainment and Attractions:
CHRISTMAS CORNER: NOMA Warehouse located 2222 Sumter Street will offer family friendly entertainment. The reading of The Christmas Story and Christmas Tree Lighting will occur between 5:30 to 6pm. Also, offering Bounce House and other activities for children throughout the afternoon,
Come see Santa Claus at Noma Bistro from 4pm to 6pm (located 2431 Main Street)
Sponsorships are Available:
Presenting Level: $2,000 (only 1 sponsorship available)
-Sponsor will have the opportunity to speak at the podium on stage during the event; Sponsor will have prominent placement for table set up at NOMA Warehouse during event; name on Sponsor logo on Billboard, Free Times Insert and website.
-Tree Lighting Sponsor: $1,500 (only 1 sponsorship available)
Sponsor will be thanked at the podium on stage, help light the tree during the event; prominent placement for table set up; logo on marketing and website.
-Cookie Crawl Sponsor:$1,000 (SOLD OUT to Woodforest National Bank)
Business name listed on cookie tin, logo on eventbrite page and on main website.
-Business Sponsor: $500 (only 5 available))
On site table during event and logo on website, marketing materials.
*All tables at NOMA Warehouse (up to 10 spots available) / Indah Coffee (up to 3 spots available) – table is provided by venue, Sponsors need to bring linens*