Description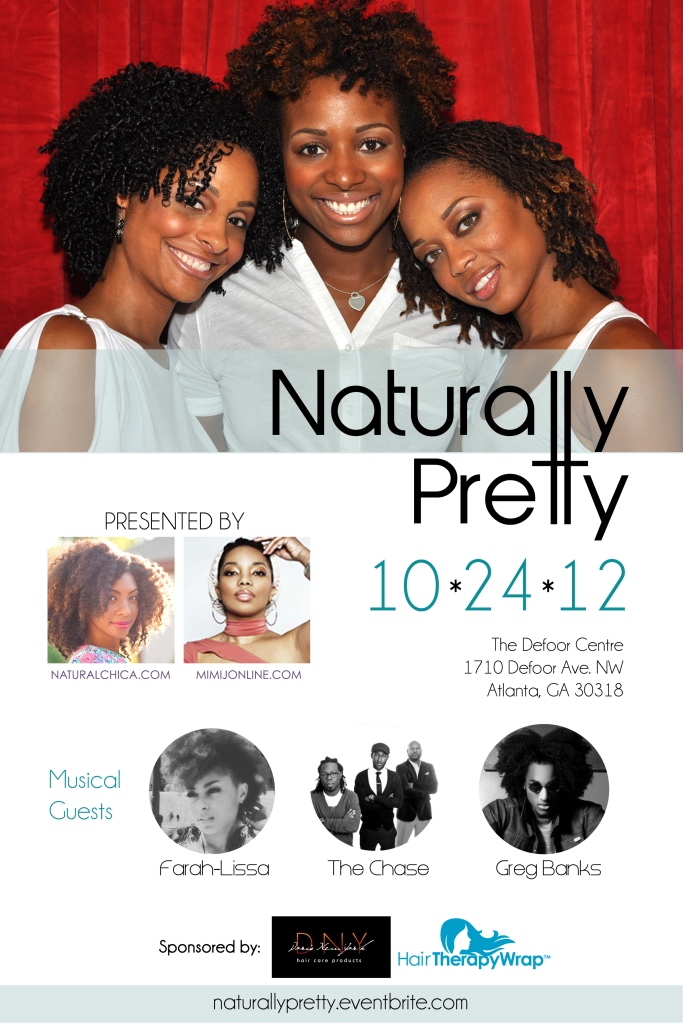 Beauty Power Players Join Forces for a Fusion of Beauty and Entertainment
Makeup Artist Socialite Mimi J and Natural Hair Blogger Maeling Tapp Present the 2nd Annual "Naturally Pretty": The Fusion of Natural Hair and Beauty
ATLANTA, GA – (August 17, 2012) – Lead by an obsession of artistry and beauty, Maeling Tapp, a leading natural hair blogger and creator of Naturalchica.com, and Mia "MiMi" Johnson, celebrity makeup artist and beauty blogger of Mimijonline.com, are pleased to present Naturally Pretty: The Fusion of Natural Hair and Beauty this Fall in Atlanta, GA. Naturally Pretty will platform various Atlanta beauty professionals and celebrate the fusion of skincare, makeup, natural hair, art, and music while benefiting the Atlanta Day Shelter for Women and Children.
Naturally Pretty will be held in a beautiful art gallery forum located in the Defoor Centre on October, 24, 2012 at 7pm. The event will evoke energy and artistry while igniting each of the five senses with each step invited guests take. Industry leaders in cosmetics, skincare, and natural hair care will convene collaboratively to educate and inform event goers of how to bring out their natural beauty through complimentary consultations and live beauty demonstrations. Aside from the wall-to-wall beauty installations, invited guests will enjoy live musical performances, celebrity guest appearances, prize giveaways, and light fare. In efforts to give back to women who need to rebuild their self-esteem and assist them in finding their inner/outer beauty, a percentage of the proceeds will be donated to the Atlanta Day Shelter for Women and Children in downtown Atlanta.
Live beauty demos by Celebrity Makeup Artist Alexandra Butler, Celebrity Hair Stylist April B, and Tress Talk.
Live music performances from Greg Banks, Farah-Lissa, and The Chase. DJ Princess Cut will be spinning throughout the night!
Naturally Pretty is a fusion event highlighting natural hair and beauty. Expected attendance is 300 plus beauty enthusiasts, industry insiders, and design professionals.

Maeling Tapp is the creator of NaturalChica.com, one of the top "go-to" natural hair blogs, providing hair care tutorials, product reviews, event coverage and a variety of feature spotlights. For more information, visit www.naturalchica.com.
Mia "Mimi" Johnson is a celebrity makeup artist based in Atlanta, GA. Mimi is also the owner of beauty company, P3 Lab. Mimi is trained and skilled in the areas of airbrushing, traditional makeup application and body painting. For more information on Mimi, visit www.mimijonline.com.
Organizer of 2nd Annual "Naturally Pretty" - hosted by Natural Chica and MiMi J