2nd Annual NAHP Conference on Haitian Diaspora Engagement & Innovation

Friday, November 1, 2013 at 12:30 PM

-

Saturday, November 2, 2013 at 4:00 PM (EDT)

New York, NY
Who's Going
Loading your connections...
Event Details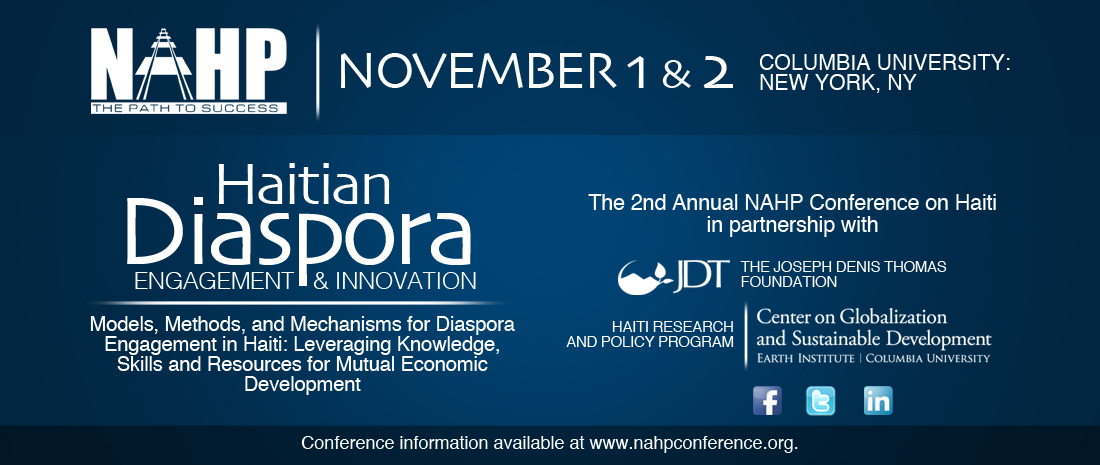 The National Association of Haitian Professionals (NAHP) in partnership with the Joseph Denis Thomas (JDT) Foundation and the Haiti Research & Policy Program at the Earth Institute of Columbia University invites you to attend the 2nd Annual Conference on Diaspora Engagement & Innovation in Haiti themed, "Models, Methods, and Mechanisms for Diaspora Engagement in Haiti: Leveraging Knowledge, Skills and Resources for Mutual Economic Development" on November 1-2, 2013, at Columbia University, NY.
CALENDAR OF EVENTS
Date

Event

Time

Location

Fri., Nov. 1

Day One Conference (Registration opens at 12pm)

1pm – 5:30pm

Faculty House,   Columbia University

Haiti's Future Leaders:  JDT Scholarship Networking & Cocktail Fundraiser

 

6:30pm – 10pm

Amsterdam Restaurant & Tapas Lounge -  (additional cost   for this event all proceeds to go towards higher education scholarship fund   for Haitian nationals – Confirmed guests include NYC Public   Advocate and Mayoral Candidate Bill De Blasio and Haitian Olympic Team memers: Samyr   Laine & Moise Joseph)

 

Sat., Nov. 2

Day Two Conference (Registration begins at 8:15am)

 

9am – 5pm

Altschul Auditorium, Columbia University

 

Sat., Nov 2

Post-conference   Mixer

5:30pm – 7:30pm

TBA
The two-day conference will focus on the models, mechanisms and methods for engagement, between the Diaspora and Haitian organizations and companies. Day one of the conference intends to explore examples of different Diaspora models, methods and mechanisms and reflect on how these tools might be applied within the Haitian Diaspora engagement and will be taking place at the Faculty House, Columbia University.
Day two of the conference will take place at Altschul Auditorium and will include a series of workshops that will focus on the areas of strategic volunteerism within the health field, opportunities and barriers for direct investment in Haiti, professional development and capacity building for the Diaspora, youth engagement and Web 2.0 tools to leverage Diaspora networks, giving and volunteering.
A breadth of speakers will share tools and models they have utilized within their home countries to spur Diaspora engagement among them includes: Ambassador Paul Altidor, Embassy of Haiti, Philippe Saint-Cyr, Executive Director, AMCHAM Haiti, Katleen Felix, International Consultant, Catherine Tactaquin, National Network for Filipino Immigrant and Refugee Rights; Aram Hamparian, Armenian National Committee of America, Irvyne Jean Baptiste, Zafen Crowd-funding for Haiti and Efain Jiminez of the Zacatecas Federation and many more.
To view the full conference agenda with list of confirmed speakers and panelists click here.
Sponsorship and Exhibition Opportunities:
Spotlight your firm at the upcoming 2nd NAHP Conference on Haiti through our sponsorship and exhibition opportunities. From the special dinner event to the breakfast at the conference, NAHP sponsorships and exhibitions offer you additional exposure to a wide-ranging audience of Haitian professionals, Haitian-American professionals and friends of Haiti.

Learn more at: http://nahpconference.org/sponsorship/
About NAHP
As a professional membership organization, the mission of the National Association of Haitian Professionals (NAHP), a 501c3 organization, is to prepare Haitians for leadership positions, increase the number of successful Haitians in the diverse business community, and engage the Haitian Diaspora in development.

National Association of Haitian Professionals (NAHP), Inc.
PO BOX 5096
Hillside, NJ 07205
Telephone:  1-877-627-6247 
Email:  info@nahpusa.org | Website:  www.nahpusa.org
All contributions are fully tax-deductible to the extent allowed by law.


When & Where


Columbia University
64 Morningside Drive


New York

,

NY

10027

Friday, November 1, 2013 at 12:30 PM

-

Saturday, November 2, 2013 at 4:00 PM (EDT)
Add to my calendar
Organizer
National Association of Haitian Professionals (NAHP)
The National Association of Haitian Professionals (NAHP) was created in 2011 as a non-profit
organization. The NAHP is dedicated to preparing Haitian professionals for leadership positions throughout the U.S., so that they can provide the cultural awareness and sensitivity vital in the
management of the nation's diverse workforce. We are dedicated to developing partnerships that result in the creation of intellectual and economic wealth within the Haitian community.
Tuesday, November 5, 2013 - 6:06 PM
Dear Attendee:
On behalf of the National Association of Haitian Professionals (NAHP), Joseph Denis Thomas (JDT) Foundation, and the Haiti Research & Policy Program at the Earth Institute-Columbia University, we want to thank you for attending the 2nd Annual Conference on Haitian Diaspora Engagement & Innovation on November 1 – 2, 2013 at Columbia University. 
In order to make next year's conference even more successful we request that you fill out this post-event survey.   We thank you in advance for your comments and suggestions and we assure you that each will be given consideration so that future conferences and events will be even more of a success. PLEASE CLICK HERE TO COMPLETE THE SURVEY
Thank You
We hope that you found the conference informative and worthwhile. The primary goal of this conference was to bring together global Diaspora leaders and Haitian professionals as well as friends and partners of Haiti from around the world in an open dialogue, under one roof to discuss the issues facing our nation and to develop possible strategies as to how the Diaspora can become aware and more engaged in initiatives taking place in Haiti.
We believe that our diverse and dynamic group of speakers and panelists provided in-depth insight, as well as, actionable and practical tools of engagement models, methods and mechanisms (3Ms) that have worked in other countries; and were able to share how the 3Ms could be utilized to aid the Haitian Diaspora to become more effective in the on-going development efforts of Haiti in key areas such as:  healthcare, investment, education and outreach. 
Your presence helped to make this event a great success and your enthusiasm and positive spirit helped make our time together both productive and fun.  We wish you all the best and hope that you continue to be engaged with the Haitian Diaspora and the NAHP.  Stay tuned for upcoming events by visiting nahpusa.org.
Post-Conference Follow-Up
As a reminder, we are working on transcribing the plenary sessions and workshop notes and once everything has been aggregated we invite you to visit the NAHP website to download the material.
If you wish to view photos from the event please visit the NAHP Facebook page or visit the conference page, nahpconference.org by November 11 to view photos.
 Sincerely,
National Association of Haitian Professionals
JDT Foundation