Description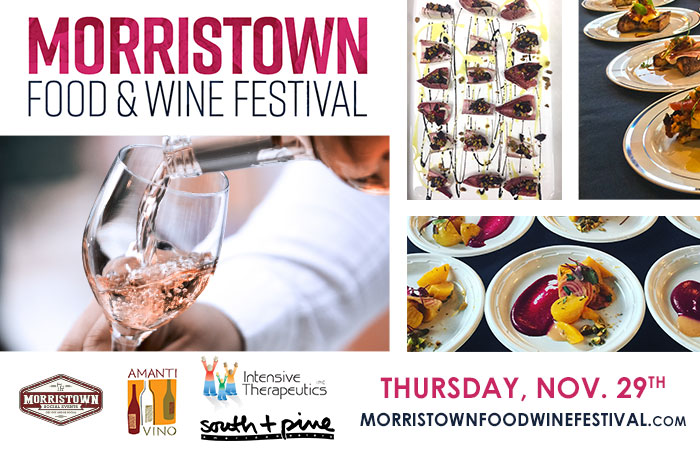 Morristown Food & Wine Festival is back for a second year! This year's event is on November 29th at the Hyatt in Morristown.
Morristown has so many great restaurants and this event will give attendees the opportunity to sample food from Morristown's top restaurants.
VIP: $90 (6:30pm-7:30pm) 1 hour early access to a special tasting course with four chefs and special wine tasting.
Regular Admission (7:30pm-10pm)- $75
Samples of food, beer and wine are included in the ticket price! Over 10 tables of wine to chose from!
People's Choice Award: Attendees will have the opportunity to vote for their favorite dish.
Entertainment: DJ Candance V
Wine will be provided by Amanti Vino.
Photobooth & Photos provided by Strix Media
Participants (as of 10/31) (subject to change)
south + pine american eatery
central + main
Stirling Tavern
George & Martha's
Office Tavern Grill
TOWN Bar & Kitchen
Millie's Old World Meatballs & Pizza
Tito's Burritos & Wings
Verrilli's
Chef Freddy's
El Mejicano Tex-Mex
Eclectic Grill
Greenpoint Juicery
MInuteman BBQ
Daddy Matty's BBQ
Mexican Spice
Trina's Treats
Beenie's Ice Cream
Pierogi House
Pomodoro
Pig + Prince
Ani Ramen
Villalobos Mexican
Amanti Vino
Cambridge Wines
Sponsors
Team Dougherty Real Estate
Season's Olive Oil & Vinegar Tap Room
Door Dash
A portion of the proceeds will be donated to the Intensive Therapeutics. For additional info: https://intensivetherapeutics.org/
If you would like to be a vendor or sponsor please email us at social@morristownsocialevents.com
Tickets are non-refundable