Sales Have Ended
Ticket sales have ended
Thank you for your donation. GO FAST DO GOOD! Get ready to have some FUN!
Sales Have Ended
Ticket sales have ended
Thank you for your donation. GO FAST DO GOOD! Get ready to have some FUN!
Description
GO FAST DO GOOD.
MIP SUPER SPEED DAY is a one-day event that takes place at Palm Beach International Raceway (PBIR). Last year the community raised funds and LIFTED SPIRITS for Brock and the Caruso family. This year, the community passes forward the dedication to Breast Cancer Awareness and the Bartuska Family.

By making a donation, track participants will receive one-on-one on-track sessions with certified race car instructors to improve their driving skill and learn racing technique in a closed course and safe environment. They will also be able to unleash the real potential of their own vehicle, which they cannot experience on regular roads with speed limits and safety restrictions.
Racers will experience the love of Cars and the chance to help a family in there most difficult time. CAR ENTHUSIASTS will experience the love of Vehicles, and witness their unleashed performance.
All payments will go into a treasure chest and is given to the family at the end of the event. We will have diamond showcases, catered food, live DJ, and multiple vendors.

Spectors, Car Enthusiasts, Photographers, Family Freindly, Vendors, Sponcers, ALL ARE WELCOMED TO SPECTATE this amazing annual event.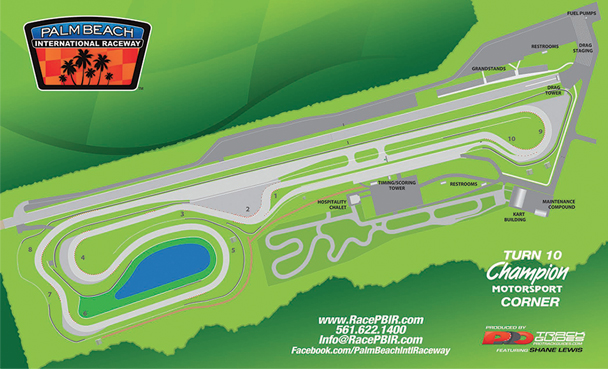 Get your heart racing and fulfill the need for speed by experiencing the exhilaration of road course racing. Boasting an 10-turn, 2.034-mile design and FIA Grade II certified, PBIR's state-of-the-art road course features some of the fastest and most challenging corners and straightaways offered by any track in North America and is currently approved as an Indy Car testing facility. Technologically superior, the road course showcases a seamless table-top smooth finish, full lighting, S.A.V.E. soft barriers, run-off areas, as well as, host various acclaimed driving schools and is home to the Palm Beach Driving Club. It's all or nothing, only at PBIR's international road course.
TRACK FEATURES
2.034-mile, 10-turn, 6/10th-Mile Straightaway
The Seamless Track Measures 40' to 60' Wide (Area wide enough for Chicanes)
Surrounded By 1,700 feet of S.A.V.E. Safety Barriers
High-Level, High-Intensity, Low-Glare Lighting
Built of Hot-Mix Asphalt 5-inches Deep Set On An Aggregate Base
Indy Car Testing Facility
Various Acclaimed Driving Schools
Home to the Palm Beach Driving Club (www.palmbeachdrivingclub.com)
In-House Catering / Food and Beverage Services
Corporate Team Building Events and Track Day Rentals
Emergency Personnel On-Site for All Events
MORE FROM 1st Annual MIP SUPER DAY
Stay tuned for more updates!