Description
Diversity is a competitive advantage
Connect with 250 professionals and business owners to explore how diversity can be used as an asset in business, community leadership, and professional development.
IT'S ABOUT PERSPECTIVE
Hear from influential and diverse women in business, media, and politics.
Get inspired by successful women who leaned on their background to shatter through the glass ceiling.
Gain insight into how political leaders are using their diversity to best represent and lead their communities.
Define your personal brand and learn from powerful women of color who leverage their experience and platforms to drive their success.
Join a powerful community of business owners, professionals, and community leaders who champion the growth/advancement of minority women.
**If attendees register after 3:30pm on 9/4/2019, while their registration will be valid, they will not receive a printed nametag at registration**
---
PROGRAM
8:30 am - 9:45 am
Breakfast, Registration, Exhibition
9:30 am - 9:40 am
Welcome Remarks
9:40 am - 10:00 am
Keynote - Susan Jin Davis, Chief Sustainability Officer, Comcast NBCUniversal
10:00 am - 11:00 am
Panel 1: Minority Women in the 21st Century Economy
Moderated by Marisa Moret, Chief of Staff, Global Policy and Communications, Airbnb
Panelists:

Lavanya Jawaharlal, President, STEM Center USA
Emily Su, Senior Director, Sales, Super Micro Computer, Inc
Kat Binder, General Manager - Silicon Valley, Lyft
Annie Wu, Director of Culture and Engagement, Postmates
11:00 am - 12:00 pm
Panel 2: Minority Women in Business
Moderated by Karen Eng, President/CEO, CSMI
This panel will take a deeper look at the advantages of having minority women included and represented in California's business leadership. Minority woman entrepreneurs and professionals discuss how leveraging your diversity and unique experiences can enhance collaboration, negotiation, and relationship cultivation.
Panel:
Susana Craig, Chief of Staff, Pandia Health
Joanne Tabellija-Murphy, National Director, Corporate Affairs, Walmart
Terrez Thompson, Senior Vice President, Global Supplier Diversity, Coca-Cola

12:00 pm - 12:45 pm

Lunch, Exhibition, and Networking
12:45 pm - 1:00 pm
Special Remarks - Malia Cohen, Chair, California Board of Equalization
1:00 pm - 2:00 pm
Panel 3: Successful Women in Political Leadership
With California becoming a majority-minority state, it is increasingly important that our diverse communities are heard and represented in legislative and policy-making leadership throughout the state. This panel of minority women in elected and influential policy positions will discuss the unique perspectives that enable them to advocate for impactful initiatives and policies that positively affect diverse communities.
Moderated by Traci Lee, Senior Public Policy Manager, Lyft
Panel:
Michele Jawando, Head of Progressive Engagement and Strategic Partnership Google
Vicki Tung, Director of Government and Public Affairs, Texas Instruments
Chiling Tong,

President & CEO, National Asian/Pacific Islander American Chamber of Commerce and Entrepreneurship
2:00 pm - 3:00 pm
Closing Remarks & Exhibition
---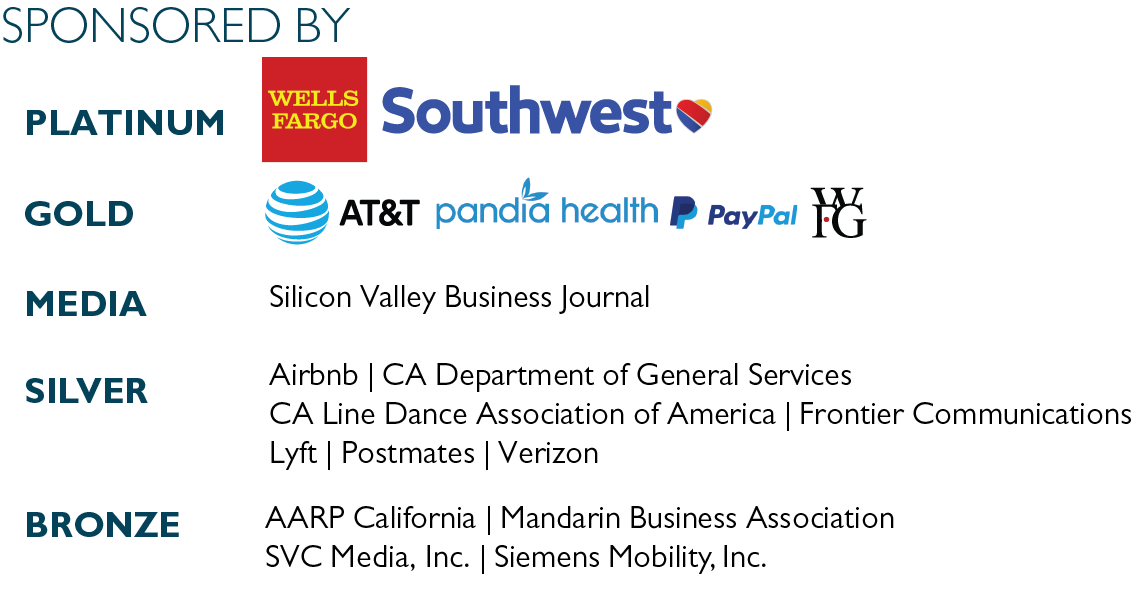 Please note that by registering for this event, you may receive email updates about similar events.
Photos may be taken for publications. Contact Sneha Lakkaraju for more information slakka@calasiancc.org