Description
The Gamma Nu chapter of Kappa Kappa Psi is proud to present the 2nd Annual Marching Chiefs 5K to be held on October 21st, 2018. Originally created to honor past, present, and future Marching Chiefs that proudly carry the legacy of Florida State throughout their lives, this year's race promises to be more outstanding than the first. Join our ranks and see what it is like to run as a Marching Chief through the campus of our beloved university. Just as the spirit of Florida State runs through the Marching Chiefs, we hope you will choose to run with us.

All proceeds will go to funding improvements for Florida State's College of Music band programs and the Marching Chiefs.

Runners can participate in two ways: physically and virtually. General registration allows runners to physically participate in the race on campus on race day. Virtual registration allows participants to participate in the race even if they cannot physically attend while still receiving the included race items. Deadline to participate virtually will be September 30th, 2018. Registration for virtual participants is $35. More information on virtual registration can be found in the FAQs below.

General registration is $25 until September 30th, 2018. General registration will raise to $35 on October 1st, 2018 until the day of the race. All registrants will receive a race shirt, award, and bib. Awards will be given to the overall winners as well as the winners for several age categories. Refreshments, food, and raffled prizes will be distributed after the race. All general registration participants will be entered in the raffle for further prizes.

Packet pickup will be October 18th and October 19th, on Bill Harkins Field, on the campus of Florida State University, between 4:00PM and 6:00PM. The Marching Chiefs will be practicing for their Homecoming game during this time and you are invited to watch!

The event will begin at Bill Harkins Field, otherwise known as Chiefs Field, located next to the Flying High Circus. Directions to the field and other pertinent race information will be sent to all registered email addresses no later than October 19th. Race day registration will begin at 7:30AM and the race will begin at 9:00AM.

If you have any questions or would like to help support this event in any way, please contact any of the following race officials:
Race Director - Adam Thompson at art15g@my.fsu.edu
Co-Race Director - Steven Foster at saf16@my.fsu.edu
Communications & Public Relations Manager - Alexa Lowry at acl16b@my.fsu.edu
Sponsor Manager - Alex Puckett at ap17j@my.fsu.edu

Inaugural Marching Chiefs 5K Trailer: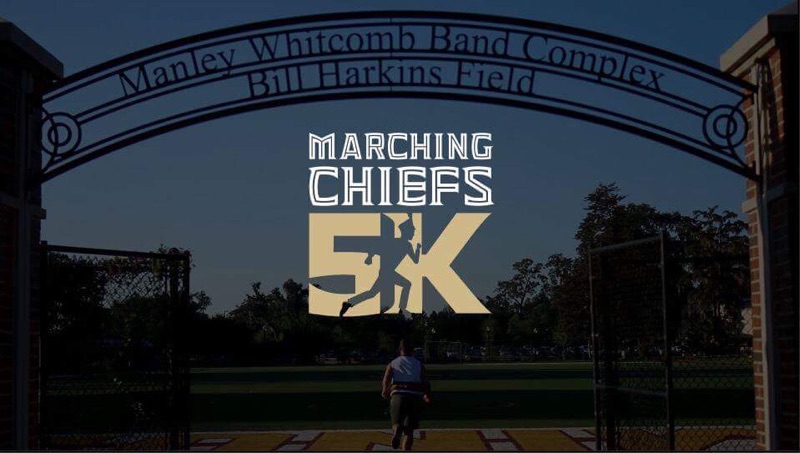 Course Map: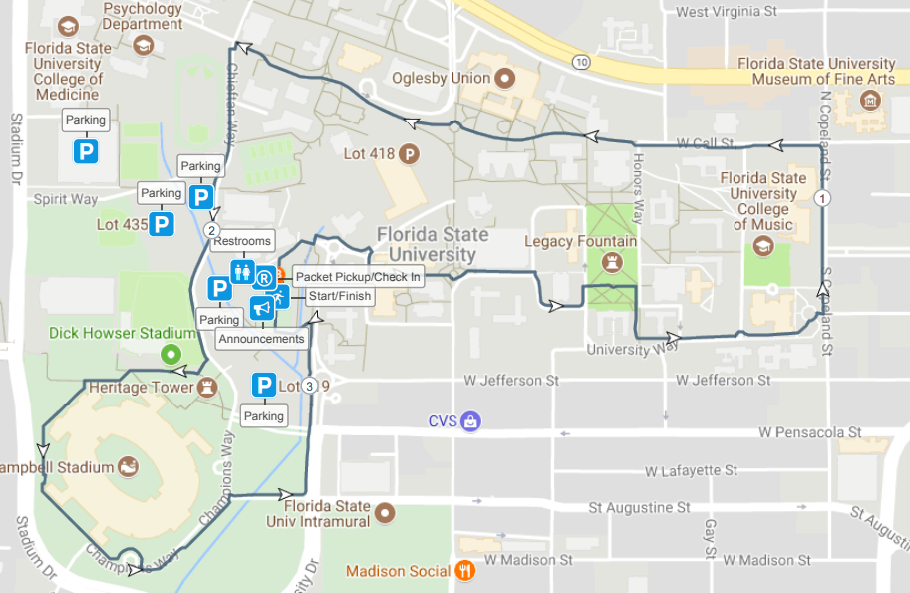 Sponsors:
We are actively looking for sponsors! If you have interest in sponsoring this event, please contact our Sponsor Manager, Alex Puckett at ap17j@my.fsu.edu.
FAQs
What makes this event different from other races?
The atmosphere, tradition, and spirit of one of the best marching bands in the nation. The power of four hundred twenty members dedicated to upholding the Garnet and Gold. Participants will initially set off through our beloved campus, passing by landmarks that have become iconic staples of Florida State tradition and culture. Just as the Marching Chiefs play for our university's athletic teams as they charge onto the field of action, all Marching Chiefs will be there to play, cheer, and volunteer for you, making this an event unlike any other. Feel the power of the Warchant propel you towards the finish line upon the Chiefs' very own practice field as you pass over the fifty yard line. As the Marching Chiefs stay with you every step of the way, there is no other event or race like this.
What makes this race different from last year's race?
We have taken the suggestions you made on how we could improve and implemented them. Examples of some of those changes can be seen in the following FAQs and their answers. It is our goal to surpass your expectations every step of the way. If you believe there is something we could do to improve, please let us know.
Will the race be chip timed?
Yes! The Gulf Winds Track Club Timing Team will be assisting us to ensure the timing of the race is accurate.
Will the race actually be 5 kilometers in length?
Yes! The race course will be professionally measured to ensure accuracy.
Will awards be given?
Yes! Awards will be given to the overall top placing men and women as well as top placing men and women in several age categories.
When is the race?
Sunday, October 21st, 2018 at 9:00AM.
Where and when will packet pickup be?
Packet pickup will be on October 18th and 19th between 4:00PM and 6:00PM on Bill Harkins Field on the campus of Florida State University. Parking will likely be hard to find so please plan ahead to find parking in any of the surrounding lots.
Where is the start and finish line?
Both the start and finish line will be on the 50 yard line of Bill Harkins Field.
Where can I park?
There are multiple parking lots within the immediate vicinity of Bill Harkins Field. All are within a short walking distance from the field and can be found on the course map attached above.
Where will restrooms be located?
Restrooms will be located just outside of Bill Harkins Field, next to the parking lot.
What do the proceeds of this race benefit?
All funds received from this event will go to benefiting the bands of FSU including the Marching Chiefs.
Can I donate without actually participating?
Yes! If you would like to donate to our cause, we have a registration option specifically made for donations. All donation amounts are welcome and appreciated. If you are interested in becoming an event sponsor, please contact Alex Puckett at ap17j@my.fsu.edu.
Do I have to run or can I walk?
All participants are welcome to walk, run, or Go Cadence as you please.
Are there other ways to participate if I'm not able to physically run or walk in the race?
Yes! We will be providing a virtual option for all those that would like to participate but cannot physically be there on race day. Virtual registrants will recieve all the same items that are offered to race participants: event t-shirt, race bib, and an award.
What do I get for signing up?
Every participant will recieve an event t-shirt, race bib, and small award.
Are there ID or minimum age requirements to enter the event?
No! This is a family oriented event and we welcome people of all ages to participate.
What are my transportation/parking options for getting to and from the event?
There are several parking lots withing the immediate vicinity of Chiefs Field that participants will be welcome to use. Volunteers will be in place to help guide traffic to nearby open parking lots.
How can I contact the organizer with any questions?
Feel free to contact Adam Thompson at art15g@my.fsu.edu if you have any questions.
What's the refund policy?
Refunds will not be offered.