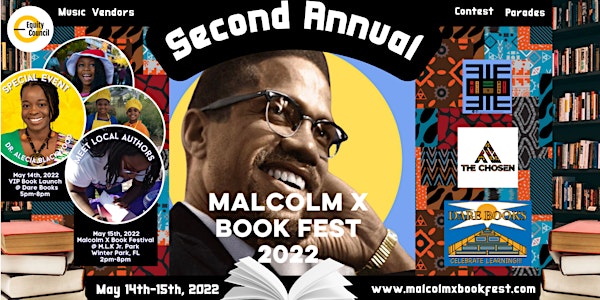 2nd Annual Malcolm X Book Fest 2022 at M.L.K Jr. Park
Join us for a weekend of fun centered around literacy, at the Second Annual Malcolm X Book Fest 2022 taking place May 14th - May 15th, 2022!
When and where
Location
Martin Luther King, Jr. Park 1050 West Morse Boulevard Winter Park, FL 32789
Refund Policy
Contact the organizer to request a refund.
Eventbrite's fee is nonrefundable.
About this event
SPECIAL FESTIVAL EVENT ANNOUNCEMENT!!
EVENT #1
(For Adult Audience)
SATURDAY - MAY 14th, 2022 - VIP BOOK LAUNCH @ DARE BOOKS
This year we have a special VIP book launch with author and professor Alecia Blackwood for her newly released book, "Ubuntu Pedagogy, Becoming An Responsive Educator," taking place on Saturday, May 14th, 2022, at 5 pm at DARE Bookstore. Dr. Alecia Blackwood is a passionate master educator with over 20 years of experience and the executive director of Afrikan Kulcha School. As an international speaker, educator, and executive director, Dr. Blackwood has shared her expertise with teachers at the University of Central Florida, University of Johannesburg, Botswana, and Namibia, as well as through lectures and workshops.
Additionally, Alecia Blackwood is an African-centered curriculum and instructional specialist. She works with private and public schools and homeschool families to help infuse culturally relevant materials into their curricula in the USA, Africa, and the Caribbean. She is now one of the country's leading experts on Ubuntu pedagogy.
We require RSVPs for this event. The evening commences with a private drink reception starting at 5:00 pm, followed by a lecture at 6:00 pm with ample time for Q&A and discussion. We request a minimum in-kind donation of $15.00 from attendees. Signed copies of her book will be available for $24.
Dr. Blackwood is excited to share this momentous occasion of launching her new book. Join us to engage in an evening of Ubuntu Pedagogy and its humanistic approach to actively engaging students with the world. We look forward to seeing you there.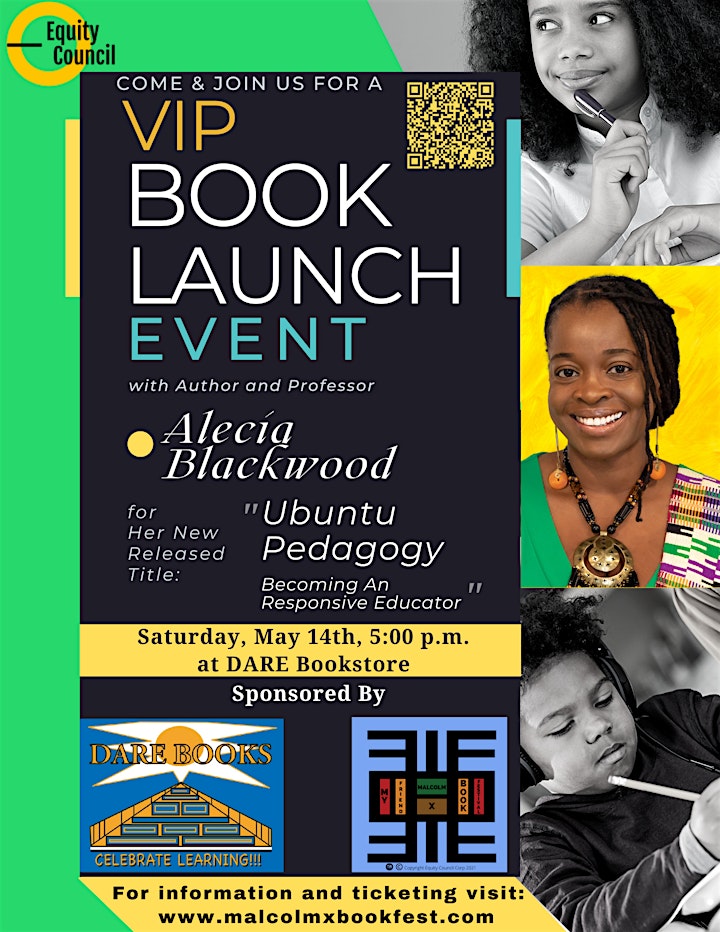 EVENT #2
( For Children and Young Adults)
SATURDAY - MAY 14th, 2022 - Persuasive Writing Workshop
Join Jasmine Walker, author of The Baddest Kid in Sixth Grade, on Saturday, May 14th, 2022, from 11:00 a.m. to 12:00 p.m. for a special introductory Persuasive Writing Workshop at the Winter Park Community Center examing Malcolm X's most memorable and reflective quotes.
This 60-min Persuasive Writing Workshop is designed for children and young adults ages 10 to 14. Participants will be asked to identify problems within their community and write solutions for these problems using quotes from Malcolm X to help them write and articulate their concerns to fictional politicians. Persuasive writing and dialogue are the basis of many social justice movements, including the fight for Civil Rights from 1954 to 1968. Therefore, teaching about persuasive writing and its ability to bring attention to present-day problems is essential. Materials for the class will be provided. Parental participation is welcome.
Jasmine Walker cultivated her love of teaching, tutoring, and mentoring in various schools while living in Philadelphia, Pennsylvania. She's devoted her life to communicating with others through the written word – from crafting noteworthy stories to writing children's books that promote literacy. Since writing and publishing her first children's book, The Baddest Kid in Sixth Grade, Jasmine subsequently wrote and published a complementary supplemental guide that further advances literacy by instilling the fundamentals of reading in elementary and middle school-aged children.
Through her lifelong love of reading, Jasmine and her creative partner developed a monthly writing and art workshop for children in South Los Angeles with their Creative Kids fairs, giving children a space to be creative outside of the confines grades and criticism. Now, she is on a mission to continue spreading encouragement, positivity, and literacy wherever she goes.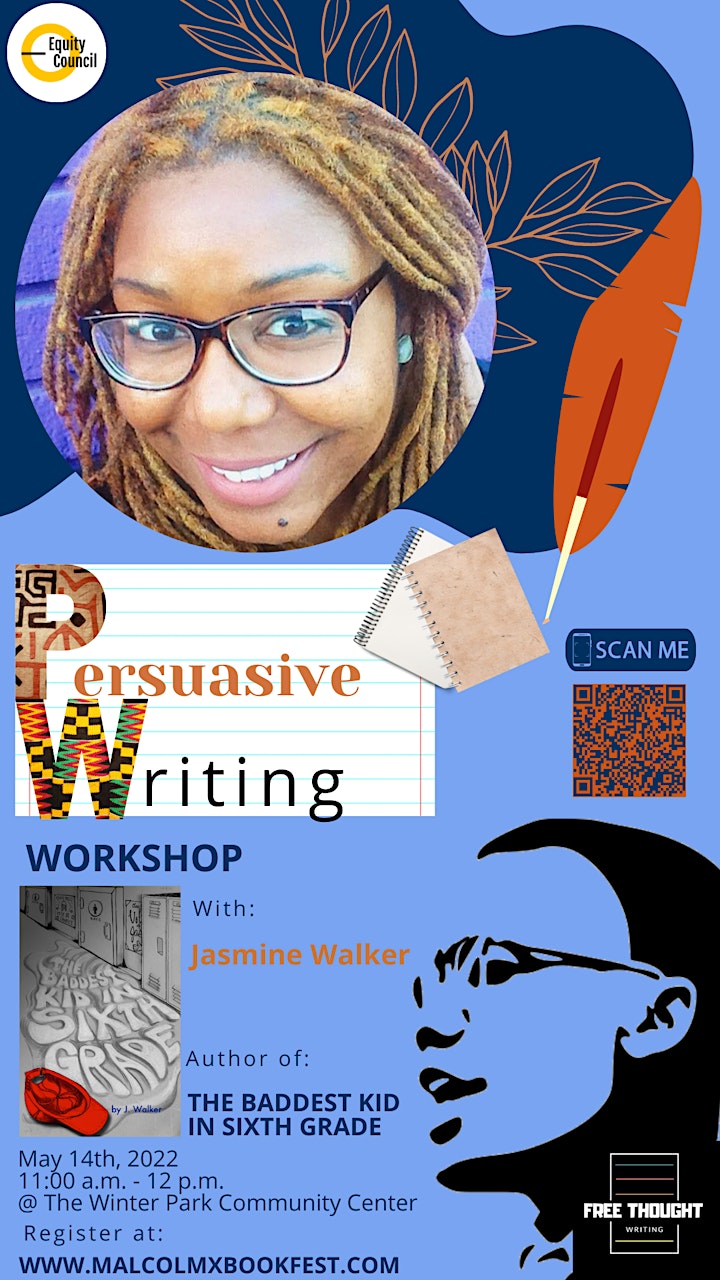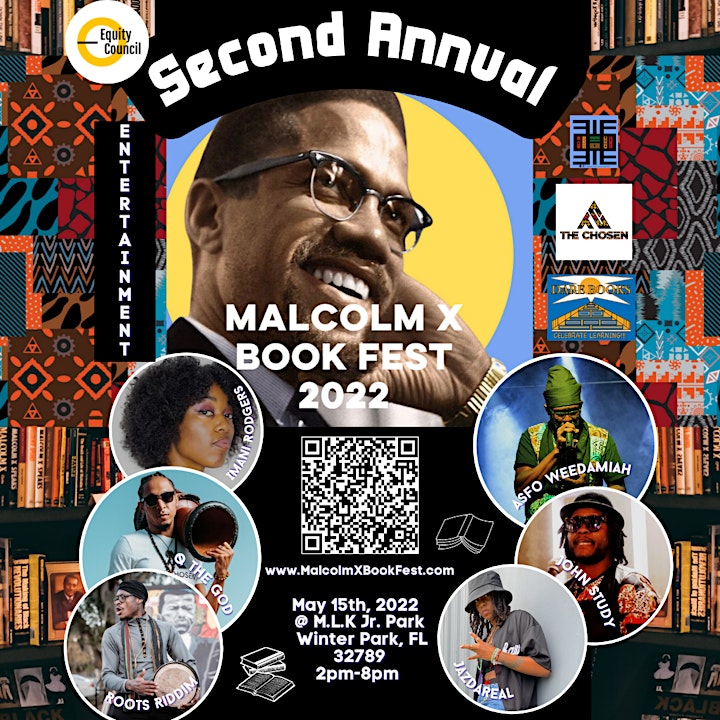 SUNDAY, MAY 15th, 2022 - BOOK FESTIVAL
EVENT #3
SECOND ANNUAL MALCOLM X BOOKFEST @ M.L.K. Jr. PARK
The Second Annual "Malcolm X Book Fest at M.L.K Jr. Park" has been held in Winter Park, FL, every third Sunday in May in honor of El-Hajj Malik El-Shabazz, formerly known as Malcolm X since 2021. This year's book festival and birthday celebration will occur on Saturday, May 15th, 2022. Festival activities will begin promptly at 2:00 p.m. at Dr. Martin Luther King Jr. Park in Winter Park, FL. Please bring your children to enjoy our Children's Book Parade dressed up as their favorite book character. Also, if your child is interested in running their own business, sign them up to participate in our Kids Entrepreneurship Fair and win prizes for showcasing and selling their innovative ideas and products to their community, family, and friends. Lastly, don't forget that there will be books, books, and more at the 2022 Malcolm X Book Fest! Visit authors, publishers, writers, and poets who will be on sight showcasing their latest literary works. Festival curator and organizer, The Equity Council Corp., is sponsoring this year's festival in conjunction with Dare Books, Central Florida's oldest Black book store. In honor of Malcolm X's birthday, we will give away free copies of "The Autobiography of Malcolm X" and "Where Do We Go from Here: Chaos or Community?" by Dr. Martin Luther King Jr. to middle and high school students while supplies last. So, don't miss this festive atmosphere, storytelling, Afrocentric folklore, spoken word, and much more on Sunday, May 15th, 2022, in celebration of the activist, orator, and author we know as Malcolm X!