Description
Playtime is over! Women are over mentored and under sponsored. They have people that will listen to them, but not help promote them to where they desire to be in life, work, and in the community. Women do not need another mentor, they need a SPONSOR.
We need women who are courageous enough to support other women. We need women who are tired of diming their lights and ready to take their lives to the next level. We need women leaders who help build other women leaders.
If you are Leading In High Heels, then this workshop is for you.
At the 2nd Annual Lead In High Heels: A Women In Leadership workshop you will learn how to affirm your leadership style. You will become more familiar with your personal brand and leadership strengths. You will leave this event feeling empowered to love you first, strengthen your presence within your company and/or small business, build partnerships within the community, and learn to serve and inspire others throughout the world.
**Event Speakers**
Alyce Wilson, Executive Director at Grace Hill Women's Business Center
Byron Price, U.S. Bank Branch Manager
Coach Kim Burke, Founder & CEO at Let's Grow Institute
Francesca Henderson, Founder & CEO at Henderson Consulting, LLC
LaKesha Williams, Founder & CEO at Fab Essentials, LLC
Tera Roberts, Manager at E2 Young Engineers St. Louis
**Munroe Shoetique is our Offical Shoe Partner. The first 25 women "in attendance" will WIN a 20% off entire purchase promo code.**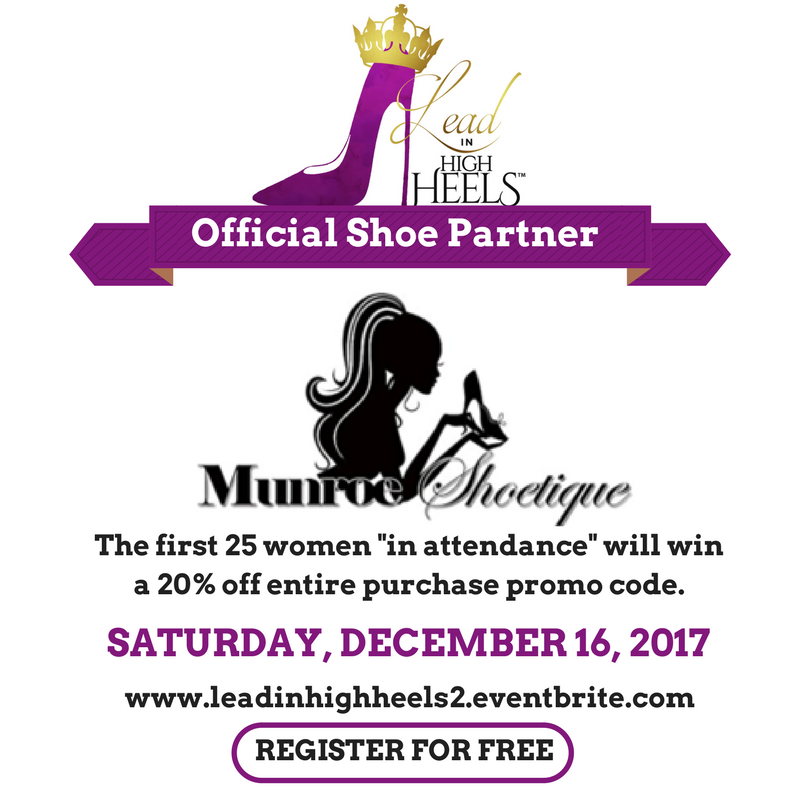 RSVP today for our 2nd Annual Lead In High Heels: A Women In Leadership Workshop.
This will be an "interactive" workshop, so please come ready to join in on the learning and FUN. Don't forget to bring your favorite journal to take notes in.
**Parking is on your own. There are several parking garages in the area and street parking is available. So, please be prepared to pay for parking. **