Description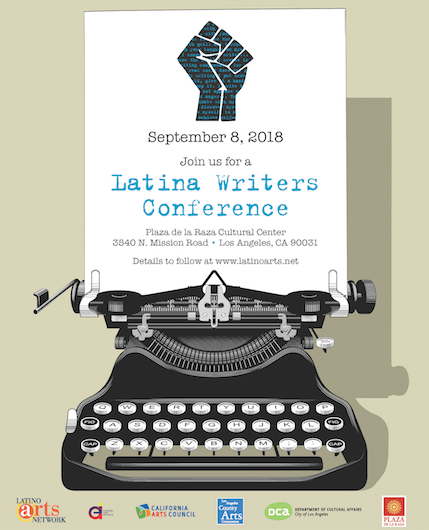 On behalf of the Latino Arts Network, and the LWC Planning Committee,
we invite you to join us on

Saturday, September 8th, 2018
for the second annual
LATINA WRITERS CONFERENCE
at Plaza de la Raza Cultural Center

Join us for a series of platicas and workshops that explore the diversity of our Latina writing community in 2018. Topics include film and theatre, publishing, children & young adult literature, academia, writing as parent/caretaker, space making, politics & journalism, on Los Angeles, submission strategies, and fellowships & residencies. All panels and workshops are designed to encourage discussion long past the closing of the conference. Each platica and workshop will be hosted by guest speakers, to be announced soon! This year we'll be inviting local food vendors (bring plenty of cash!) for you to choose from for our lunch session. You'll want to stay for lunch as we'll be hosting a very special guest performance, and Latino Arts Network will be presenting our 2018 Maestra Award! To close the day will be a legendary keynote speaker...stay tuned for more details!
Numerous vendors and authors will be presenting their publications and work throughout the day. You are encouraged to bring your books or zines and feel free to sell them at our shop in the plaza. You may also share the event with your friends and colleagues, and those inspiring writers in your familia, just please let us know that you are coming! Bring your children - care for children ages 5 and over, with lots of activities, will be provided free of charge!

Tickets are free, but EARLY REGISTRATION IS ENCOURAGED! If you register before August 8th you'll receive a free tote with our logo, swag included! Totes will be available for purchase while supplies last!

9:00am Registration
9:45am Bienvenido
TRACK 1
10:00am - 10:50am On Dramatic Writing (a workshop)
11:00am - 11:50am Freedoms of the Press
12:00pm - 12:50pm Writing About Young Adults & Beyond: Four Perspectives
TRACK 2
10:00am - 10:50am On Los Ángeles: Writing Place (a workshop)
1:00am - 11:50am Self-Care for Writers (a workshop)
12:00pm - 12:50pm Writing The Space (a workshop)
1:00pm Lunch (vendors will be available)• Maestra Award Presentation to Gloria Enedina Álvarez • Musical Performance by Lisa Flores
(no need for a ticket for presentation and performance)
TRACK 1
2:30pm - 3:20pm Unpacking Academics
3:30pm - 4:20pm Writing & Caretaking/Parenting
4:30pm - 5:20pm Space Making in the Physical & Digital World
TRACK 2
2:30pm - 3:20pm Women Writing in Film & TV
3:30pm - 4:20pm Building Up to Emerging (a workshop)
4:30pm - 5:20pm Hitting Send: Literary Submission Strategies
5:30pm Wine & Cheese Keynote with Cherríe Moraga
at
Plaza de la Raza Cultural Center
3540 N. Mission Road, Los Angeles 90031
in Lincoln Park in Lincoln Heights.

There is limited parking on-site but you are welcome to park as well at the DMV located directly across the street.
(check out the inaugural year's highlights: https://youtu.be/dm9Ah3Gb9Z4, and LA Times coverage: http://www.latimes.com/books/la-ca-jc-latina-writers-20170620-story.html)