Event Information
Location
Plaza de la Raza
3540 North Mission Rd.
Los Angeles, CA 90031
United States
Description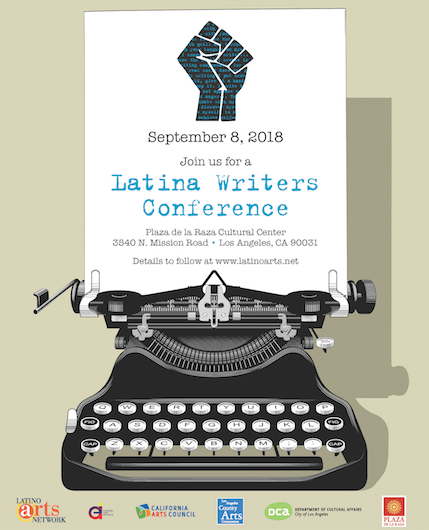 On behalf of the Latino Arts Network, and the LWC Planning Committee,
we invite you to join us on

Saturday, September 8th, 2018
for the second annual
LATINA WRITERS CONFERENCE
at Plaza de la Raza Cultural Center

Join us for a series of platicas and workshops that explore the diversity of our Latina writing community in 2018. Topics include film and theatre, publishing, children & young adult literature, academia, writing as parent/caretaker, space making, politics & journalism, on Los Angeles, submission strategies, and fellowships & residencies. All panels and workshops are designed to encourage discussion long past the closing of the conference. Each platica and workshop will be hosted by guest speakers, to be announced soon! This year we'll be inviting local food vendors (bring plenty of cash!) for you to choose from for our lunch session. You'll want to stay for lunch as we'll be hosting a very special guest performance, and Latino Arts Network will be presenting our 2018 Maestra Award! To close the day will be a legendary keynote speaker...stay tuned for more details!
Numerous vendors and authors will be presenting their publications and work throughout the day. You are encouraged to bring your books or zines and feel free to sell them at our shop in the plaza. You may also share the event with your friends and colleagues, and those inspiring writers in your familia, just please let us know that you are coming! Bring your children - care for children ages 5 and over, with lots of activities, will be provided free of charge!

Tickets are free, but EARLY REGISTRATION IS ENCOURAGED! If you register before August 8th you'll receive a free tote with our logo, swag included! Totes will be available for purchase while supplies last!

9:00am
Registration

9:45am
Bienvenida
---
TRACK 1
10:00am - 10:50am
On Dramatic Writing
Workshop facilitated by Josefina López
11:00am - 11:50am
Free Press & Alternative Forms of Journalism
Soraya Membreno, Vickie Vertíz, Carribean Fragoza, and Natalia Sylvester.
Moderated by Rocío Carlos
12:00pm - 12:50pm
Writing About Young Adults & Beyond: Four Perspectives
Angela Morales, Lilliam Rivera, Isabel Quintero, and Angela Sánchez.
Moderated by Désirée Zamorano
TRACK 2

10:00am - 10:50am
On Los Ángeles: Writing Place
Workshop facilitated by Jess V. Castillo & Jessica Ceballos y Campbell
11:00am - 11:50am
Self Care for Writers
Workshop facilitated by Wendy C. Ortiz
12:00pm - 12:50pm
Writing The Space
Workshop facilitated by Theresa Chávez
••••••••••
1:00pm
Lunch (food vendors will be available)
Maestra Award Presentation to Gloria Enedina Álvarez
Musical Performance by Lysa Flores
(no need for a ticket for presentation and performance)
••••••••••

TRACK 1

2:30pm - 3:20pm
Unpacking Academics
Sara Borjas, Olga García Echeverría, Cynthia Guardado, April Mayes, and Angelina Sáenz.
Moderated by Dr. Irene Monica Sanchez
3:30pm - 4:20pm
Writing & Caretaking / Parenting
LiYun Alvarado, Annette Cruz, Rebecca Gonzales, and Vanessa Angélica Villarreal.
Moderated by Luivette Resto
4:30pm - 5:20pm
Space Making in the Physical & Digital World
Julissa Calderón, Cynthia Gonzalez, Leticia Hérnandez, and Locatera Radio.
Moderated by Iris De Anda
TRACK 2

2:30pm - 3:20pm
Women Writing in Film & TV
Rosemary Alderete, Nancy de los Santos, and Norma Sepulveda.
Moderated by Luisa Leschin
3:30pm - 4:20pm
Building Up to Emerging
Workshop facilitated by Xochitl-Julisa Bermejo
4:30pm - 5:20pm
Hitting Send: Literary Submission Strategies
Workshop facilitated by Ashley Pérez & Tisha Reichle
---
5:30pm
Wine & Cheese Keynote with Cherríe Moraga
Also joining us for the day, located throughout the main courtyard:
Blacksheep Binding • Brown Girl Travels • Candy's Kloset • CASA 0101 • Feminist Library on Wheels • ilaments • Good Mexican Girl • Latino Arts Network • L.A. County Voter Registration • L.A. Liberia • Libromobile • MORIA, Woodbury University's Literary Magazine • Razorcake • Tia Chucha's Centro Cultural & Bookstore & Tia Chucha Press • U.C. Irvine Youth Writing Program • Xitlalic Guijosa + delicious comida + more to be announced!!
and thanks to Poets & Writers, Bitch: Feminist Response to Pop Culture, Razorcake, PEN Center USA, L.A. County Voter Registration, and more TBA, for filling our swag bags!
at
Plaza de la Raza Cultural Center
3540 N. Mission Road, Los Angeles 90031
in Lincoln Park in Lincoln Heights.

PARKING---
FREE parking for the Latina Writers Conference will be available directly across the street from Plaza de la Raza Cultural Center at the DMV, Lincoln Heights located at 3529 N. Mission Rd, Los Angeles, CA 90031. Please use the crosswalk when making your way to the center.
Plaza de la Raza's small ADA compatible parking lot is accessible on Mission Road, before Lincoln Park Avenue at 3540 N. Mission Rd, Los Angeles, CA 90031. If you have a blue handicapped placard, you are welcome to park in Plaza's lot just outside the center in Lincoln Park.
Nearby residential streets and parkside streets also offer plenty of FREE parking. Please read and follow all posted signs.
(check out the inaugural year's highlights: https://youtu.be/dm9Ah3Gb9Z4, and LA Times coverage: http://www.latimes.com/books/la-ca-jc-latina-writers-20170620-story.html)
Date and time
Location
Plaza de la Raza
3540 North Mission Rd.
Los Angeles, CA 90031
United States