Description
Welcome to the page for the 2nd Annual Louisiana Alliance of Children's Advocacy Centers' Conference!
Monday October 23rd - Tuesday October 24th - Wednesday October 25th
Last November, LACAC had two fantastic days of training at Loyola University, and this year our alliance is happy to announce that not only will three days of training be provided, but that LACAC is working in collaboration with a national juvenile sex trafficking conference--Shared Hope International's Annual JuST Conference!
Please see the 2nd Annual LACAC Conference brochure and program below the following registration information for this multi-track conference.
The options for attendance to the 2nd Annual LACAC Conference are as follows--
Option One: LAW ENFORCEMENT AND PROSECUTION TRACK (Monday, Tuesday, and Wednesday)
-admission to conference on Monday October 23rd, Tuesday October 24th, and Wednesday October 25th
-Monday presentations held in Strand 11 room at the Hyatt Regency 601 Loyola Ave New Orleans, LA
-Tuesday and Wednesday presentations held in Bolden 2 room at the Hyatt Regency 601 Loyola Ave New Orleans, LA
-only 60 spots available for prosecution and investigation
-offers CLEs (attorneys)
-$100 registration fee
LACAC encourages our partners to attend all three days of the training which will bring in national speakers and focus on investigation and prosecution. There are only 60 spots available, so register now!


Option Two: PREVENTION TRACK (Monday, Tuesday)
-admission to conference on Monday October 23rd, Monday presentations held in Strand 11 room at the Hyatt Regency 601 Loyola Ave New Orleans, LA
-admission to Darkness to Light Training on Tuesday October the 24th, held in 9th floor conference room at the New Orleans Family Justice Center 701 Loyola Ave New Orleans, LA
-80 spots available for LACAC members and community partners
-offers CEUs (social workers)
-$50 registration fee for Monday, free admission to prevention track on Tuesday!
Any updates regarding this training will be made to this page, so check back for information regarding continuing education and conference logistics.
LACAC is so excited to be able to collaborate with Shared Hope and the New Orleans Family Justice Center to bring this quality training to our chapter and partners, and hope you are able to join our team this Fall!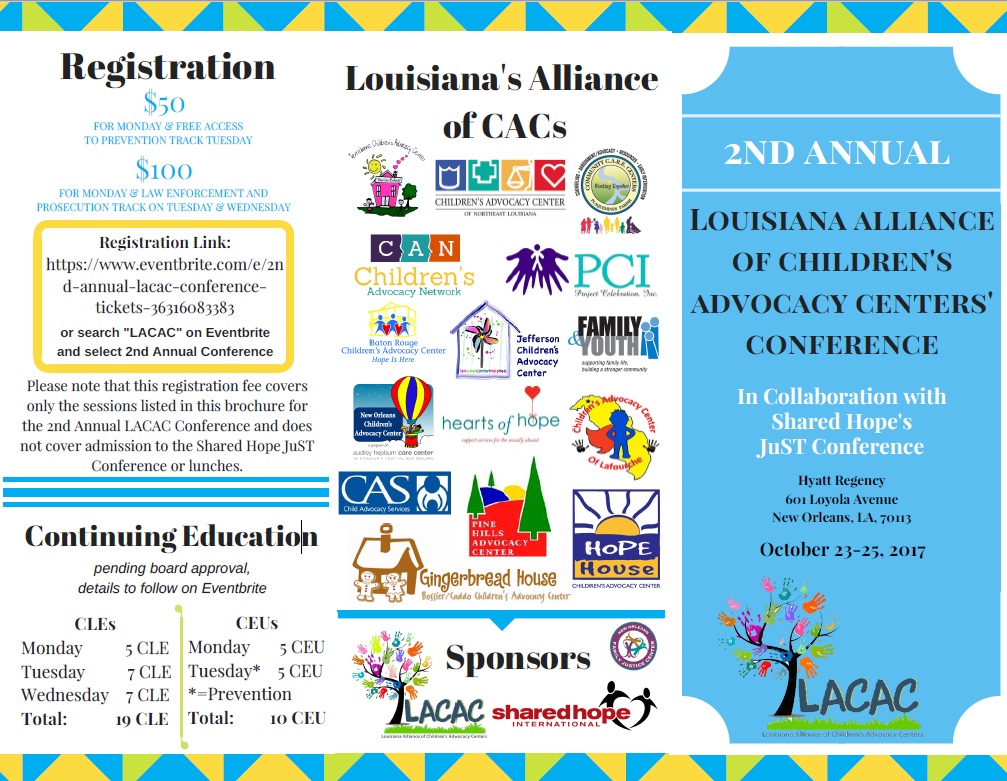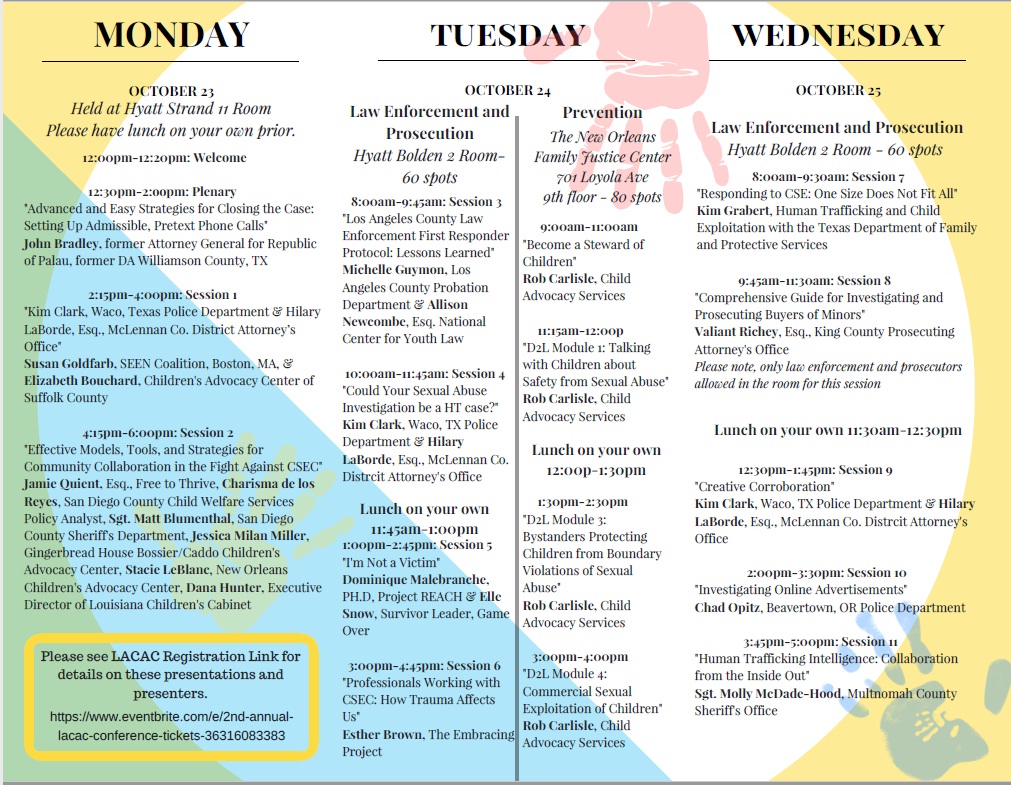 Monday October 23rd
Hyatt Regency - 601 Loyola Ave New Orleans, LA - Strand 11 Room
12:00p-12:20p
Welcome
12:30p-2:00p
Plenary Session: "

Advanced and Easy Strategies for Closing the Case: Setting Up

Admissible, Pretext Phone Calls"
John Bradley
, former Attorney General for Republic of Palau, former DA Williamson County, Texas
Did you know that you could secretly record confessions over the phone? This presentation will discuss how investigators should be working early in a case to contact a suspect and obtain a recorded confession through the use of a controlled phone call made by someone other than the police. The presentation will cover the right of privacy, Louisiana case law and investigative techniques. The presenter will play actual recordings that have been used in cases, providing examples of how to conduct a controlled phone call.
2:15p-4:00p
Session 1:
"
Child Trafficking: Priorities for Multidisciplinary Team Response Teams"
Susan Goldfarb
, SEEN Coalition, Boston, MA & Elizabeth Bouchard, Children's Advocacy Center of Suffolk County
Child sex trafficking is a significant problem impacting every community. High risk and trafficked youth often go undetected or, when identified, underserved. Multidisciplinary teams (MDTs) can play a pivotal role in providing a genuinely comprehensive response to child trafficking. This presentation will discuss how to build and be part of an effective commercial sexual exploitation of children (CSEC) multidisciplinary team. The presenters will use case examples to highlight the power of uniting a broad cross-system of partners to develop innovative and effective child trafficking interventions. Discussion will include CSEC multidisciplinary team investigations, red flags & indicators, runaway response and after-hours team collaboration. It takes work to build and be part of a child trafficking team, but it's worth it!
4:15p-6:00p
Session 2: "Effective Models, Tools, and Strategies for Community Collaboration in the Fight Against CSEC"
Jamie Quient, Esq., Free to Thrive, Charisma de los Reyes, San Diego County Child Welfare Services Political Analyst, Sgt. Matt Blumenthal, San Diego County Sheriff's Department, Jessica Milan Miller, Gingerbread House Bossier/Caddo Children's Advocacy Center, Stacie LeBlanc, New Orleans Children's Advocacy Center, Dana Hunter, Executive Director of Louisiana Children's Cabinet

Community collaboration is critical to addressing human trafficking and supporting survivors. Community collaboration brings together various stakeholders to work together to develop a holistic response, a deeper understanding of the issue from diverse and sometimes competing perspectives and maximize resources through mutual support. This program will discuss how to foster effective and impactful human trafficking collaborative initiatives such as task forces by looking at various models in California and Louisiana. This program will look at how these initiatives were designed, developed, and launched. It will also discuss structure, day-today-operations and funding. This program will also address best practices, lessons learned, strategies for bringing together key stakeholders, measuring success and strategies to have the greatest positive impact on human trafficking in your community.
Tuesday October 24th
Prosecution and Investigation Track - Hyatt Regency - 601 Loyola Ave New Orleans, LA – Bolden 2 Room
8:00a-9:45a
Session 3: "Los Angeles County Law Enforcement First Responder Protocol: Lessons Learned"
Michelle Guymon
, Los Angeles County Probation Department & Allison Newcombe, Esq., National Center for Youth Law
This workshop will review Los Angeles' nationally- recognized Law Enforcement First Responder Protocol (FRP) that
has been in place for nearly three years . The FRP spells out a collaborative, multidisciplinary, 90-minute response when a commercially sexually exploited child is identified by law enforcement. The FRP has allowed Las Angeles County to drastically diminish the number of children arrested for prostitution and related offenses and instead has provided these children a non-punitive, victim-centered response. In addition to reviewing the components of the policy and data from the first three years of implementation, several cases will be discussed to illustrate the collaboration to meet the children's needs, the benefits, and the challenges of FRP.
10:00a-11:45a
Session 4: "Could Your Sexual Abuse Investigation be a Human Trafficking Case?"
Kim Clark
, Waco, Texas Police Department & Hilary LaBorde, Esq., McLennan Co. District Attorney's Office
The Texas Legislature did child abuse investigators a big favor in drafting our human trafficking statutes – they are very helpful tools to be aware of and to keep in our toolbox. This class will begin with an overview of our human trafficking statutes and compare them to our long existing sexual abuse statutes. The class will then present the investigation and subsequent plea of guilty in the case of the State of Texas v. Paul Mayo, a repeat offender who eventually pled to life without parole for the offense of continuous human trafficking of a child.
LUNCH ON YOUR OWN 11:45a-1:00p
1:00p-2:45p
Session 5: "I'm Not a Victim"
Dominique Malebranche
, Ph.D., Project Reach & Elle Snow, Survivor Leader, Game Over
This workshop explores self-perception in people who have been trafficked and the implications of language for working with survivors. Many people who are exploited do not view themselves as victims--not realizing that trafficking is a crime, viewing themselves through a societal lens that criminalizes their behavior, or minimizing the trafficker's role to feel in control of their lives. Mental manipulation by the trafficker can be reinforced by societal responses that discourage survivors from seeking help. Although naming the exploitation is an essential part of recovery, "victim" language can feel disempowering to many people. We will discuss the differences between "victim," "survivor," and "person" and will explore each person's right to their own changing self-identification. This session is hosted by a survivor leader and a psychologist and invites discussion about how thoughtful language is a central part of offering trauma-informed care to people who have experienced human trafficking.
3:00p-4:45p
Session 6: "Professionals Working with CSEC: How Trauma Affects Us"
Esther Brown
, The Embracing Project
The training will provide material, tools and activities to recognize, understand, and differentiate compassion fatigue, second-hand trauma, and burnout, what are the indicators of the three (cognitive, emotional, behavioral, spiritual, interpersonal, etc.), the importance of self-care and how to practice self-care, ideas and tools to practice self-care, how to recognize if your team is going through and how to encourage others to practice self-care
Tuesday October 24th
Prevention Track - New Orleans Family Justice Center – 701 Loyola Ave New Orleans, LA – 9th Floor Conference Room
9:00a-11:00a
Become a Steward of Children
Rob Carlisle
, Executive Director of Child Advocacy Services
A revolutionary training for ALL adults to prevent, recognize, and react responsibly to child sexual abuse. This evidence-based training is helps adults learn tools and techniques to mover from just being aware to becoming intentional in prevention. Two hours of CEUs available.
NEW Supplemental Trainings Available: designed to provide more in-depth information and skill development in four topic areas addressed in Stewards of Children.
· Talking to Children
· Healthy Touch
· Bystander intervention
· Commercial Sexual Exploitation
These additional trainings allow participants to gain more information on topics in Stewards of Children®, including other forms of abuse, and mandated reporting. Learn how to implement these new training modules and strengthen your prevention efforts throughout Louisiana.
11:15a-12:00p
Darkness to Light, Module One: Talking with Children about Safety from Sexual Abuse
Rob Carlisle
, Executive Director of Child Advocacy Services
LUNCH ON YOUR OWN 12:00p-1:30p
1:30p-2:30p
Darkness to Light, Module Three: Bystanders Protecting Children from Boundary Violations of Sexual Abuse
Rob Carlisle
, Executive Director of Child Advocacy Services
3:00p-4:00p
Darkness to Light, Module Four: Commercial Sexual Exploitation of Children
Rob Carlisle
, Executive Director of Child Advocacy Services
Wednesday October 25th
Prosecution and Investigation Track - Hyatt Regency - 601 Loyola Ave New Orleans, LA – Bolden 2 Room
8:00a-9:30a
Session 7:

"Responding to CSE: One Size Does Not Fit All"
Kim Grabert

,

Human Trafficking and Child Exploitation with the Texas Department of Family and Protective Services

Responding to victims of Commercial Sexual Exploitation (CSE) requires a full continuum of care. Responders must recognize where the individual is in their own awareness of the exploitation. Services planning must be multi-faceted and recognize how to prioritize need, as well as plan for long term outcomes. This presentation will focus on the array of possible services in building a continuum of care and how to build community engagement for a broader response.
9:45a-11:30a
Session 8: "Comprehensive Guide for Investigating and Prosecuting Buyers of Minors"
Valiant Richey
, Esq., King County Prosecuting Attorney's Office
Please note, only law enforcement and prosecutors allowed in the room for this session
Commercial sexual exploitation of children is driven by sex buyers. Federal law recognizes buying sex from children as a form of sex trafficking. Yet, even as the volume of sex buying across the country balloons, sex buyers have traditionally been ignored in efforts to address child sex trafficking. Val will give a guide to investigating buyers of minors, including: cases involving live victims, a wide range of street-based and online reverse stings, building an online persona, specific techniques for posting advertisements on prostitution websites, engaging in email and text conversations with suspects, techniques for identifying suspects, using pictures in stings, and various options for take down and arrest. He will also address prosecuting these cases including pre-charging involvement, charging, bail, plea bargaining, trial, voir dire, expert witnesses, closing arguments, sentencing, punishment, and rehabilitation options. He will also address new online tools and techniques for law enforcement to disrupt the market for children.
LUNCH ON YOUR OWN 11:30a-12:30p
12:30p-1:45p
Session 9: "Creative Corroboration"
Kim Clark
, Waco, Texas Police Department & Hilary LaBorde, Esq., McLennan Co. District Attorney's Office
The investigation of child abuse should always include the collection of corroborative evidence. While corroboration may include DNA evidence and a confession, most cases are won in court by corroborating the only piece of direct evidence available: the child's outcry. This workshop will provide attendees a roadmap for bolstering the child's statement, with examples from actual cases provided throughout.
2:00p-3:30p
Session 10: "Investigating Online Advertisements"
Chad Opitz
, Beaverton Oregon Police Department
An in depth look at indicators that will assist in locating and identifying victims of sex trafficking. This session will look at the different websites commonly used by traffickers and their victims and will show the evidence found on social media sites and applications that can assist in sex trafficking investigations. Many of the examples given are from actual cases investigated by the instructor.
3:45-5:00p
Session 11: "Human Trafficking Intelligence: Collaboration from the Inside Out"
Sgt. Molly Mcdade-Hood
, Multnomah County Sheriff's Office
The breadth of information within correctional facilities across the country should be harnessed and not wasted. Human trafficking is all too common and does not halt once a trafficker is in custody. By monitoring phones and numbers, relationship analysis, mail and visitation, a substantial amount of information can be uncovered. Information gathered may be used to obtain subpoenas and comb the digital footprint that traffickers leave behind. Gain the basics of identifying individuals, an overview of gang and trafficking tattoos, and techniques through case studies using jail intelligence to assist in prosecution. Each investigator and/or agency may have a different piece of the puzzle which becomes clearer when combined, validating information more effectively and thoroughly. The compilation of data accessible to different agencies by database, such as suspected or convicted trafficker, john and victim lists with available information on individuals, assists in multi-jurisdiction collaboration. Existing technology should be embraced and can benefit the operation of information and intelligence gathering within correctional facilities and in turn will strengthen the wheels of justice.
In sum, this information provides names, associations and corroborating evidence that result in successful prosecutions and the protection of victims.
Date and Time
Location
Refund Policy