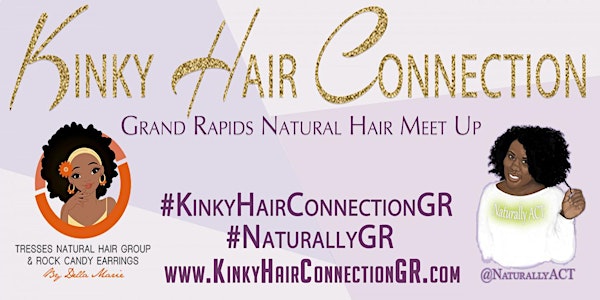 2nd Annual Kinky Hair Connection
Event Information
Location
Salvation Army Kroc Center
2500 South Division Avenue
Grand Rapids, MI 49507
Description
Della Marie Levi of Tresses Natural Hair Group, The Dream Big Sister Circle, and Rock Candy Earrings & Things By Della Marie and Aleka C. Thrash of Naturally ACT Present the 2nd Annual Kinky Hair Connection.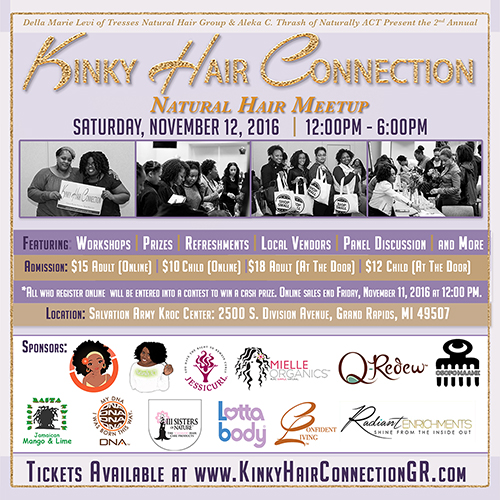 Event Features: Music, Workshops, Giveaways, Refreshments, Local Vendors, Panel Discussion, Special Guests, and so much more. Join us for a #NaturallyFabulous time!!! **Deluxe Swag Bags for the FIRST 30 guest & Mini Swag bags for addtional 100 guests!!!
Our Purpose: To connect, support, and encourage naturals, as well as those considering and transitioning, by helping them embrace, who they were born to be.
NOTE: All who register online will be entered into a contest to win a cash prize. Online ticket sales end Friday, November 11, 2016 at 12:00 PM. Tickets will be available at the door for $18.00 Adult Admission and $12.00Child Admission (ages 5 - 15).
What Is A Natural Hair Meet Up: A natural hair meet up is a place where those, who have chosen styles that highlight their natural, unadulterated hair texture, gather to provide each other with support, resources and encouragement along the journey to embrace who they were born to be. It is also for people, who are considering returning to their natural hair texture and those, who want to know more about kinky, coily, loc'd or curly hair and how to care for it.
Click Link to Register: www.KinkyHairConnectionGR.eventbrite.com
Check Out Highlights from Last Year: www.KinkyHairConnectionGR.com/eventhighlights/
To Learn More About The Event Hosts: www.KinkyHairConnectionGR.com/cofounders/
For inquiries or questions email us at: KinkyHairConnectionGR@gmail.com
* Tickets are Non-refundable | Non-transferable

Date and time
Location
Salvation Army Kroc Center
2500 South Division Avenue
Grand Rapids, MI 49507