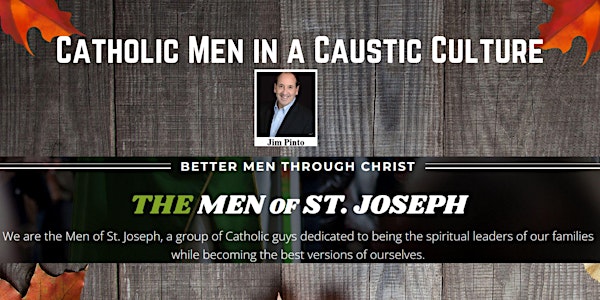 2nd Annual Kick-off Mass & Breakfast
Come kickoff your day with Mass, breakfast, and a talk by EWTN's Jim Pinto on - Being an Authentic Catholic Man in a Caustic Culture.
When and where
Location
St. Ignatius Catholic Church 3704 SpringHill Avenue Mobile, AL 36608
About this event
There are no shortage of articles, videos, new stories, and personal testimonies to how difficult it is to be a solid Catholic Christian in today's culture. The only thing that might be tougher is being a Catholic Christian Man. The Men of St. Joseph exists to help men become the spiritual leader's of our families and communities so it is only fitting that we have a speaker to direct us into the fray. After Mass and breakfast EWTN's Jim Pinto will speak to us on Being an Authentic Catholic Man in a Caustic Culture. By the grace of God and the power of the Holy Spirit, Jim has lived and proclaimed the Gospel of Life for over 40 years. The truth of the Incarnation - the "infleshment" of God with us in Jesus - has made a profound impact on his life and ministry. Solidarity with the pre-born, minorities and the disenfranchised has led Jim and his family to live a sacramental lifestyle among the people they serve and to invite others to do likewise. Jim has been recognized locally, nationally and internationally for his work in proclaiming good news to the poor, reconciliation among the races and defending the sacredness of life, marriage and the family.
EWTN, the largest Religious Media Network in the world, airs The Pinto's weekly EWTN TV show, At Home with Jim and Joy, reaching over 400 million people worldwide. Jim is the Director of the, EWTN Media Missionaries, with over 15,000 volunteer missionaries in the United States and Canada.