Description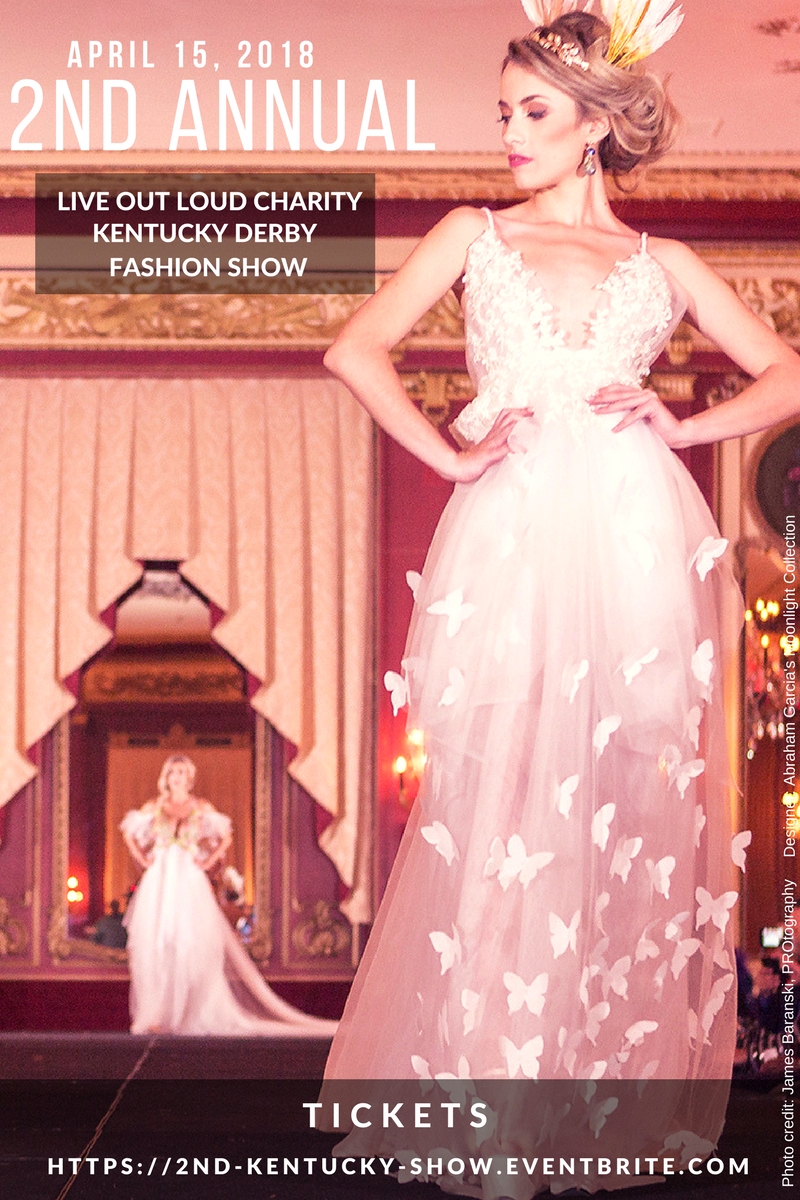 Celebrating 8 years of suicide prevention with Live Out Loud Charity a non profit organization focused on suicide prevention, anti bullying, and core character development. Our 2nd Annual Kentucky Derby Fashion Show will celebrate life through fashion, fun, and a very informative suicide prevention seminar to be held Sunday, April 15, 2018 in Louisville, Kentucky. This is a night everyone will remember. Are you ready for the fashion show of your lifetime? Help us raise funds while attending this fun yet informative event. Models and titleholders from nationwide are taking a stance by parading down our runway, to stop the most preventable cause of death, suicide. Top performers, suicide prevention seminar, electric fashions, and bold people.... It can't get better than this. To learn more about Live Out Loud Charity you may visit www.liveoutloudcharity.org Purchase tickets below. All net proceeds will be given to Live Out Loud Charity.

CHECK US OUT IN THE NEWS
NBC5 CHICAGO NEWS
WAVE 3 LOUISVILLE NEWS
AWARD WINNING PUBLICIST FASHION BLOG
I LIVE IN A MAGAZINE FASHION ARTICLE
DAILY 24 MAIL (BANGLADESH, ASIA)


EVENT DETAILS
Sunday, April 15, 2018
Crowne Plaza Hotel
830 Phillips Ln. Louisville, KY 40209
2nd Annual Kentucky Derby Fashion Show
Benefit for Live Out Loud Charity
Venue: Louisville, KY
5:00pm Guests Arrive, Red Carpet Interviews, raffles, shopping with our vendors, cash bar, photo ops on the Red Carpet, media interviews
6pm to 9pm Fashion Show (dress code is dressy)
Ticket Link: THIS PAGE. PURCHASE ABOVE. (Green button that says tickets).
Please note that our fashion shows tend to sell out 3 weeks to 1 week in advance. Plesae get your tickets way in advance.
Must pre-purchase tickets online.
Enjoy couture fashion designers, inspirational speakers, ambassador crowning & award ceremony, LIVE music, and more!

LIKE OUR FAN PAGE on facebook: https://www.facebook.com/liveoutloudcharity/ Leave a positive comment under one of our recent posts. We appreciate your support.
Check out our website to learn more about the charity: www.liveoutloudcharity.org

View our suicide prevention video CLICK HERE
Take our suicide prevention pledge CLICK HERE
View our anti bullying video. CLICK HERE.
Take the anti bullying pledge. CLICK HERE.

Recommended Hotel(s):
Crown Plaza Discount rate TBA
Hotels.com search Louisville, KY to find great deals on hotels.
Hotels near the show:
We recommend booking at the hotel listed above since this is where the show will be held.
We recommend that our out of town models book Saturday night since we usually have mandatory model fittings on Saturday with a optional Model Boot Camp and on Sunday we hold the mandatory rehearsal. In addition Sunday is the big fashion show day. We recommend if you can to stay Sunday night as well.


Ticket Information
We do not mail tickets or hand out actual physical tickets. You can however print out your ticket once you purchase it here online. Your name will be placed on our ticket list. You will check in with your name at the door. Your name will be listed as it appears when you pay online. Bring a receipt of your ticket just in case. Refunds are not given for any reason. If you can not make it to our event after purchasing a ticket we will hold your seat for the next show.


Doors close directly at the time the show starts. No one let in after the show has begun until intermission.
Meet the Founder & President of Live Out Loud Charity & Editor of Tiara Magazine
During the show Sherrie Gearheart will present a QPR & LOLC seminar. To learn more about Sherrie Gearheart please visit www.sherriegearheart.com
There will be other speakers from the Live Out Loud Charity Leadership Academy. To learn more about our Leadership Academy and Live Out Loud Charity go to www.liveoutloudcharity.org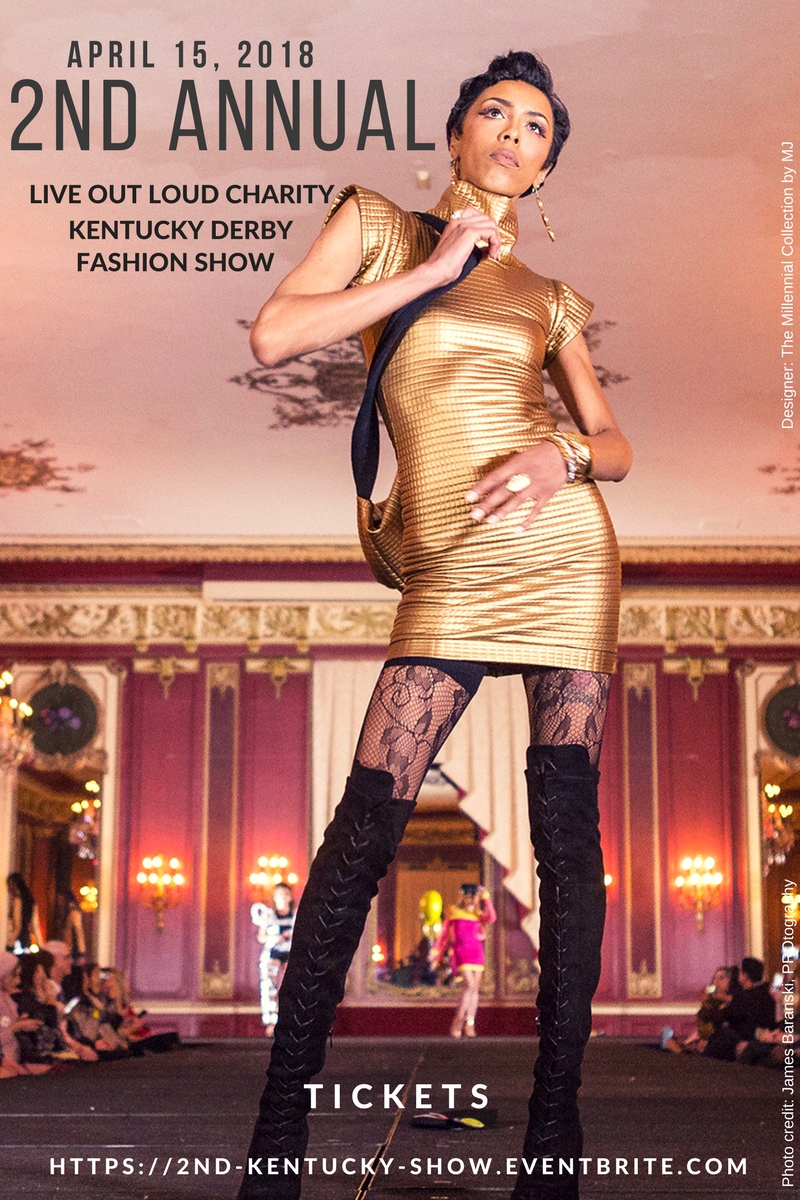 Things guests should know:
-Everyone is to arrive at the time doors open to check in at the door and find their seat. Doors will stay closed at the start of show time and guests will not be allowed in late and must wait until intermission. There are no refunds. Tickets were not handed our prior to our event but if you bought a ticket online your name is on our ticket list. If your guest bought your ticket in person, then your email address was given and you were emailed a ticket copy (again your name will be on the list at check in).
*Please print out your ticket confirmation (print receipt from online) when purchasing online just in case.
-Dress code for all guests is dressy NOT business casual. We prefer fancy dresses, suits, dressy pants outfits, etc. This event theme is fashion forward so think fun fashion or dressy. No gym shoes, hats, jeans, or casual clothing allowed. Purses and bags should be stowed under the chair. We are not responsible for missing items. If you need to keep items with you during the show they must be stowed under your seat during the fashion show at all times until intermission or after the show. Do not have your purse or coat showing on our seat or it will ruin the asthetic of the photos taken during the event. Thing glamorous and have fun dressing up for this fun event.
-If requesting handicap or have other special needs seating please email info@liveoutloudcharity.org We care about our attendees and will do our absolute best to accommodate those with any special or specific needs. Please inform us and state what is needed.
-Dress code colors: anything dressy. All colors allowed. Have fun! Keep in mind the colors of the charity are blue, yellow, green. Bright blue (turquoise shades) are our absolute favorite. These colors are not mandatory.
-Guests may purchase raffles tickets, DVDs, silent auctions. There will be various vendors with clothing, jewelry, etc.
-If you know anyone that would like to donate or volunteer please have them contact us directly at info@liveoutloudcharity.org

Model Info
Rehearsal Dates (attending at least two is mandatory):
Dates depend on your city. CLICK HERE for up to date information on our Model Information page. Some rehearsals (model practices) will be held in Chicago (two total) and some in Louisville (three total).
Saturday, April 14: we have practice and fittings (location TBA). This is held in Louisville, Kentucky and is mandatory for every single model in the show. Different call times for each model. Call times go by designer. Plan on 12noon to 9pm to have different call times if you are with more than one designer plus there is a model practice. We will also hold Model Boot Camp this day.
Sunday, April 15: 12noon is the call time for models in the show for hair and makeup and rehearsal held in the main ballroom where the show will be. The call time may be earlier.
CALLING ALL BEAUTY QUEENS (past & present)
Be seen in Tiara Magazine while walking the runway for a great cause. Support Live Out Loud Charity's programs that change lives and save lives through suicide prevention, anti-bullying, and core character development. Celebrating our 8th year of suicide prevention and our 2nd Derby Fashion Show, join us and the beauty queens from around the USA and world. To apply email: Name, title, age, photo, and 2-3 sentences about why you support Live Out Loud Charity to info@liveoutloudcharity.org. Pay the Beauty Queen fee below.

There are no ticket refunds for any reason. In the event a guest can not attend an LOLC paid event, we do not issue refunds, however we will hold the funds for up to one year so the guest may attend any of our events held across the USA (guest must inform us at least 3 weeks before the event to ensure we can save a seat.)