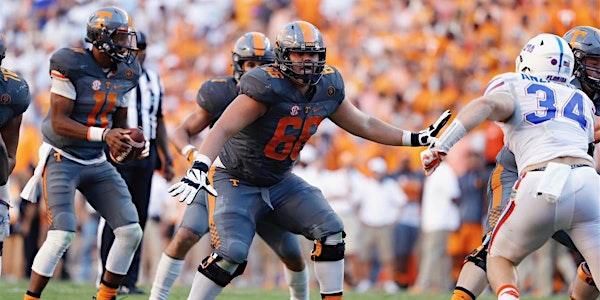 2nd Annual Jack Jones Youth Football Camp with Special Guest Josh Dobbs
2nd Annual Jack Jones Youth Football Camp featuring Special Guest Josh Dobbs
When and where
Location
Oakland High School 2225 Patriot Drive Murfreesboro, TN 37130
About this event
June 18th 2022
Ages 6-14
Oakland High School Football Complex
Gates open at 5PM
The camp will begin at 6:00 PM under the lights of the Oakland High School Football Complex with an introduction from current Cleveland Browns QB Josh Dobbs and former University of Tennessee Offensive Lineman Jack Jones.
Throughout this camp Jack and Josh, along with our coaches will provide a hands on experience with the ultimate goal of having fun and improving fundamental skills. The camp will feature skills training stations, individual coaching, competitions and individual awards. All campers will be grouped according to age to ensure proper levels of competition and instruction. There will be designated areas for parents/guardians to spectate.
There will be an opportunity at the end of camp for photos & autographs with Josh & Jack for all campers.
* "The Firery Pig" food truck will be on site for food purchases
* All campers registered before June 6th will be guaranteed a camp t-shirt
* Campers signed up after June 6th will receive a t-shirt subjected to availability
This is a non-padded, NO CONTACT camp, therefore we ask that each camper come dressed in normal athletic attire with cleats or sneakers. Campers will be able to sign up the day of the camp.
Release Waiver
I/we (Parent/Guardian of Participant and Participant) agree to the following terms and conditions of participating in the Camp provided by Jack Jones Youth Football Camp (hereinafter JJYFC).
1. Medical Condition & Authorization. I certify that the named Participant is physically able to participate in the JJYFC camp and that I know of no restrictions, physical impairments, or any other facts, which in any manner limit his/her participation in such Camp. I also understand that JJYFC will administer no physical examinations prior to or during the Camp and that JJYFC will rely solely upon the information shown on this form and/or otherwise provided in writing in advance to an JJYFC Corporate Officer. I give permission for Participant to receive emergency medical treatment and hospitalization if necessary. I hereby authorize directors, coaches, staff and associates of JJYFC to act on my behalf according to their best judgment in any emergency requiring medical treatment and hospitalization, if necessary.
2. Financial Responsibility & Insurance. I will be financially responsible for any medical attention needed of the Participant during the Camp or resulting from an injury received at Camp. I represent that I have provided and maintain adequate health and medical insurance coverage for Participant covering any and all activities related to the Camp. My medical insurance shall be the insurance coverage for any medical treatment. I also understand and agree that JJYFC shall not assume, or be responsible or liable for expense, medical treatment, or compensation for any injury that Participant suffers during Camp participation or related activities.
3. Compliance with Camp Rules. Participant understands and agrees to comply with all of JJYFC's Camp rules, policies, instructions, conditions and requirements for participation, whether stated or unstated, whether written or unwritten (Camp Rules). I/we agree that if you observe any unusual or significant concern in Participant's readiness for participation in the Camp or participant's failure or unwillingness to comply with the Camp Rules, you may, at your sole discretion, remove participant from the participation and immediately inform the nearest JJYFC official or instructor. Removal of the Participant from the Camp, at any time during the Camp, will in no way entitle Participant to a refund. Also, I/we hereby release and forever discharge JJYFC from any and all claims, actions, damages, or liabilities (including attorneys' fees and costs), arising from or related to any acts, actions, failures to act by Participant or Participant's disregard or failure to follow Camp Rules.
4. Assumption of Risk of Camp Activities. I understand the risk of injury to Participant from the activities involved in the Camp is significant, including the potential for permanent disability and death. The term "Camp Activities" includes but is not limited to: activities on and off the Camp facility, field and/or site, and includes activities before, during and after field instruction, beginning from Participant's arrival to the Camp facility, field and/or site up and through the conclusion of the Camp. While the particular Camp rules, equipment and personal discipline may reduce this risk, the risk of serious injury does exist. I/WE (PARENT/GUARDIAN AND PARTICIPANT) KNOWINGLY AND FREELY ASSUME ALL SUCH RISKS, BOTH KNOWN AND UNKNOWN, EVEN IF ARISING FROM THE NEGLIGENCE OF FWSM, AND/OR ITS COACHES, STAFF, CAMP MANAGEMENT, AND DIRECTORS AND I/WE ASSUME FULL RESPONSIBILITY FOR PARTICIPATION IN CAMP BY PARTICIPANT.
5. RELEASE, INDEMNIFY & HOLD HARMLESS. I/WE FOR MYSELF AND ON BEHALF OF PARTICIPANT HEREBY RELEASE, INDEMNIFY AND HOLD HARMLESS FWSM, and its Coaches, staff, Camp management, Directors, Sponsors, Representatives, Volunteers and if applicable, the owners and lessors of the premises used to conduct the Camp (Releases) with respect to ANY AND ALL INJURY, DISABILITY, DEATH OR LOSS OR DAMAGE TO PERSON OR PROPERTY INCIDENT TO PARTICIPANT'S INVOLVEMENT OR PARTICIPATION IN ANY AND ALL CAMP ACTIVITIES WHETHER ARISING FROM THE NEGLIGENCE OF RELEASES OR OTHERWISE, TO THE FULLEST EXTENT PERMITTED BY LAW.
6. Publicity. I understand and agree JJYFC retains the right to use, for publicity and advertising, photographs of Participants taken at Camp.
7. LIMITATION OF LIABILITY: I AGREE THAT THE TOTAL LIABILITY OF JJYFC, its affiliates and respective directors, officers, employees, and agents with respect to services performed or to be performed by JJYFC SHALL NOT EXCEED 100% OF THE COMPENSATION RECEIVED BY JJYFC, FROM I/WE PERTAINING TO PARTICIPANT. THE PARTIES AGREE AND ACKNOWLEDGE THIS SECTION OF THE AGREEMENT IS A MATERIAL PART OF THE CONSIDERATION FOR THE AGREEMENT.
8. Severability. In the event that any provision of these Terms and Conditions, or the application of any such provision to any person or set of circumstances, shall be determined to be invalid, unlawful or unenforceable, the remainder of these Terms and Conditions shall continue to be valid and enforceable to the fullest extent permitted by law.
9. Governing Law & Jurisdiction. These Terms and Conditions will be governed by the laws of the state of Tennessee. I/we agree that any action brought under these Terms and Conditions shall be brought in the federal or state courts of Tennessee. In the event either party commences an action under these Terms and Conditions, the prevailing party shall be entitled to reasonable attorney's fees and costs.