2nd Annual Ireland Fashion Show for LOLC

Sunday, June 25, 2017 from 7:00 PM to 10:00 PM (IST)
Event Details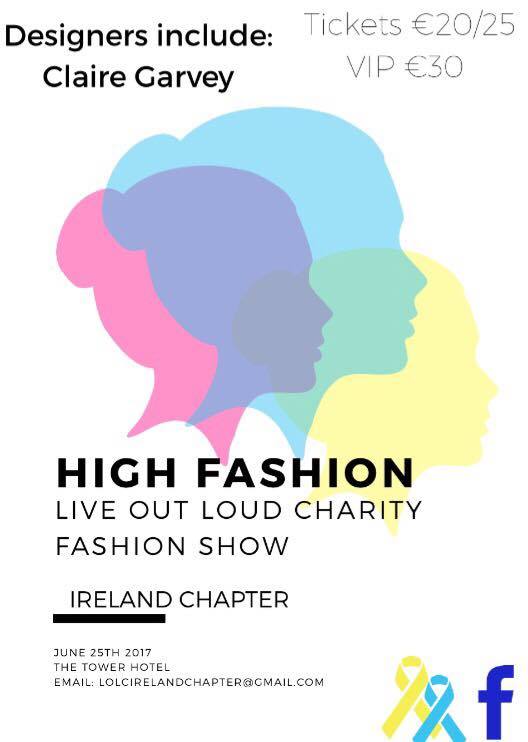 Celebrating 7 years of suicide prevention with Live Out Loud Charity a non profit organization focused on saving lives through core character development and suicide intervention training. Live Out Loud Charity is proud to grow our mission in Ireland for the past few year and we will celebrate life with our 2nd Annual Ireland Fashion Show for Live Out Loud Charity for suicide prevention with an informative seminar, inspiring stories, and a fabulous fashion show held June 25, 2017 in Waterford, Ireland. The 2nd Ireland LOLC Fashion Show will feature international designers from around the world and local fashion designers. This is a night everyone will remember. Are you ready for the fashion show of your lifetime? We are expecting over 150 guests, countless media outlets, and over fifty models of all sizes, heights, ages, and ethnic backgrounds. Help us raise funds while attending this fun yet informative event. Models and beauty queens from nationwide are taking a stance by parading down our runway, to stop the most preventable cause of death, suicide. Media coverage helps us to raise awareness of our cause. Top performers, suicide prevention seminar, electric fashions, and bold people.... It can't get better than this.  To learn more about Live Out Loud Charity you may visit  www.liveoutloudcharity.org  Purchase tickets below. All net proceeds will be given to Live Out Loud Charity. To be involved in our charity show as a volunteer, model, or titleholder, email info@liveoutloudcharity.org Model audition information email: ireland@liveoutloudcharity.org


EVENT DETAILS
June 25, 2017
The 2nd Ireland LOLC Fashion Show
Dress code: FANCY

Doors open 5:30pm
Show starts 6pm
Location: The Tower Hotel & Leisure Centre in Waterford City, Ireland
Ticket Link: THIS PAGE. PURCHASE ABOVE
Tickets will be available at the door. 
Cash bar and light H'ors deurves will be served during the show. Great food, music, fashion, and fun all for a great cause: Live Out Loud Charity.
Producers:
2nd Irish Fashion Show is produced by Jade-Louise Donnelly our Ultimate Miss Worldwide Teen Ireland Ambassador alongside Rebekah Bond Donnelly
1st Irish Fashion Show was produced by Emma Gavin our Ultimate Miss Worldwide Teen Ireland Ambassador alongside Lorraine & Damien Gavin and Una Williams 
Overseeing the event is Founder of Live Out Loud Charity, Sherrie Gearheart
Learn more at www.liveoutloudcharity.org and www.sherriegearheart.com 
Recommended Hotel(s):
The Tower Hotel & Leisure Centre
County Waterford, Ireland 
http://www.towerhotelwaterford.com/
Ask for the Live Out Loud Charity discounted rate for 99 Euros. 
We apologize for the inconvenience 
Tickets must be purchased  in advance online at the specified links above. You must print the receipt and bring it with you to the show. Tickets will not be sold at the door. Thank you for supporting our cause. Upon purchase of each ticket you will receive an email confirming your purchase from eventbrite. In addition, your name will be placed on our ticket list which you will refer to when you check in during the show. There are no ticket refunds for any reason. We do not mail tickets.
Doors close directly at the time the show starts. No one let in after the show has begun until intermission.
Please make a donation to Live Out Loud Charity for suicide prevention. Donations will go to the LOLC 2016 school and media tour training and traveling for the anti-bullying, suicide prevention, and core character development workshops and seminars. Please support our cause and donate today.

Meet our two Ireland Ambassadors for Live Out Loud Charity, Emma Gavin Ultimate Miss Worldwide Teen Ireland 2015 to 2017 and Jade-Louise Donnelly, Ultimate Miss Worldwide Teen Ireland 2016-2018. Photo by Robbie Kelly.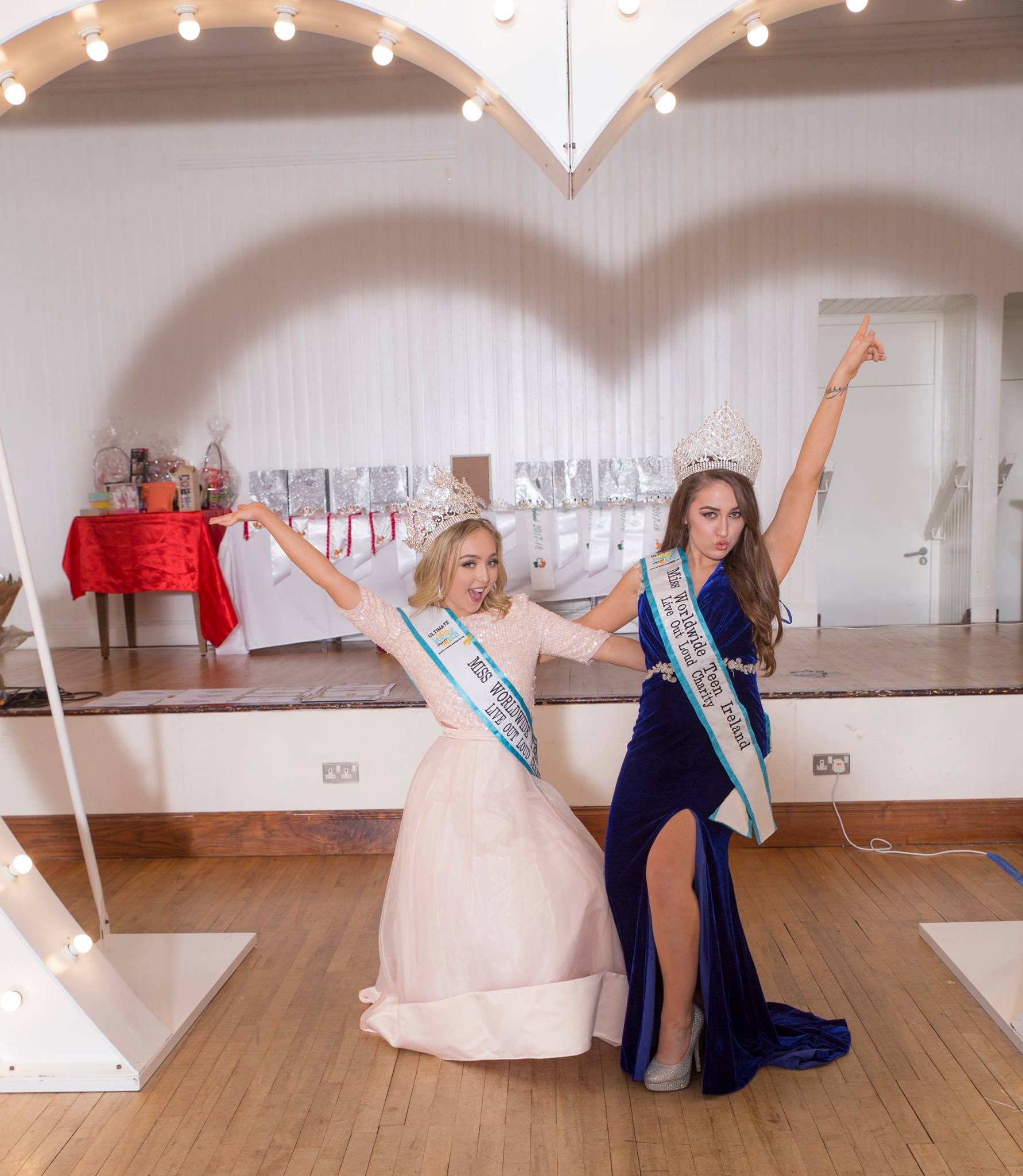 Meet the Founder & President of Live Out Loud Charity & Editor of Tiara Magazine
During the show Sherrie Gearheart will present a QPR & LOLC seminar. Meet Sherrie CLICK HERE.
There will be other potential speakers from the Live Out Loud Charity Leadership Academy.
To learn more about the Leadership Academy and Live Out Loud Charity CLICK HERE.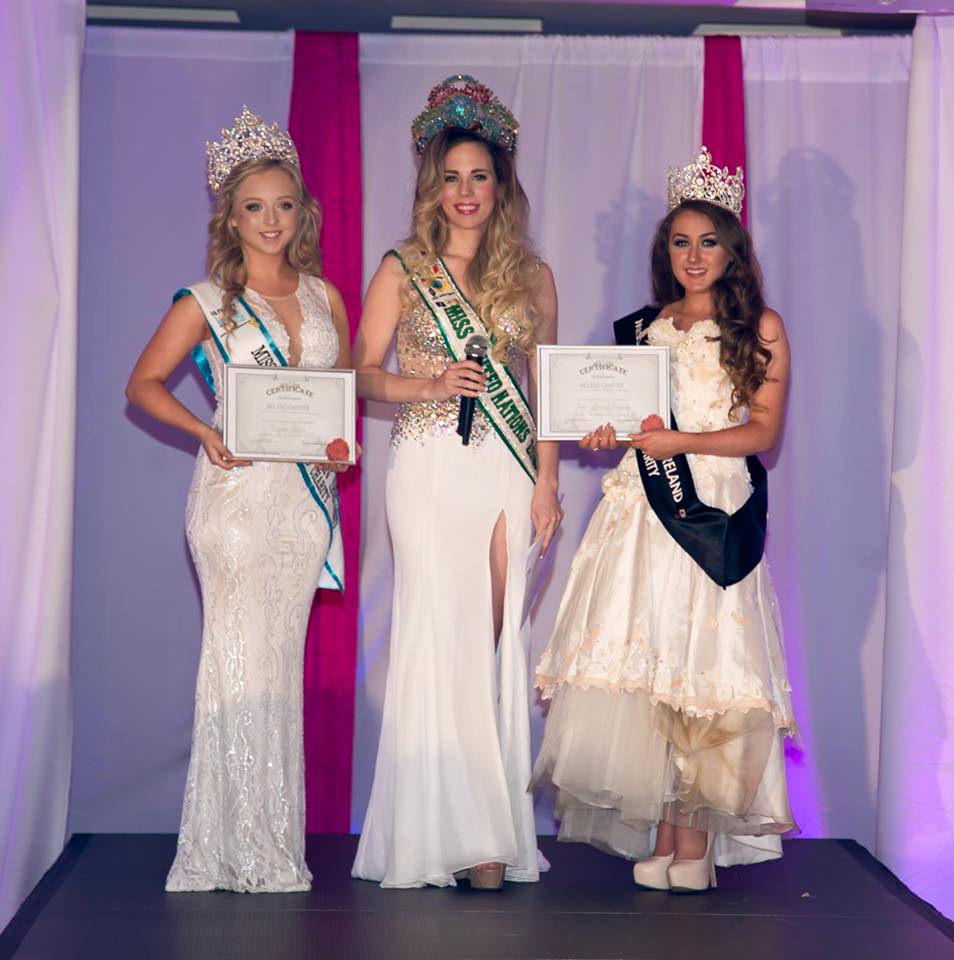 Things guests should know:
-Everyone is to arrive at 7:30pm to check in and find seats. Doors will stay closed at the start of show time and guests will not be allowed in late and must wait until intermission. There are no refunds. Tickets were not handed our prior to our event but if you bought a ticket online your name is on our ticket list. Please print out your ticket confirmation (print receipt from online) when purchasing online just in case.
-Dress code for all guests is dressy NOT business casual. We prefer fancy dresses, suits, dressy pants outfits, etc. This event theme is high fashion so think fashionable and dress. Think extremely dressy.  Think Royalty. No gym shoes, hats, jeans, or casual clothing allowed. All coats must be checked in upon arrival along with purses. If you need to keep items with you during the show they must be stowed under your seat during the fashion show at all times until intermission or after the show.
-If requesting assistance or have other special needs regarding seating please email info@liveoutloudcharity.org We care about our attendees and will do our absolute best to accommodate. Please inform us and state what is needed.
-Dress code colors: anything dressy. All colors allowed. Have fun! Keep in mind the colors of the charity are blue, yellow, green. Bright blue (turquoise shades) are our absolute favorite. These colors are not mandatory.
-Guests may purchase raffles tickets, DVDs, silent auctions. There will be various vendors with clothing, jewelry, etc.
-If you know anyone that would like to donate or volunteer please have them contact us directly, email info@liveoutloudcharity.org
CALLING ALL BEAUTY QUEENS (past & present)
Be seen in Tiara Magazine while walking the runway for a great cause. Support Live Out Loud Charity's programs that change lives and save lives through suicide prevention, anti-bullying, and core character development. Celebrating another year of suicide prevention, join us and the beauty queens from around the world and country. To apply email: Name, title, age, photo, and 2-3 sentences about why you support Live Out Loud Charity. To apply visit the BEAUTY QUEEN page.
 There are no ticket refunds for any reason. 
When & Where

The Tower Hotel & Leisure Centre
The Mall
X91 VXE0 Waterford City
Ireland


Sunday, June 25, 2017 from 7:00 PM to 10:00 PM (IST)
Add to my calendar
Organizer
President & Founder of Live Out Loud Charity & Tiara Magazine, Miss United Nations 2015