2nd Annual "Inspired By Influencers Tour" Charity-Fundraiser Chicago Kickoff Event (Open to Ladies and Gentlemen) Purchase Your Ticket Today (Tickets Available Online Only)

Wednesday, April 27, 2011 from 6:00 PM to 10:00 PM (CDT)
Event Details
Join Us For Our 2nd Annual "Inspired By Influencers Tour" Charity-Fundraiser Chicago Kickoff Event
Wednesday, April 27th
6pm-10pm
(Tickets Sold Online Only)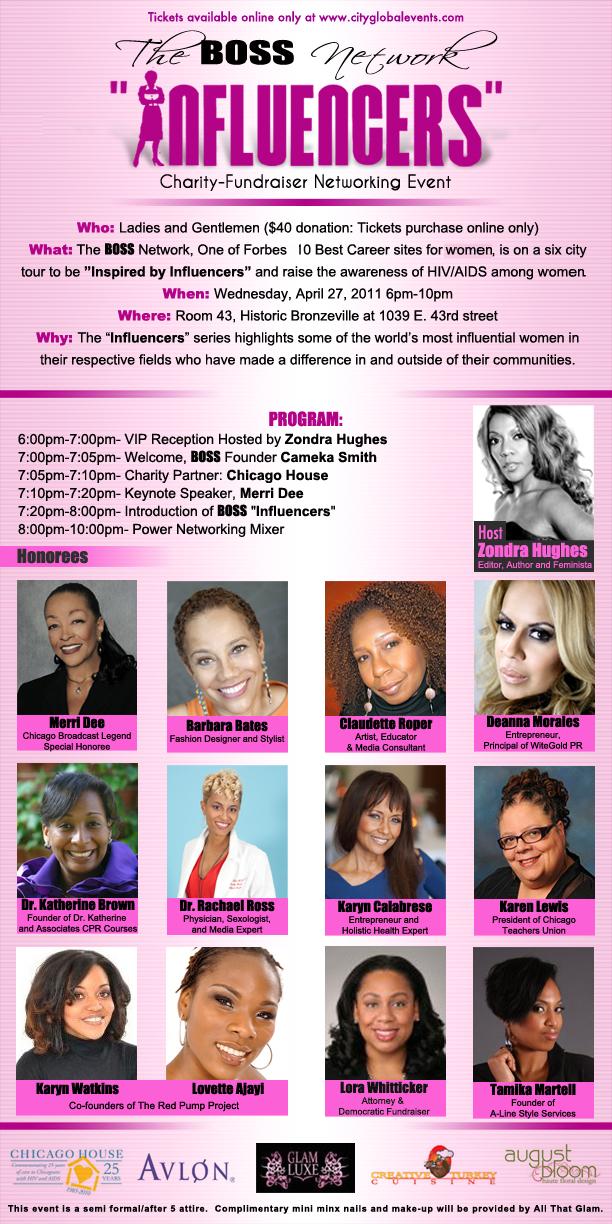 (Enjoy Complimentary Hor D'oeuvres provided by Creative Turkey Cuisine and Mini Minx Nails and Makeovers provided by All That Glam)
Red Carpet Interviews will be hosted by Kem and Shara

Have questions about 2nd Annual "Inspired By Influencers Tour" Charity-Fundraiser Chicago Kickoff Event (Open to Ladies and Gentlemen) Purchase Your Ticket Today (Tickets Available Online Only)?
Contact The BOSS Network
Organizer
BOSS stands for "Bringing Out Successful Sisters," and its mission is to promote and encourage the small business spirit in women. The BOSS Network is a community of professional and entrepreneurial women who support each other through conversation, online and event-based networking.
If you or your organization would like to partner or advertise with BOSS please send an email to:

Info@thebossnetwork.org
www.thebossnetwork.org
P. 641.715.3900
Ext. 53411
*The BOSS Network, Inc.
BOSS Testimonial
I cannot begin to tell you how refreshing it is to be a part of The BOSS Network. Since my embarkation into entrepreneurship, I have been introduced to many professional women's organizations that "say" they support women, yet lack the action in doing so.
This network however is unique in that they go above and beyond the call of duty. These BOSS ladies do everything (and then some) that traditional societal beliefs say we cannot: succeed, support one another, and share our wisdom along the way. Additionally, we all know that building quality relationships is vital to the success of our businesses and lives in general. With what seems to take months to develop elsewhere, you get a readily available and willing network of women who genuinely care about you and your success, not just their own.
There is not a doubt in my mind that this network will have a tremendous impact on my net worth. Not only that, The BOSS Network inspires me through their giving initiatives such as through their mentorship program. Leaving the legacy of a can-do attitude, leadership, and teaching blossoming girls about the true meaning of "the support network" means that The BOSS Network is here to stay. We are blessed to be connected through a woman who is fearlessly leading, teaching and living her purpose.
Donica' Beckett
Founder, donicabempowered, LLC