About this Event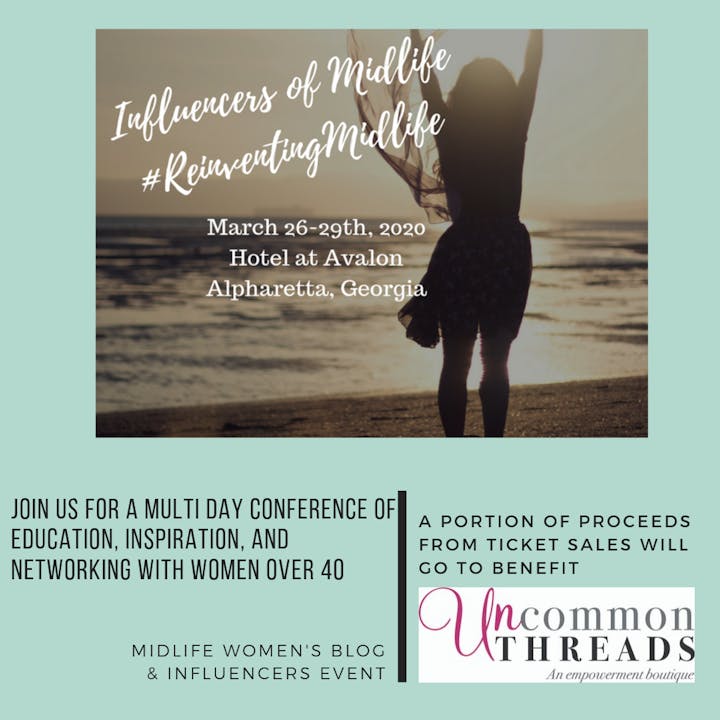 The Influencers of Midlife Summit is a multi-day conference combining educational and inspirational sessions with the best and brightest names of Women Influencers over 40 along with female creatives, and entrepreneurs. Network with other bloggers, social media influencers, brands, and mentors while learning new skills.
A portion of proceeds from ticket sales will go to benefit Uncommon Threads.
Thursday March 26th:
Check in at 4:00 for Attendees
Welcome Cocktail Reception 6:00-9:00 (Lite Bites)
Friday March 27th :
8:00- 9:00 AM –Check in Continental Breakfast
9:00- 9:30- Welcome Speech from Robin LaMonte
9:30-10:30—Linda Holt-"Creating Better Photos with Your IPhone"
10:30-11:00 – coffee break and Expo time
11:00-12:00 -- Donna Duffy- "Create Your Signature BLEND and Rise above the Noise. BLEND stands for Build Your List, Leverage your Knowledge, Engage your Audience, Nurture to Close and Deliver with Excellence."
12:00-1:00 – Buffet lunch w/ 12:30 Inspirational Speaker Maria Leonard Olsen- Author Fifty after Fifty- "Reinvigorating Your Life"
1:00-2:00 – JoJami Tyler & Lana Helda- Ladies Road Map "Successful Partnerships and Creating A Podcast"
2:00- 3:00 – Sheree Frede- "How to Style your Photos for Social Media"
3:00- 4:00-- Shauna Robertson- "How to Create Perfect Images with the Big Girl Camera"
4:00-5:00-Panel discussion with Tonya Parker, Stephanie Glover, and Annette Duke - "Embracing the Voices of Women over 40: Why Diversity Matters"
5:00-6:00 – Networking Expo time- Photo Shoot
6:00- 9:00 – Dinner w/ Inspirational Speaker- Rosie Dalton- "How to Use Challenges as Feminine Rocket Fuel to Empower Your Gorgeous Life!"
Saturday March 28th:
8:00-9:00 – Continental Breakfast
9:00-10:00- Mitzi Beach- "Healthy Home=Healthy Life"
10:00—10:15 – coffee break
10:15- 11:00--Lisa Washington- "Food Styling and Photography"
11:00-12:00 – Jill McKenzie- "Create the Perfect Interior"
12:00-1:00 – Buffet luncheon w/ 12:30 Inspirational Speaker - Dina Parise-Race Car Driver- "Never Too Short or Too Old to Ride This Ride"
1:00-2:00 – Panel Discussion with Deb Boland, Sheree Frede, Shauna Robertson, Jamie Lewinger, and Rhoda Vickers- "How to Monetize Your Blog and Make Money as an Influencer"
2;00- 3:00--Jena Dunham- "All Roads lead to Your Website"
3:00 - 4:00-- Keynote Speaker- Congresswoman Lucy McBath "My Journey from Flight Attendant to Congresswoman"
4:00- 6:00-- Networking and Expo- Photo Shoot
6:00-10:00 Closing Dinner Party w/ Congresswoman Lucy McBath as our guest
Sunday March 29th:
8:00-9:00 – Continental Breakfast and Thank you for coming by Robin LaMonte ( announce 2021 host city drawing for 2021 Free Pass)
9:00-10:00 Jackie Silver "Easily Create Videos that Sell"
10:00—11:00 – Suzanne Smith- "Create Your Own Magazine"
11:00-12:00 – Deb Chase-"How to Write an E-Book and get Published"
Ticket price includes all meals during the event