Event Information
Refund Policy
Contact the organizer to request a refund.
Eventbrite's fee is nonrefundable.
Join Dr. Rachelle Hansen and Dr. Katherine Quie for a discussion around Neurodevelopmental Disorders, Executive Functioning, and more.
About this Event
Conference Information:
Administrative Certificate of Attendance and CEUs will be provided.
This event will be held online via. Zoom. A follow-up email with instructions on how to access the event will be emailed closer to the event date.
This online webinar will be recorded and available to all registrants after the event for 45-60 days after the conference. This will include if you are not able to attend the day of. Access to the recorded event will be available shortly after the 15th.
Session 1:
Finding the Brilliance in Neurodivergent Learners
Katherine Quie, Ph.D., L.P she/her/hers
ADHD and learning disabilities are some of the most common, yet least understood childhood diagnoses. This misinformation causes parents, teachers, and students to miss golden opportunities for early and later intervention. Dr. Quie will review how ADHD and learning disabilities typically present in preschool, elementary school, and high school-aged students, common misperceptions that interfere with accurate diagnoses, diagnostic changes between the DSM-IV and V, and how school staff can help neurodivergent students and their families get the support they need.
Session 2:
My Student Has Been Diagnosed with ADHD/ASD/LD, Now What? Classroom Executive Function Strategies with Neurodiversity Strengths in Mind
Rachelle Hansen, Ph.D., LP, Clinical Psychologist, Neurodevelopmental Specialist she/her/hers
Having a diagnosis helps provide a shared starting place for a student's team of family, school, medical and care providers. But then what happens? Schools have the monumental and ever-so-impactful task of teaching curriculum but also teaching students how to learn. Executive functions are the brain-based cognitive skills of learning - learning HOW to analyze a task, break it into steps, and keep going until the task gets done again and again.
Dr. Hansen will review how genders and neurodevelopmental disorders can differ in executive function strengths and challenges. She will then offer hands-on executive function strategies that can be used with a diverse population of students across various teaching platforms with the goal to empower students to learn how to learn.
Pre-Recorded Session:
You Like to Move It Move It!
Brenna Thompson, MS, RD, LDN Registered Dietician, Integrative Nutritionist
Marcie Vaske, MS, LN Licensed Nutritionist, Integrative Nutritionist
Kris Lyons, NBC-HWC, CHWC Board Certified Health & Wellness Coach
Why is getting you and your student's gut and body moving important for brain and body health? Hidden in the walls of the digestive system, scientists are learning more and more about the importance of the "brain in your gut". Learn more about the links between digestion, mood, health, and even the brain's think and learn. Listen in as Integrative Nutritionists Brenna and Marcie discuss different snacks to add and avoid during the school day as well as food tips for better gut motility. Health and Wellness Coach Kris will demonstrate a few fun and simple movement exercises to do in and out of the classroom that can help with improved digestion as well as increase brain focus.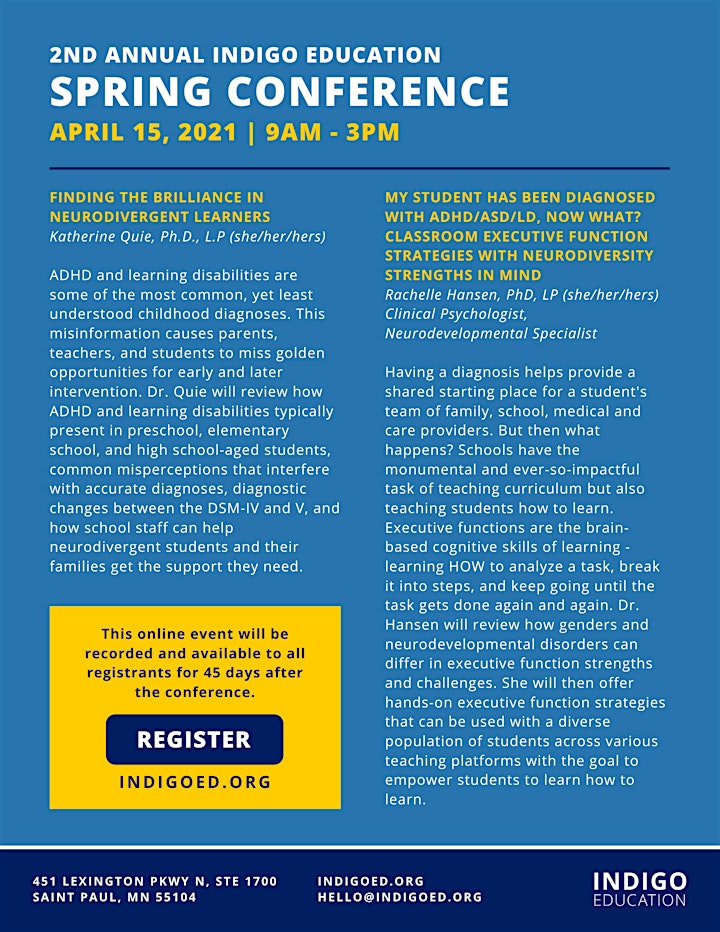 Date and Time
Location
Refund Policy
Contact the organizer to request a refund.
Eventbrite's fee is nonrefundable.