2nd Annual ICO's Cryptocurrency Funding West Summit Los Angeles, March 5th...
Description
2nd Annual, ICO's Cryptocurrency & Funding West Summit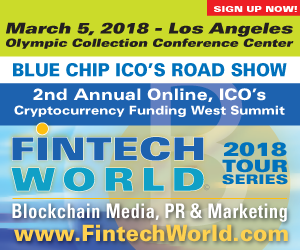 We will explore new methods of finance, as well as review existing and developing legal considerations and international initiatives. In bringing together industry thought-leaders, this is destined to offer unique and valuable insights to this growing industry.
Limited to 300 attendees, we are offering you the opportunity to become one of our elite sponsors for this exclusive event.
We are looking forward to your participation and much appreciate if you share this event with your social network.
SEC surprise announcement on ICO's – A huge increase in ICO investment, surpassing VC funding in Blockchain market- Regulatory landscape of Cryptocurrency – digital ledger technology Blockchain technology: New policies and Application – Digital Currencies like Bitcoin and Ethereum reaching their highest market cap sector- Investor perspective and education – The role of digital money in Crowdfunding– Security compliance audits- Token economy– Future of Digital Currencies Exchange – Challenges facing companies who adopt Blockchain technology: health – Education- Government – Energy- Logistics – transposition- DAO Tokens, a Digital Asset – P2P SME Lending – Reg A Plus – Corporate Investment in Digital Technology – Is ICOs are risky business? – Wild West of Finance – Wall Street Blockchain – Functionality, integration, and security.