2nd Annual I Heart Me Celebration of Self Love Mothers Empowering Daughters
Description
You asked for it, so we're doing it again! Come and join us for the 2nd Annual I Heart Me Celebration of Self-Love Mothers Empowering Daughters 2019 Event.
B.O.M.B MOM INTERNATIONAL has partnered together with the awesome community of Metro Atlanta to give the powerful women of tomorrow a giant leap towards greatness. As women it is our responsibility to teach the next generation how to love themselves and to be GREAT in this world. Let's show them infinite LOVE. Join Us as we share, laugh,learn, dine, and unwind. Get pampered and talk shop. This environment will be total GIRL POWER!!!
Like Whitney said "Learning to Love Yourself is the GREATEST Love of All"!!!
Who This Event is For?
* Exciting & Dynamic Mothers/Mother-Figures looking to bond with their daughters and expand her mind while networking with like-minded women
* Passionate Mompreneurs looking to expand and grow their businesses and develop a legacy worth remembering
* Mommy Managers looking for tools, tips, tricks, and inspiration for themselves and their daughters.

Day One:

I Heart Me Signature Lab Series A VIP Experience Sponsored By Tamara and Zandra Zantell of Raising A Mogul
Adults Only: Supervision Provided: BOMB MOM MIXER: Get to Know the Mompreneurs and Business Women of Metro Atlanta before the Main Event!!!
Day Two:
FEATURES:
For Mommy:
Hosted by: Theron Sheffield-Brown of @YourGirlTheron
Opening Keynote :Marcella D. Moore of #Motivate and Pray
Motivation Panel
Entrepreneurship Keynote: Tamara Zantell of Raising A Mogul
Enterpreneurship Panel
Workshops:
For Mommy:
"I AM LOVE" Self-Actualization featuring Makeida Johnson author of Dad it's Me
5 Love Languages featuring Katha Blackwell author of Not Another Victim
For Daughter:
Self-Love Youth Workshop featuring Emmanuella Raphaelle creator of the Journal Journey
Be A Chemist! Workshop Hosted by Lab Enterprises LLC
I AM Vision Board Party featuring Sheva Quinn the Young CEO Business coach
(Stay tuned for program updates!!)
More Fun Stuff from Our Awesome Sponsors!!!
Glam Squad Sponsored by Shar Vanity Cosmetics
Beauty Bar Sponsored By Niiks Botanicals
Red Carpet Paparazzi Sponsored by Bonnie Blu Photography
Bonuses:
Get Goodies in our Swag Suite hosted by Our Swag Sponsors!!!!!!
Behind the Scenes Interviews Host: Shawnee Crudup of Gifted Girl Power
Contest Prize Entries
* SHARE a picture of you and your girls with the event link via Facebook and t@g BOMB MOM INTERNATIONAL with the handle @iambombmom & #iheartme2019 to Enter Contest!!
*SO YOU THINK YOU CAN PITCH: BMI MOTHER/DAUGHTER EDITION. Create your 1-3min Video Pitch about you and your business and what makes you revolutionary!!! Post it to the event wall for likes. Too 3 finalist will get to PITCH from the stage for the ULTIMATE Grand Prize!!!
***Stay tuned for more fun details!!!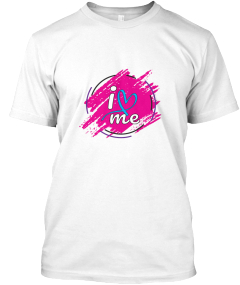 2nd Annual I Heart Me Celebration of ...
$14.99
We partnered with Teespring to create some awesome merchandise for this event. Show your support and look good wearing it. Check it out!