Sales Have Ended
Registrations are closed
The event capacity has been reached! But thank you for your interest in the event.
Sales Have Ended
Registrations are closed
The event capacity has been reached! But thank you for your interest in the event.
Description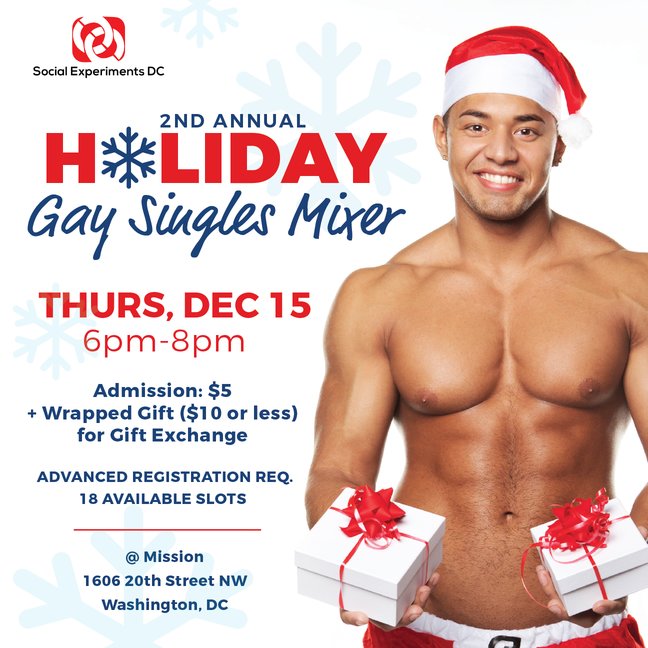 Description
Our singles mixer is a "social experiment" in which single guys come together to meet other single men interested in dating and/or establishing a relationship. We facilitate participant's introductions with icebreakers. The icebreakers help to ensure that you meet every guy in attendance at the event.
What to Expect.
Check-in begins at 6:00 p.m. The first icebreaker will begin at 6:30 p.m.

Find the check-in table, sign-in, submit your gift for the gift exchange, grab your name tag and head to the bar for a drink.

You'll also receive a mixer card. Within 24 hours of the event you'll be emailed your mutual matches. A mutual match results when you indicate a willingness to be matched with one of the guys and he indicates his willingness to be matched with you.
Registration
In addition to the $5 registration fee, you must also bring a wrapped gift for $10 or less. Creativity is highly encouraged!
Disclaimer & Waiver
By registering for this event, you are acknowledging that the event organizer has not checked the validity or backgrounds of individuals participating in the event. The event organizer is not responsible for what happens between any individuals at the mixer or in future meetings of any kind between two individuals who met at the mixer. Participants agree by registering for an event that they will indemnify and hold the event organizer, his agents and the venue harmless for any damages, claims or liability.

Photography/Video Recording of Event
SocialExperimentsDC, LLC may take photographs and/or make audio and/or video recordings of participants involved in its public events. It may use such photographs or video recordings on SocialExperimentsDC's website and social media accounts (e.g. Facebook, Instagram, Twitter, etc.) to let others know of our event.
By registering for and participating in one of our public events you consent to: photography, audio recording, video recording and its/their release, publication, or reproduction to be used for promotional purposes, advertising, inclusion on web sites, social media accounts and/or any other purpose by SocialExperimentsDC, LLC. You release SocialExperimentsDC, LLC, its organizers, employees, and/or representatives from any liability connected with the taking, recording, digitizing, and/or publication of photographs, computer images, video and/or sound recordings.
By registering for and participating in a SocialExperimentsDC, LLC's public events, you waive all rights you may have to any claims for payment or royalties in connection with any publication of these materials. You also waive any right to inspect or approve any photo, video, or audio recording taken by SocialExperimentsDC, LLC or the person or entity designated to do so by SocialExperimentDC, LLC.
By registering to attend this event, you agree to have read and are fully aware of the above polices and/or terms and conditions and agree to abide by them.