Description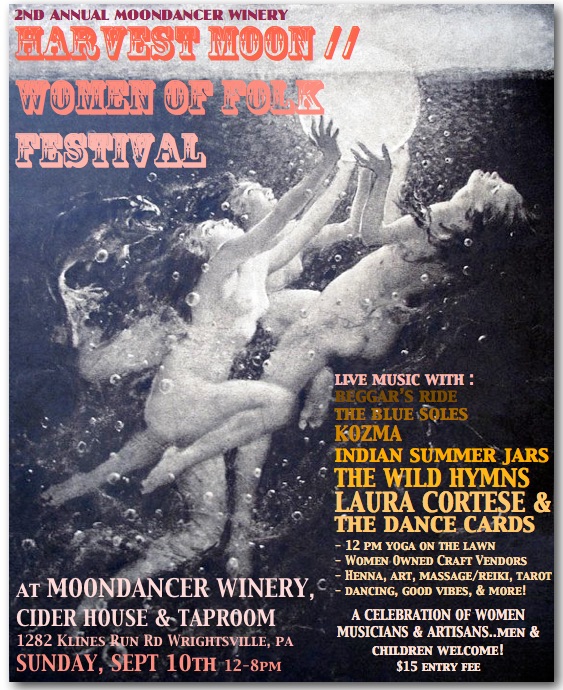 2nd Annual Harvest Moon / / Women of Folk Festival
At Moondancer Winery, Cider House and Taproom
Sunday, Sept 10 12 - 8 pm
$15
(Artwork on this event page and flier by Arthur Spears)

A gathering to celebrate the Harvest Moon (and the changing of the seasons), Women in Music (and all women, men and children!) and this magical Life! Also, we gather to celebrate and lift each other up ❤️

***Men and children are welcome - this is not just for women, but specifically celebrating women. There will be men vending and performing and attending, so ALL are welcome!***

happenings:
Yoga on the lawn 12pm-1pm

Music with women-fronted:
The Wild Hymns, Indian Summer Jars, Kozma, Beggar's Ride, and featuring Laura Cortese and the Dance Cards!!

Henna/mehndi, women craft vendors, art, massage/reiki, tarot, dancing, and good vibes!

Picnincking is welcome, wood fire pizza and artisinal grilled cheese is offered from the winery. No outside alcoholic beverages please. Kindness, courteousness and keeping the grounds clean is a must, too!

More info TBA!