2nd Annual Game Changers & Bridge Builders Awards Tribute

Tuesday, October 16, 2012 from 10:00 AM to 2:00 PM (PDT)
Event Details
2nd Annual "Game Changers & Bridge Builders" Award Luncheon

Join Us in Our Tribute & Celebration of the Home Going of our Founder Len Canty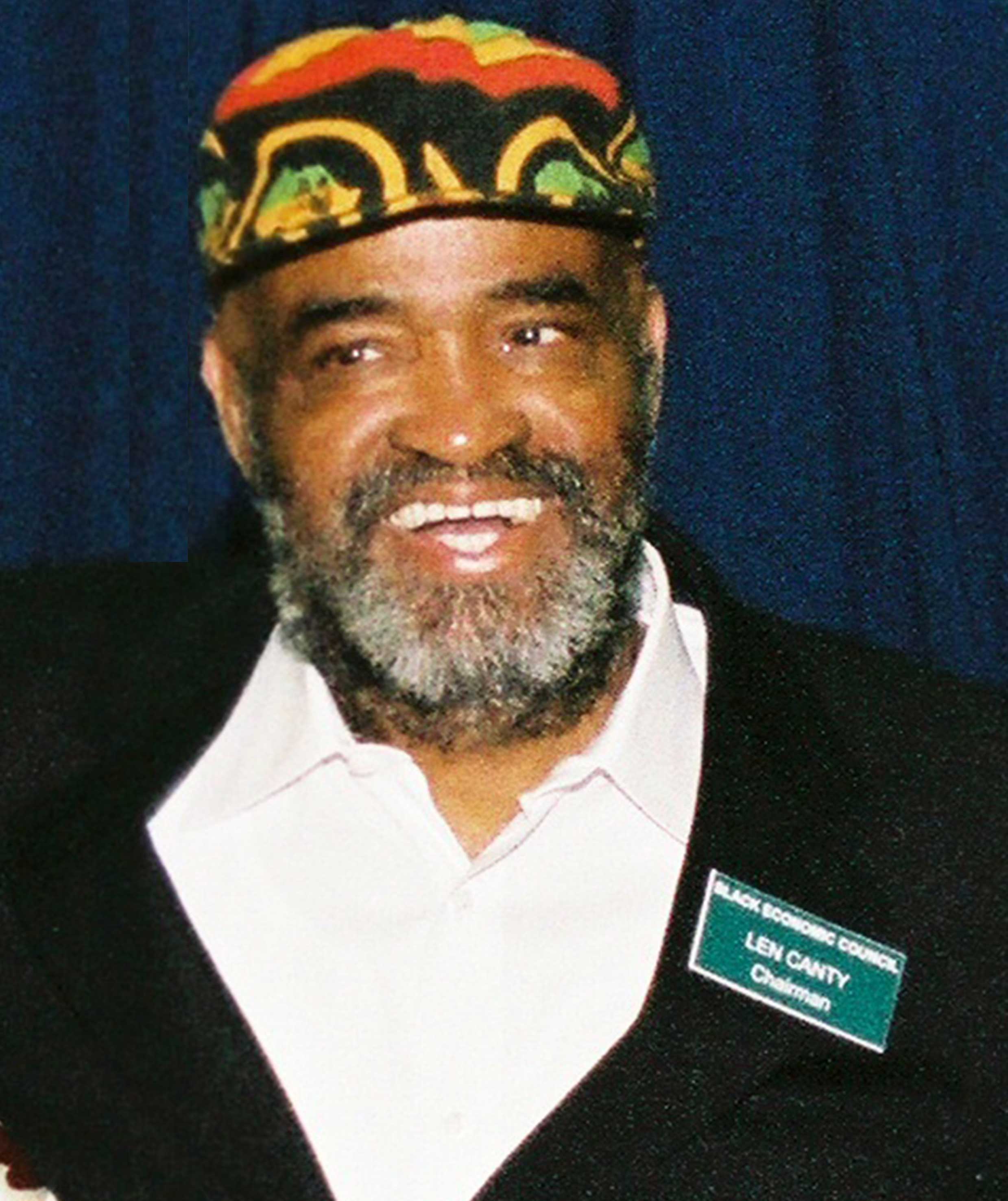 April 26, 1945 - September 22, 2012
Due to the passing of our chairman and founder, Len Canty, we have modified the program for our 2nd Annual Game Changers & Bridge Builder Awards Luncheon to include a tribute to Mr. Canty.
We are asking all of our community partners, small businesses, and regulatory and corporate leaders to join us as we recognize accomplishments achieved as we continue our mission.  As a friend and advisor to many, his passion and commitment is an inspiration to cherish. 
Len always had his unique way of advancing his vision.  BEC will continue and move forward on this journey.   Please assist us by using the link provided below to RSVP to ensure adequate accommodations as seating is limited.
---------------------------------------
Special Guest:  Dr. John Carlos will join us at the event taking place on the 44th anniversary of the 1968 Olympics "STAND" for Black equality and freedom in America.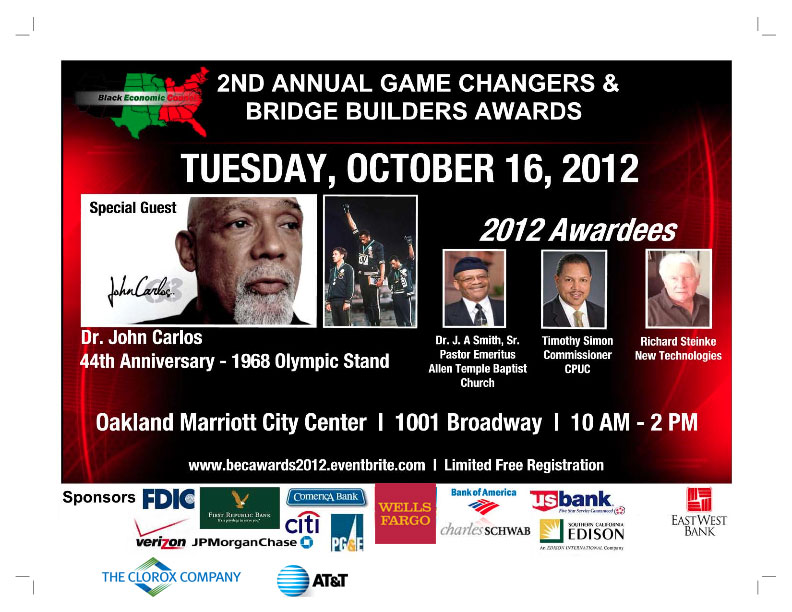 The Black Economic Council (BEC) will introduce "Game Changing" Technologies made in the USA that will take the clean and renewable markets to the next level demonstrating how we can bring manufacturing back to the US leveraging proven systems that exponentially increase output.
Confirmed keynote speaker the Dynamic California Public Utilities Commissioner Timothy Alan Simon
Appointed to the California Public Utilities Commission by Governor Arnold Schwarzenegger on February 15, 2007.  As a former securities and banking industry attorney involved in financial products and services, Commissioner Simon firmly supports investment in California's utility infrastructure as being critical to California's economic future, and encourages a balanced public policy in areas of utility regulation.  He actively promotes and encourages diversity in utility procurement, educational opportunities, and the workplace. 
We invite our California leadership to explore how we can rebuild our economy leveraging leading edge manufacturing processes proven in the following technologies that we want to bring to YOUR city.
GAME CHANGING TECHNOLOGIES 
This year Black Economic Council (BEC) will honor Mr. Richard Steinke, an accomplished innovator who is responsible for more than 80% of the urethane products on the planet!  Mr. Steinke has demonstrated commitment to diversity and inclusion as he is working with diverse firms, including Innovative Resources a W/MBE to bring his world changing technologies to market.
Wind Sail Receptor - Wind Turbine Technology
    Delivering truly clean and green electricity safely and reliably 
Generates electricity at costs lower than all other generation resources including 

NUCLEAR

 for pennies per kWh

Operates effectively in low winds speeds generating electricity at 1 MPH

Operates on or off grid to support locations not accessible to the grid including cell towers and off site data centers

Delivers distributed independent power capable of being brought online in 2 hours or less

Compact and efficient with blade diameters 6 to 18 feet in total diameter and greater than 90% efficient

Emits zero noise and is bird friendly

Manufactures blades 1 every 15 seconds vs. 1 per month industry standard

Output in a small form factor that outperforms existing wind and solar technologies in actual power delivered

Saves utilities $$$ by delivering perfect power - Power factor of 1 reducing infrastructure costs and amount of currents delivered

100% Green and toxin free material - This is unpatrolled in the renewable energy market
Urethane Tire Technology 
Delivers the only viable replacement for rubber tires

Monolithic tire design eliminating chance of blowouts and tire tread separation Increased fuel efficiency of at least 10%

Increased lifespan at least 60%

100% recyclable

Eliminates need to burn rubber tires to eliminate pollution caused by rubber tire disposal

Save money as manufacturing process delivers 60 tires per hour vs. 1 rubber tire generated per hour

Only urethane tire to pass DOT testing in the world

Only tire to pass DOT testing without AIR

Runs flat for 500 miles

Decreases insurance claims related to tire defects, accidents and health related illness caused by rubber tires

Toxin free
Air Pollution Control System
Game changing technologies that can significantly help the underserved community!  History demonstrates that power plants and oil refineries that pollute our air, water and food are located in poor neighborhoods of Black and Latino communities.
This technology can remove the toxins and heavy metals to the standards of EPA.  The lack of any solution implemented that cleans the plants to meet minimum standards has led to the forced shut down of coal power plants across America.
This same technology can be used to remove day-to-day toxic emissions from oil refineries from plants including the Chevron oil refinery in Richmond.  This technology can be integrated into the global operations of our oil refineries to cut emissions and heavy metals delivering a cleaner brighter future for our youth!
Learn how this patented technology saved a California mine from shut down by controlling emissions and helps recover precious metals delivering ROI after implementation in less than one year!


Bridge Building Health Alternatives
Dr. Elijah Carter, leading medical doctor who teaches simplified strategies to maintain health and maximize energy to increase productivity living a long healthy life will be honored and will present during our morning session.  
Every executive, business owner and those seeking strategies to maximize health and reduce sickness and disease MUST attend this event.  Dr. Elijah Carter, leading medical doctor will expose information that can save lives of both the wealthy and poor.  Learn how a simple blood test could have detected Steve Jobs cancer early enough that he could enjoy the efforts of his fruit of building the most successful company in the history of the world.
Simplified strategies to maintain health and maximize energy to increase productivity living a long healthy life will be honored and will present during our morning session.  If you or someone you know has suffered from cancer, diabetes, hypertension or other disease you want to learn how the methods taught by Dr. Carter will change your life for pennies per day. 
If you or someone you know has suffered from cancer, diabetes, hypertension or other disease you want to learn how the methods taught by Dr. Carter will change your life for pennies per day. 
Who Should Attend:
This event will provide insight and access to leading edge technologies that will help increase revenue and decrease costs.  Utilities, regulators, city representatives, corporations, small business, manufacturers, fleet managers, auto and insurance industry representatives, community advocacy groups and community members.
BEC's 2nd Annual "Game Changers & Bridge Builder" Award Ceremony will be noted as the must attend event for those seeking leading edge best practices to maximize profits and introduction of game changing technologies.  Diverse firms will begin to re-invent their roles in our economic recovery led by support from the Black Economic Council to connect to high growth opportunities.
FAQs
What are my transport/parking options getting to the event?
Paid Parking is available at the Marriott or you can take Bart and exit at the City Center Station located right across the street from the hotel.  
Where can I contact the organizer with any questions?
Please contact Yolanda Lewis - YolandaLewis@BlackEconomicCouncil.org 
Is my registration/ticket transferable?
Yes, but please confirm the name so that the badges are properly printed at least 2 days prior to the event
Can I update my registration information?
Yes, please go online and update the information ensuring the name is spelled the way you want printed on the name badge 
The name on the registration/ticket doesn't match the attendee. Is that okay?
No, please update so that the name badges are correct for networking and meal preference
Organizer
Black Economic Council
Headquartered in Northern California, The Black Economic Council (BEC) is a national 501(c)(3) nonprofit established to advance the economic sustainability of Black Americans and other underserved, underrepresented communities of color.
Black Economic Council
4096 Piedmont Avenue, Suite 314  
Oakland, CA 94611-5221
2nd Annual Game Changers & Bridge Builders Awards Tribute