Description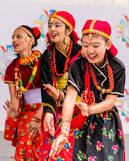 ---
Bhutanese society of Kentucky is now a 501(c) 3 nonprofit organization thanks to many support and opportunity of partnership with you that helped BSK to operate. Like in past, we are writing you to solicit your support and open other avenues of exchange and partnership as stakeholders in good faith.
BSK has now annual working calendar earmarked with community event like annual function, skill development training, and health training and these services help Bhutanese families in Kentucky to obtain city and state resources and help to build a productive and self-sufficient community in the State.
Though the fund raised in our first ever fundraising dinner last year could not support any mission driven activities or any specific project, we are able to continue the support system for needy families at funeral and time of crisis. Besides, most events in the calendar are within the scope of our budget.
We strongly believe that you will continue to believe in our mission of community empowerment and support this new community through partnership. Several areas for improvement in the BSK leadership are identified and we seek more help in capacity building of the board and staff. In March of 2017, we had leadership development training with Center for Nonprofit Excellence that offered us their membership at a discounted price. Such trainings in grant seeking and project management, accounting system are equally needed in the future.
Our IT specialist has worked in all his capacity to maintain the website, put appropriate information, develop effective ways of communication and other technology driven business of BSK.
BSK is always, grateful to all that our volunteers, staffs, general public, partners and stakeholders have done to help explore our programs and projects. When volunteer staffs commit themselves to volunteer extra miles on a consistence basis, they have chosen to give up their own time to support an activity to benefit others. BSK leadership wish their hours could be remunerated.
While grant seeking efforts are underway, BSK need to get some full time staff for managing grants and oversee specific projects. But, we believe in our organizational capacity and proclivity to support any family or individual in crisis.
---
In summary, we are in need of continuous support from donors and partners like you, so would like to invite you for a fundraising dinner on May 19 at Clifton Center