2nd Annual Extraordinary Women of Wonders International Conference
About this Event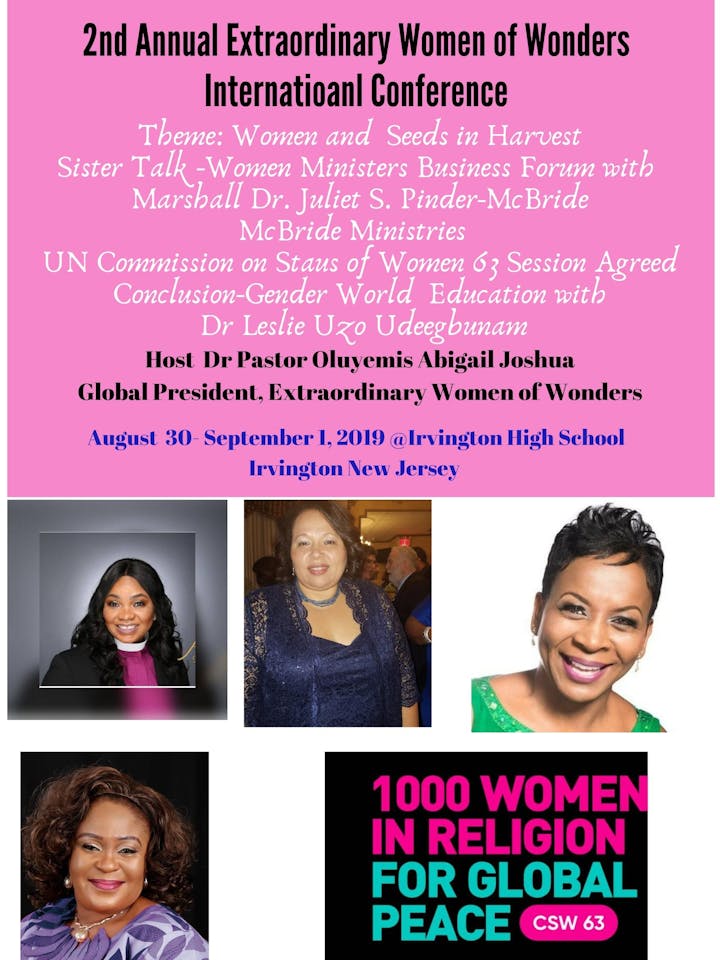 Extraordinary Women of Wonders International conference, conducted annually by the Women Ministry of Champion Royal Assembly USA, draw women from across the world who are women ministers of the gospel, women advocates, women organizations, educators in religious institutions, women ministries in interfaith communities and pioneers of change – the women who are re-drawing the map for how we'll live, work, produce, and maintain healthy Christian communities for the 2030 Agenda.
As the race for the Christian ministries across the world experience economies restructure and reshape business, Christian environments, access and opportunity, our 2nd annual cutting–edge conference will harness those must-have conversations in order to educate, inform and inspire women ministers, leaders and our partners to be out ahead of the change that is needed through our Salt of the Earth Project.
With an anticipation of more than 300 participants globally, the Conference in New Jersey is expected to be a great success.
Women ministers and church leaders will come together with experts and innovators to explore topics on the Theme: "Women and Seeds in Harvest" including education on the concluded UNCSW63 Session Agreed Conclusions, women health in our interconnected world, what's next in ministry exploration, Girl-Child model session, and the future of Christian women philanthropists (Extraordinary Women Business Session).
The conference will have evangelism–Chaplain education, Salt of the Earth workshop and special education training for women pastors and pastor's wives. The conference will conclude with Extraordinary Women of Wonders recognition service on Sunday with special recognition of women in ministry who have done extraordinary commitment to the work of the Ministry.
Program Format:
The conference will start from August 30 to Sept 1, 2019 with special courtesy visit on August 29,2019.August 29: Arrival
5:00pm: Courtesy Call to Assembly Wife of Mayor of Elizabeth to declare the conference open
August 30: Conference Sessions
Keynote Session: This Session will ignite action on the theme to create a roadmap on the expected outcome. Experts on gender, Christian harvest and seeds will be invited to deliver keynote speech
Keynote Education Session: UN CSW63 Session Agreed Conclusion education and discussion: UN Diplomats and women organization will be invited to educate world women in Christian ministry on the agreed conclusion. This will help women ministries to acquire more knowledge about work of the UN-Women to help improve on the work of the women ministry.
Breakout Session: Salt of the Earth Project
This session will explore the presentations from the keynote and education sessions through the group sharing and discussion to determine the annual conference project for 2019 Salt of the Earth programs. The groups' outcome through plenary presentation will aid in the decision for a project for Salt of the Earth.
August 31: Workshop, Innovation and Creativity:
Workshop: Harnessing the Power of Seeds in Harvest to achieve Christ-like Women Ministry
Innovative Approaches of Seeds in Harvest to achieve the Christ-like Women Ministry
Creativity: Participants will work to design their creative module in helping their women in their various ministries.
Evangelism-Chaplain training: This session is for those who registered to be admitted as Chaplains. They will hold training and education with the conference partner
Call to Action: Roadmap for Women and Seeds in Harvest
This session will hold an open shared forum raising discussions from the presentations, workshops, innovation and creativity sessions. The summary from the shared forum will led to the outcome of the2019 conference.
September 1: Corporate Service
The service will be held to Ordain the chaplains and admit them into the Extraordinary Women of Wonders-"Salt of Earth Team". The service will also graduate Doctor of Divinity to deserving Women ministers who have made remarkable commitment in communities on women and Seeds of Harvest.
Present Extraordinary Women of Wonders –Salt of the Earth Stakeholders Award to recognized women in ministry who have stood for the work of women in the ministry.
Deliver the outcome from the Conference
Closing Lunch and presentation of Certificates
Extraordinary Women of Wonders (EOWofW): The EOWofW is a program of Champion Royal Assembly Elizabeth UUSA Women ministry and vision of Pastor Dr Oluyemisi Joshua for women to be empowered with extraordinary spirit and gift in the work of God. It is her inert desire for the women to come together as a God-breathed organism of sisters, daughters, mothers, friends, and life-time legacy to set establish an atmosphere of one-love for each other and be on relational accord. It is a vision of unity for women to engage, learn and be part of a global movement to advance holistic Christian women for Salt of Earth Agenda. With a doctrinally sound and programmatic approach to ministry, Extraordinary Women of Wonders seeks to not only meet every woman at the point of her need, but to strengthen her so that she may reach the point of her abundance.