Event Information
Refund policy
Refunds up to 30 days before event
2nd Annual ETFGI Global ETFs Insights Summit - Europe & MEA - September 14 - 16 2021
About this event
Register to join the discussions at our 2nd annual ETFGI Global ETFs Insights Summit - Europe & MEA. The summit is designed to facilitate a substantive and in-depth discussion on the impact that ETFs have on markets and market structure, and the regulatory, trading, and technological developments impacting the use of ETFs.
Exciting line up of speakers in fireside chats and panel discussions with Q&A on timely and relevant topics with sponsor booths and virtual networking!
If you can't attend on the day, register anyway and you'll receive recordings of all the sessions.
Free registration and CPD educational credits are offered to buy side institutional investors, financial advisors and RIAs.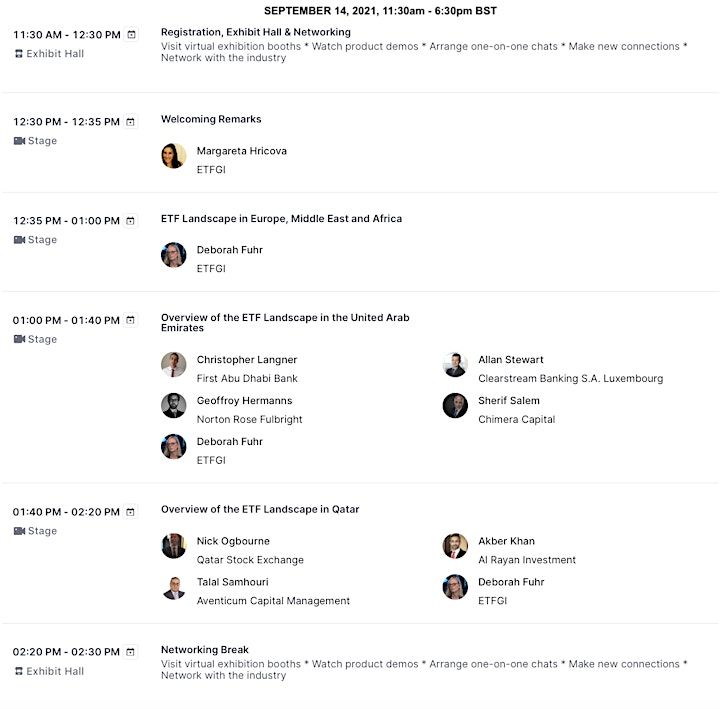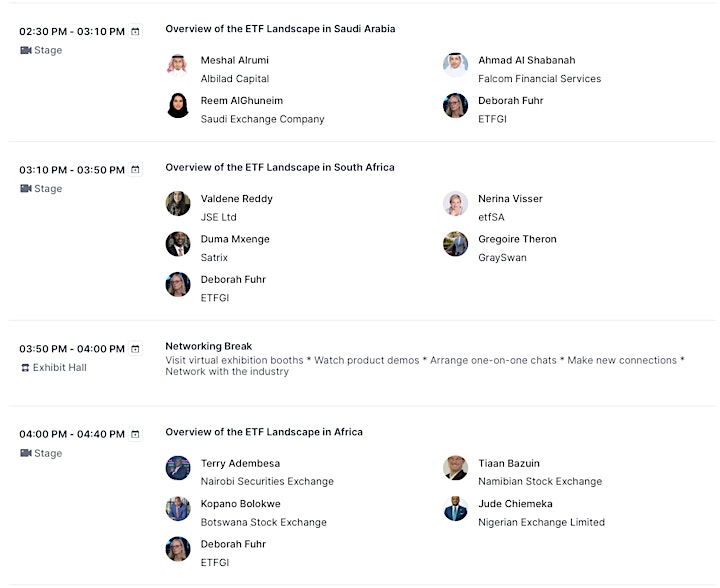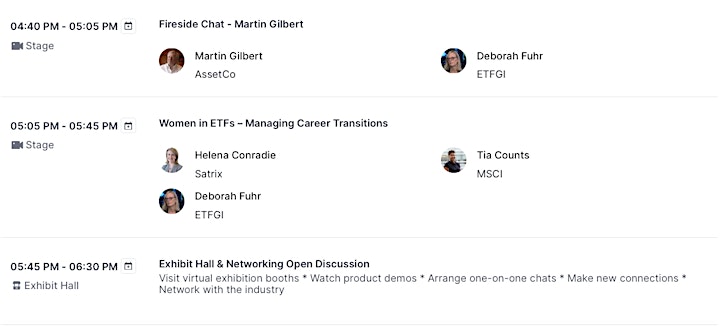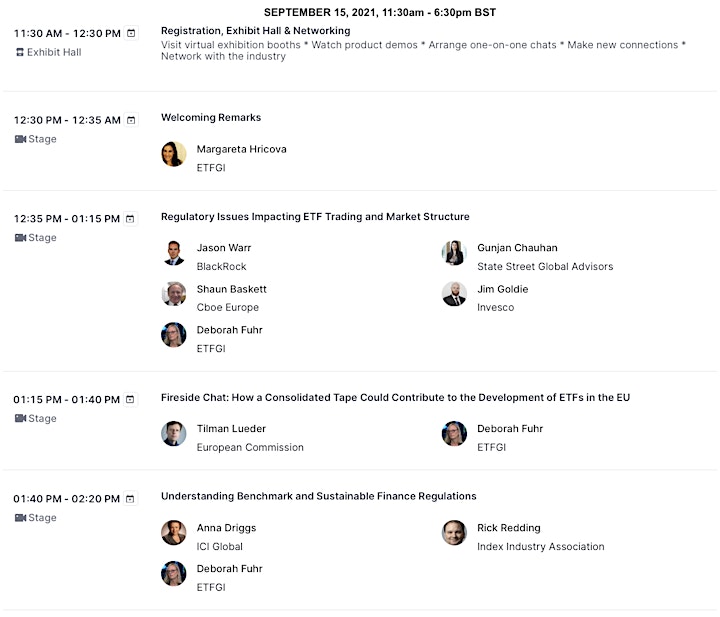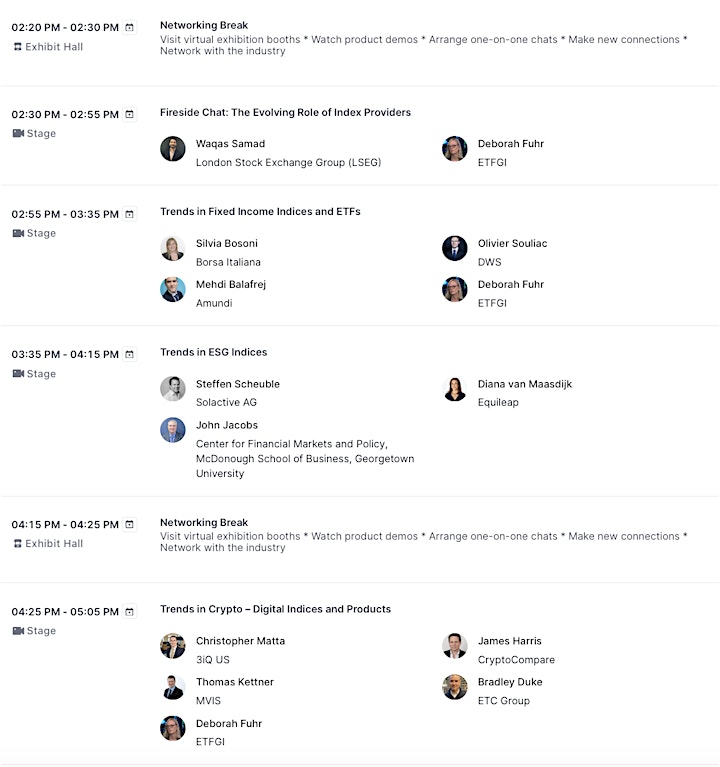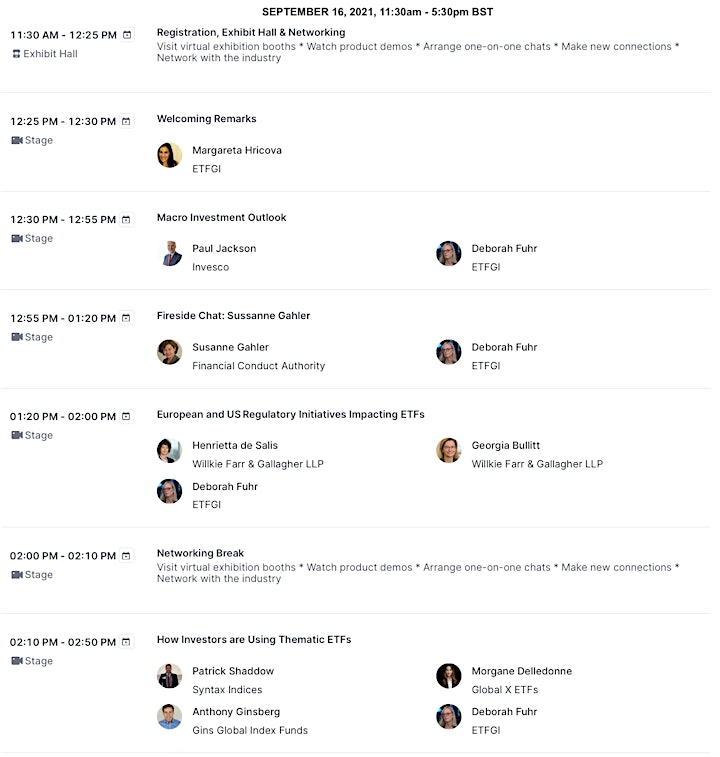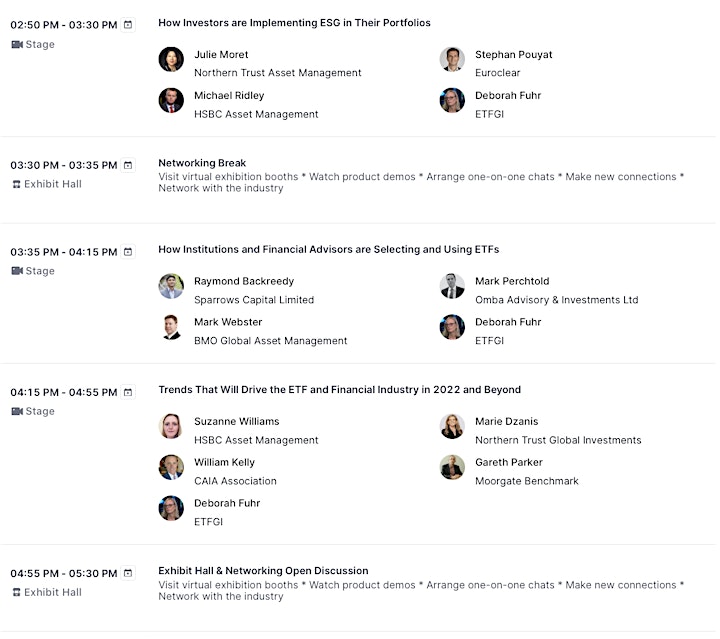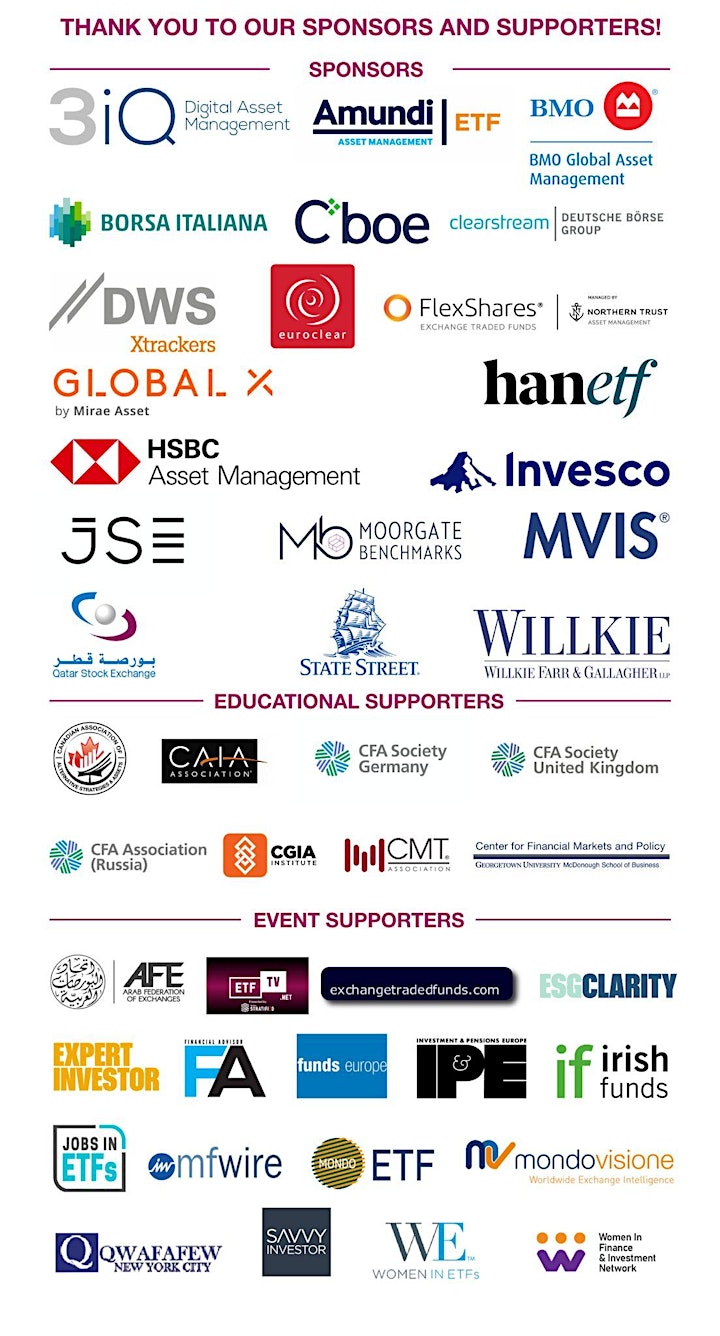 Panel Topics
• Trends in the Europe, Middle East and Africa ETF Landscape based on ETFGI research
• How Investors are Implementing ESG in Their Portfolios
• Regulatory Issues Impacting ETF Trading and Market Structure
• How a Consolidated Tape Could Contribute to the Development of ETFs in the EU
• Fireside Chat - Martin Gilbert
• Understanding Benchmark and Sustainable Finance Regulations
• Trends in Fixed Income Indices and ETFs
• Macro Investment Outlook
• Fireside Chat - Susanne Gahler
• How Investors are Using Thematic ETFs
• Overview of the ETF Landscape in Qatar
• Overview of the ETF Landscape in Saudi Arabia
• Overview of the ETF Landscape in South Africa
• Overview of the ETF Landscape in Africa
• Overview of the ETF Landscape in Israel
• Trends That Will Drive the ETF and Financial Industry in 2022 and Beyond
Speakers
• Terry Adembesa, Chief Business Officer, Nairobi Securities Exchange
• Ahmad Al Shabanah, Head of Asset Management, Falcom Financial Services
• Reem AlGhuneim, Manager of Fixed Income, Funds & Structured Products, Saudi Exchange Company
• Meshal Alrumi, Asset Management, Product Development Analyst, Albilad Capital
• Raymond Backreedy, CIO, Sparrows Capital Limited
• Mehdi Balafrej, Global Head of ETF & Index Portfolio Management, Amundi
• Shaun Baskett , Director, Index Sales ,Cboe Europe
• Tiaan Bazuin, CEO, Namibian Stock Exchange ("NSX")
• Kopano Bolokwe, Head of Product Development, Botswana Stock Exchange
• Silvia Bosoni, Head of ETFs, ETPs and open end Funds, Borsa Italiana
• Georgia Bullitt ,Partner, Willkie Farr & Gallagher LLP
• Liora Caplan, Head of Capital Markets Research, Bank Leumi
• Gunjan Chauhan, Global Head of SPDR ETF Capital Markets, State Street Global Advisors
• Jude Chiemeka, Divisional Head, Trading Business, Nigerian Exchange Limited
• Helena Conradie, CEO, Satrix
• Tia Counts, Managing Director, Chief Diversity Officer, MSCI
• Yaron Dayagi, CEO of Harel Mutual Funds and ETFs, Harel Insurance & Finance
• Henrietta de Salis, Partner, Willkie Farr & Gallagher LLP
• Morgane Delledonne, Director of Research, Global X ETFs
• Anna Driggs, Director and Associate Chief Counsel, ICI Global
• Bradley Duke, Co-Founder & CEO, ETC Group
• Marie Dzanis, EVP, Head of EMEA, Chief Executive Officer, Northern Trust Global Investments
• Guy Fischer, CIO & Deputy CEO, Migdal Insurance Co
• Deborah Fuhr, Managing Partner, Founder ETFGI
• Susanne Gahler, Manager, Asset Management Sector Team, Financial Conduct Authority
• Martin Gilbert, Chairman, AssetCo
• Anthony Ginsberg, Managing Director, GinsGlobal Index Funds
• Jim Goldie, EMEA Head of Capital Markets ETFs and Indexed Strategies, Invesco
• James Harris, Commercial Director, CryptoCompare
• Geoffroy Hermanns, Special Counsel, Norton Rose Fulbright
• Yaniv Hirsch, Indices Marketing Manager, Tel Aviv Stock Exchange
• Paul Jackson, Global Head of Asset Allocation Research, Invesco
• John Jacobs, Executive Director, Center for Financial Markets and Policy, McDonough School of Business, Georgetown University
• William Kelly, Chief Executive Officer, CAIA Association
• Thomas Kettner, Chief Operating Officer, MV Index Solutions
• Akber Khan, Senior Director, Asset Management, Al Rayan Investment
• Christopher Langner, Head of Investment Strategy, First Abu Dhabi Bank
• Tilman Lueder, Head of Unit – DG FISMA, Securities Markets, European Commission
• Christopher Matta, President 3iQ Digital Assets (US), 3iQ Corp.
• Julie Moret, Global Head of Sustainable Investing and Stewardship, Northern Trust Asset Management
• Duma Mxenge, Business Development Manager, Satrix
• Nick Ogbourne, Product Development Manager, Qatar Stock Exchange
• Gareth Parker, Chairman and Chief Indexing Officer, Moorgate Benchmarks
• Mark Perchtold, Director, Omba Advisory & Investments Ltd
• Stephan Pouyat, Global Head of Capital Markets and Funds Services, Euroclear
• Rick Redding, CEO, Index Industry Association
• Valdene Reddy, Director, Capital Markets, JSE
• Michael Ridley, Director, Responsible Investment, HSBC Asset Management
• Sherif Salem, CIO – Public Markets, Chimera Capital
• Waqas Samad, Former Group Head, Investment Solutions & CEO FTSE, London Stock Exchange Group (LSEG)
• Talal Samhouri, Senior Portfolio Manager, Aventicum Capital Management
• Steffen Scheuble, Chief Executive Officer and Founder of Solactive AG, Solactive AG
• Patrick Shaddow, President, Syntax Indices
• Olivier Souliac, Senior Product Specialist, Index Strategy & Analyt, DWS
• Allan Stewart, Vice President, ETF Sales and Relationship Managem, Clearstream
• Gregoire Theron, Chief Investment Officer, GraySwan
• Diana van Maasdijk, Co-Founder & Executive Director, Equileap
• Nerina Visser, Director, ETF Strategist and Financial Advisor, etfSA
• Jason Warr, Managing Director, EMEA Head of EII Markets, BlackRock
• Mark Webster, Director of ETF Sales, BMO Global Asset Management
• Suzanne Williams, Global Head of Product Development, HSBC Asset Management
Frequently Asked Questions
What is the registration cancellation policy?
Cancellations received by August 15, 2021 are subject to a $150 USD administrative fee. Notice of cancellation must be received in writing. After August 15, 2021, no registration fees can be refunded. However, if you are unable to attend, substitutions can be made, subject to conference organizer approval, and the administrative fee will not be applied.
What is the complimentary passes policy?
Complimentary passes are allocated at the full discretion of the conference organizers. Complimentary bookings made online are subject to verification by the conference organizers before confirmation of the complimentary pass. If the conference organizers review an online complimentary pass registration and determine that the company and/or registrant does not fulfill the criteria for the complimentary pass, the complimentary pass can be withdrawn at the full discretion of the conference organizers.
Who qualifies as "buy side" for a complimentary pass?
Complimentary passes are available for buyside institutional investors and financial advisors including (e.g., traders, portfolio managers, CIOs, ETF strategists) at asset managers, investment advisers, pension funds, insurance companies, hedge funds, endowments, foundations, fund selectors at family offices, financial advisers and robo-advisers. All buyside complimentary passes are subject to the conference complimentary passes policy, delineated above.
Is the conference open to the media?
Yes, this conference is open to the media.
Does the conference offer sponsorship opportunities?
Yes.  For information regarding sponsorships, please contact Margareta Hricova at margareta.hricova@etfgi.com and Deborah Fuhr at deborah.fuhr@etfgi.com.
Location
Refund policy
Refunds up to 30 days before event