Event Information
Refund Policy
Refunds up to 30 days before event
2nd Annual ETFGI Global ETFs Insights Summit - Europe & MEA - September 15 & 16 2021
About this Event
2021 Agenda will be posted soon
Last year's Conference Brochure
2020 Agenda
TUESDAY, NOVEMBER 17
13:00-13:10 Registration, Exhibit Hall & Networking
13:10-13:20 Welcome and Introduction to ETF Landscape in Europe
Deborah Fuhr, Managing Partner, Founder, ETFGI 
13:20-13:45 Fireside Chat – Global and European Regulatory Initiatives Impacting ETFs
Moderator: Deborah Fuhr, Managing Partner, Founder, ETFGI
Martin Moloney, Director General, Jersey Financial Services Commission
13:45-14:25 An Appraisal of Regulatory Issues Impacting Market Structure and ETF Trading
Moderator: Deborah Fuhr, Managing Partner, Founder, ETFGI
Rochelle Antoniewicz, Senior Director, Industry and Financial Analysis, Investment Company Institute
Federico Cupelli, Senior Regulatory Policy Advisor, EFAMA
Jim Goldie, EMEA Head of Capital Markets ETFs and Indexed Strategies, Invesco
Carol Thomas, Retail Markets Specialist, The Investment Association
14:25-15:15 ETF Trading – Creating Better Trading Systems and Trading Tools 
Moderator: Deborah Fuhr, Managing Partner, Founder, ETFGI
Ivan Gilmore, Head of Exchange Traded Products, Fixed Income & Alternatives, London Stock Exchange  
Frank Mohr, Head ETF Sales Trading, Societe Generale
Steven J Palmer, Head of ETF Trading, HSBC
Slawomir Rzeszotko, Head of Institutional Sales and Trading, Europe and Asia, Jane Street Financial Limited
Allan Stewart, Investment Funds Services, Clearstream Banking Luxembourg
15:15-15:40 Fireside Chat – Update on Benchmark Regulations and Consolidated Tape
Moderator: Deborah Fuhr, Managing Partner, Founder, ETFGI
Tilman Lueder, Head of Unit – DG FISMA, Securities Markets, European Commission
15:45-16:15 Understanding Crypto ETPs in Europe and Global 2021 Outlook
Moderator: Deborah Fuhr, Managing Partner, Founder, ETFGI
Gabor Gurbacs, Director, Digital Asset Strategy, VanEck
James Harris, Commercial Director, CryptoCompare
Hany Rashwan, CEO, Amun and 21Shares
16:15-16:40 Update on Regulatory Trends in the US ETF Industry
Moderator: Deborah Fuhr, Managing Partner, Founder, ETFGI
Georgia Bullitt, Partner, Willkie Farr & Gallagher LLP
16:40-17:05 Keynote - Trends That Will Drive the Financial Industry in 2021
Moderator: Deborah Fuhr, Managing Partner, Founder, ETFGI
Denzil Jenkins, Interim Chief Executive Officer, London Stock Exchange
17:05-17:30 Exhibit Hall & Networking Open Discussions
WEDNESDAY, NOVEMBER 18
13:00-13:30 Registration, Exhibit Hall & Networking
13:30-13:35 Welcome and Introduction to ETF Landscape in Europe
Deborah Fuhr, Managing Partner, Founder, ETFGI 
13:35-14:00 Macro Investment Outlook
Moderator: Deborah Fuhr, Managing Partner, Founder, ETFGI
Paul Jackson, Global Head of Asset Allocation Research, Invesco 
14:00-14:40 Trends in Fixed Income Indices and ETFs
Moderator: Deborah Fuhr, Managing Partner, Founder, ETFGI
Michael John Lytle, Chief Executive Officer, Tabula Investment Management
Melody Xian He, Managing Director, Head of Sales and Product Strategy, CSOP Asset Management
Vasiliki Pachatouridi, Head of iShares Fixed Income Product Strategy EMEA, BlackRock
14:50 – 15:15 Fireside Chat – Regulatory Trends in ESG and Sustainable Investing
Moderator: Deborah Fuhr, Managing Partner, Founder, ETFGI
Rick Redding, CEO, Index Industry Association
15:15-15:55 How Investors Are Implementing ESG Into Their Portfolios
Moderator: John Jacobs, Executive Director, Center for Financial Markets and Policy, McDonough School of Business, Georgetown University
Hernando Cortina, CFA, Executive Director, Head of Index Strategy, ISS ESG
Aled Jones, Head of Sustainable Investment, Europe, FTSE Russell
Howie Li, Head of ETFs, LGIM
Olga De Tapia, Global Head of ETF Sales, HSBC Global Asset Management
16:00-16:30 How Are Institutions and Financial Advisors Using ETFs? 
Moderator: Deborah Fuhr, Managing Partner, Founder, ETFGI
Mark Northway, Investment Manager, Sparrows Capital
Mark Perchtold, Director, OMBA Advisory & Investments Ltd
Jonas Thulin, Head of Asset Management, Erik Penser Bank
Bill Vasilieff, CEO, Novia Financial
Weixu Yan, Investment Manager, Close Brothers Asset Management
16:30-17:00 What Are the Future Trends That Will Impact Investor and ETFs? 
Moderator: Deborah Fuhr, Managing Partner, Founder, ETFGI
Marie E Dzanis, CEO & Head of Asset Management, EMEA
Northern Trust Asset Management
Kevin Gopaul, President, Exchange Traded Funds, BMO
Rory Tobin, Head Global SPDR ETF Business & Chairman, SSGA EMEA
17:00-17:05 Closing Remarks
Deborah Fuhr, Managing Partner, Founder, ETFGI
17:05-17:30 Exhibit Hall & Networking Open Discussions
2020 Sponsors: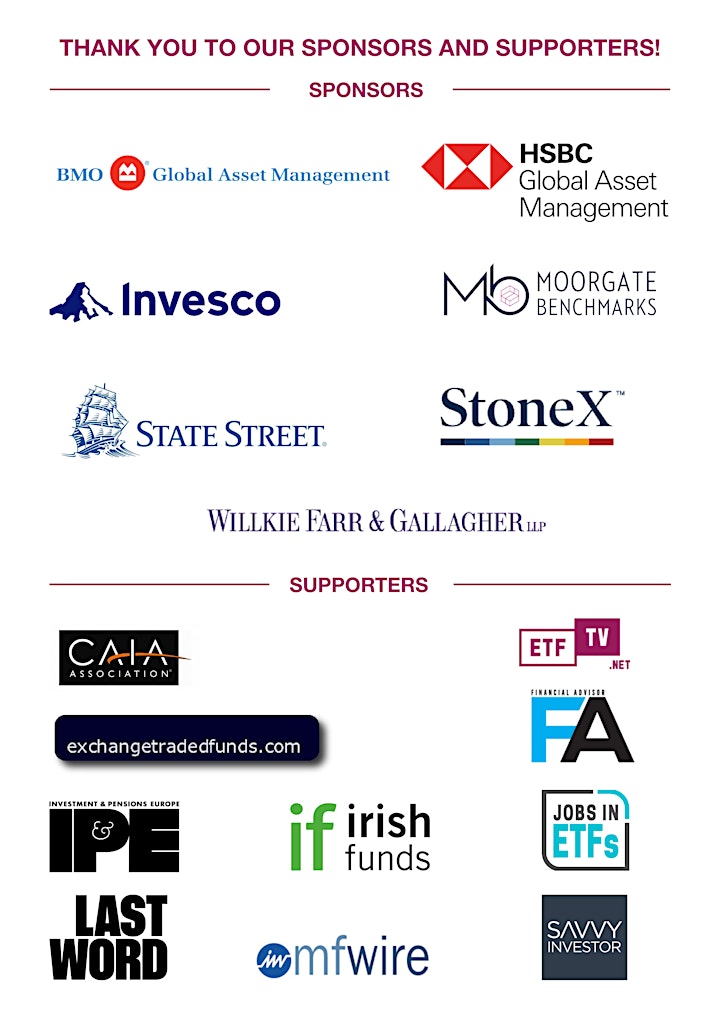 2021 Sponsors: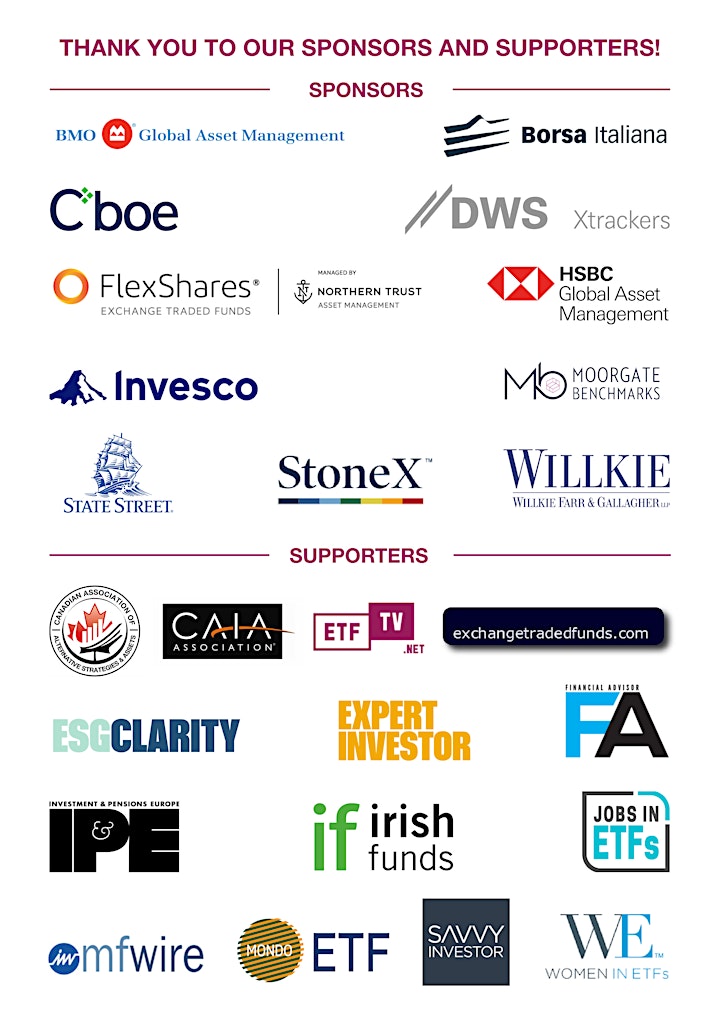 Frequently Asked Questions
What is the registration cancellation policy?
Cancellations received by August 15, 2021 are subject to a $150 USD administrative fee. Notice of cancellation must be received in writing. After August 15, 2021, no registration fees can be refunded. However, if you are unable to attend, substitutions can be made, subject to conference organizer approval, and the administrative fee will not be applied.
What is the complimentary passes policy?
Complimentary passes are allocated at the full discretion of the conference organizers. Complimentary bookings made online are subject to verification by the conference organizers before confirmation of the complimentary pass. If the conference organizers review an online complimentary pass registration and determine that the company and/or registrant does not fulfill the criteria for the complimentary pass, the complimentary pass can be withdrawn at the full discretion of the conference organizers.
Who qualifies as "buy side" for a complimentary pass?
Buyside complimentary passes are provided for members of the buy side based in Latin America including individuals (e.g., traders, portfolio managers, CIOs, ETF strategists) at asset managers, investment advisers, pension funds, insurance companies, hedge funds, endowments, foundations, fund selectors at family offices, financial advisers and robo-advisers. All buyside complimentary passes are subject to the conference complimentary passes policy, delineated above.
Is the conference open to the media?
Yes, this conference is open to the media.
Does the conference offer sponsorship opportunities?
Yes.  For information regarding sponsorships, please contact Margareta Hricova at margareta.hricova@etfgi.com and Deborah Fuhr at deborah.fuhr@etfgi.com.
Location
Refund Policy
Refunds up to 30 days before event