2nd annual E.S.S.I. gala benefiting RBRW Foundation
Join us for a powerful evening as we raise awareness and support a local organization RBRW in the fight against human trafficking
About this Event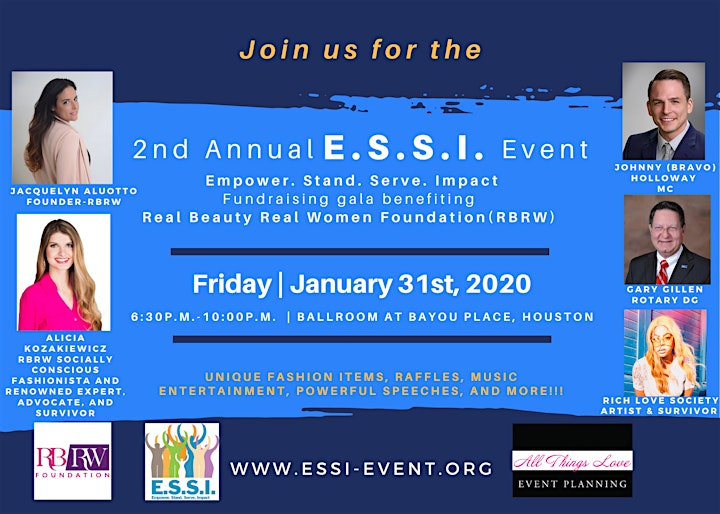 This powerful night includes:
• Dinner reception • Fundraiser/Auction • Keynote speaker • Survivor Testimonials • Music entertainment • Raffles
Attire: Cocktail/Formal
Valet Parking on site
MC: Johnny (Bravo) Holloway
Survivor speaker: RBRW socially conscious fashionista and renowned expert, advocate, and survivor Alicia Kozakiewicz
E.S.S.I. consists of a group of individuals, many of whom are Rotarians, passionate about making a difference in the community. We believe that our community would be a better place if every individual, business, and organization embraces and addresses a cause that ultimately results in improving the community.
The objective in initiating an annual E.S.S.I. event is to Empower people to embrace a worthy cause, encourage them to Stand for their belief in that cause, Serve through various avenues and resources, and positively Impact the community in so doing. This year's event will help raise awareness about sex and labor trafficking in Houston.
All proceeds from this year's event will go to RBRW (Real Beauty Real Women) Foundation, a 501(c)(3), whose mission is to break the cycle of violence, poverty, abuse, exploitation, and human trafficking.
Founded in 2009, Real Beauty Real Women (RBRW) Foundation is a 501(c)(3) non profit dedicated to breaking the cycle of violence, poverty, abuse, exploitation, and human trafficking. We serve and advocate for victims and families in crisis by changing legislation and providing wrap around services to victims and families in crisis. We work alongside law enforcement to advocate for the victims.
RBRW Foundation has impacted our communities in many ways including
- Co authoring federal sex trafficking amendment for restitution for victims with the FOSTA/SESTA bill that took down Backpage.
- Creating awareness campaigns on how children are sex trafficked and exploited in Texas and across the Nation.
- Building out an innovation and impact center for abuse and recovery victims.
- Implementing the Accountability Program, a program to help track and protect foster children. Developing a program to watch a 360 approach on the outcome of children in Foster Care.
Founder Jacquelyn Aluotto is the recipient of many awards and recognitions including mayoral proclamation (2018), Houston's 50 most influential women (2018), and Dedication for service (2019).