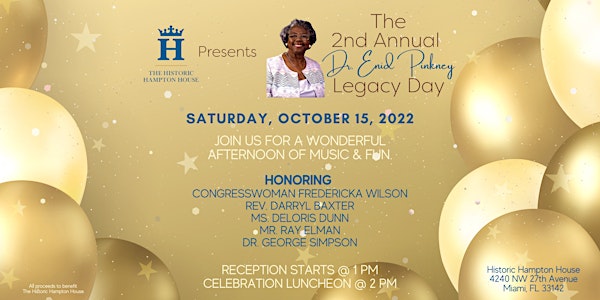 2nd Annual Dr. Enid Pinkney Legacy Day
The Board of Trustees and Host Committee invites you to the 2nd Annual Dr. Enid Pinkney Legacy Day at the Historic Hampton House.
When and where
Location
Historic Hampton House 4240 Northwest 27th Avenue Miami, FL 33142
About this event
This year's 'Legacy Day,' at the Hampton House will take a walk through the lives of several community members that have
Contributed to our local heritage, culture, and tourism
Leadership in the community
Recognized for their outstanding commitment to improving the quality of community life in Miami and South Florida
Established a reputation for exceptional community service.
The multimedia presentation will feature engaging conversations, and live classical music, jazz, and Hip Hop music will permeate the halls. Lush libations and dinner will be on tap for a most delightful evening. The Legacy Stroll through the museum will be offered, and doors will open at 1 pm when the festivities begin!
Be a part of the Commemorative Historic Hampton House 'Legacy Day' Journal by advertising your business, sorority, organization, or church, and even YOU can wish our honorees a Great Legacy Day! Tickets for the banquet and program are $91.91.
Additionally, we are asking you to be a Sponsor or purchase an Ad (see attached).
The event will be Covid 19 compliant, so seating is limited. GET YOUR TICKETS EARLY!
Looking forward to seeing you on October 15th!