2nd Annual Content Marketing Retreat

Thursday, January 26, 2012 at 9:00 AM

-

Friday, January 27, 2012 at 2:30 PM (PST)
Event Details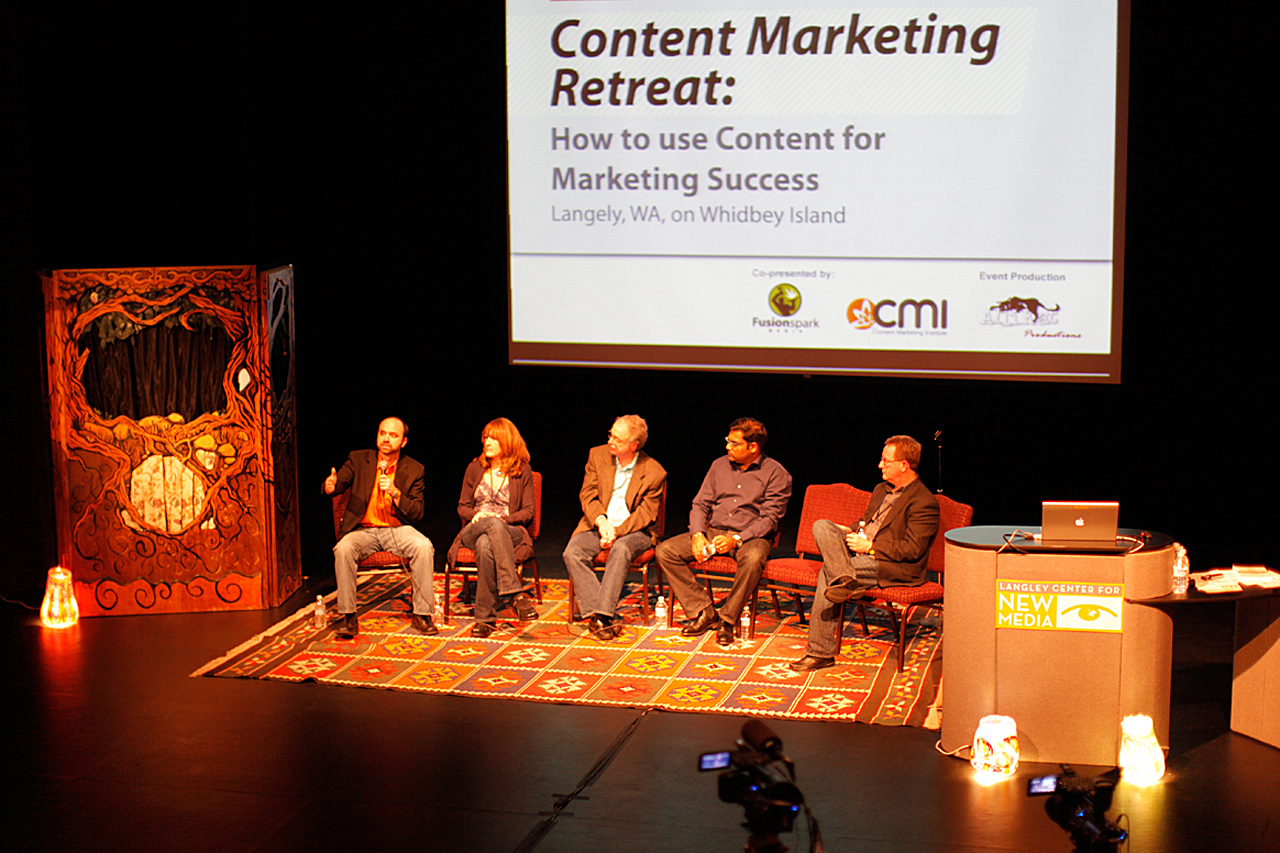 2nd Annual Content Marketing Retreat

Special Focus: The "How to" of Content Marketing
Expanding on the success of our first annual Content Marketing Retreat in 2011, this year's conference will move beyond "building the case for content marketing" to sharing strategic insight and best practices on how to effectively plan, manage and measure content marketing.
View Partial List of This Year's Registrations, as of Jan. 18, 2012

This year's Content Marketing Retreat will dive deeply into what it takes to succeed with content marketing, with a drill down into the latest approaches, tools and services that make measurement, content creation, curation, publication, distribution, social media participation and lead generation more effective.
IMPORTANT NOTICE:
Day of Event, Onsite Registration Options Are Limited
We will be taking payments by Check or Cash.
Or, you may log onto our Eventbrite Registration at the Event, with your own computer or mobile device, to pay.
Please help us provide a satisfactory experience for all by registering in advance of your arrival at the event.

It will showcase how to use content marketing to increase leads and customer loyalty and demonstrate case studies on how the latest technologies and tools add value to your communication, marketing and customer engagement initiatives.
Come with questions and leave with a plan of action including insight on best practices and tools and services that will help you more effectively use content marketing to grow your business.
Join senior marketers, business owners, PR pros, web strategists, content creators for fresh ideas, strategic insight, professional development and great networking in a unique retreat setting. See Full Program Details
Day 1 Presentations

On Day 1, noted experts, authors and representatives of the "best in class" marketing and public relations tools and services providers will give you deep insight into problems, challenges and the "how to's" of contemporary content marketing.
These presentations are not sales pitches; rather they're deep insight and analysis that'll be shared in a professional training setting.
Day 2 Breakout Sessions

On Day 2, attendees will have an opportunity to attend deep dive sessions into the products and services represented by the speakers. By the end of these two days, attendees will leave the Center with an accumulated base of knowledge that might otherwise take weeks to months to develop. See Full Program Details
Testimonials from 2011 Content Marketing Retreat
Content strategy is increasingly becoming one of the most integral components of PR. I recommend the Content Marketing Retreat for PR pros that want to gain insight into the leading trends and issues affecting content marketing and how to turn up the impact and effectiveness of their programs through great content.
-- ELIZABETH POWELL, Sr. Vice-President, Edelman PR Worldwide
Russell is doing great stuff up on Whidbey. I participated in the Content Marketing Retreat last year and the speakers were top notch, the venue good and I could really see this becoming an important conference under his guidance.  
-- T.A. MCCANN, CEO, Gist, Inc.
[The retreat was] small and interactive but content/speakers much better than I expected. One of the best for ideas & best practices to take back to the office I've been to in a long time.
-- JOHN FREAD, KL Corp

I've had the pleasure of being involved in two of Russell's events held at the Langley Center for New Media. Both events - the Content Marketing Retreat and a Prezi Workshop - were unbelievably well-organized, professionally relevant and extremely well-attended.
I love coming to Langley to learn, think outside the box and getaway from the daily grind to think about new ideas and innovative marketing and professional solutions. Russell knows the community well and does a great job coordinating everything for out of towners.
 I strongly reccommend attending or participating in any of Russell's events at the Langley Center for New Media and hope to be there soon helping others learn from my experiences as well.
 Thanks Russell for providing a really professional getaway for people interested in expanding their mind!
-- ANDREW DAVIS, TippingPoint Labs, Inc.
My brain is fizzy with all that I took away from the 2-day retreat and I'm itching to apply what I've learned. Russell Sparkman did an outstanding job by bringing together 11 (!) field experts from diverse industries, and putting together a rapid-fire program that built on each speaker's unique perspective and lessons. The break-out sessions provided attendees with a great chance to work through real-world scenarios (from the group itself) or delve deeper into ideas of particular interest. I've been raving about the experience since I got back home. Thanks again to Russell, his team, the presenters and the volunteers who made this happen!
-- TRACY BAINS, @tbains

Schedule
Day 1, January 26, 2012
8 – 9 AM: Check In
9 – 4 PM: Presentations
(Lunch Included)
Day 1 Reception and Networking Party
5 – 7 pm, Firehouse Glassworks and Gallery (Ticket Sold Separately)
Day 2, January 27, 2012
8 AM – 2:30 PM Breakout Sessions (Lunch Included)
Additional Information

For additional information, including Speaker Profiles, Lodging Information, etc., please visit Langley Center for New Media
When & Where

Whidbey Island Center for the Arts
565 Camano Avenue
Langley, WA 98260


Thursday, January 26, 2012 at 9:00 AM

-

Friday, January 27, 2012 at 2:30 PM (PST)
Add to my calendar
Organizer
The Langley Center for New Media is the education and training division of Fusionspark Media.
Programs produced by the Langley Center for New Media are held in various venues in Langley, WA, so please check for details about specific conference or workshop venues.
Call 360-221-4001 if you have questions regarding this program.