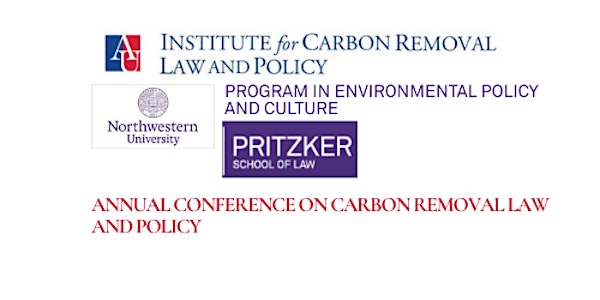 2ND ANNUAL CONFERENCE ON CARBON REMOVAL LAW AND POLICY
2nd Annual Conference on Carbon Removal Law and Policy: The Role of Domestic Law and Policy in Regulating and Facilitating CDR
Refund Policy
Contact the organizer to request a refund.
Eventbrite's fee is nonrefundable.
About this event
See the full agenda here.
In recent years, the lion's share of commentary on the governance of carbon dioxide removal research and deployment has focused on the potential role of international treaty regimes and customary international law. However, for many CDR options, domestic laws and regulations, including at both the national and sub-national level, will play an important, often predominant, role. Understanding the regulatory landscape is particularly important for start-up companies in this dynamic sector, as well as government agencies that may be called upon to respond to requests for permitting or advice.
This year's conference will focus on the role of domestic law (throughout the world) in the carbon dioxide removal sector. It is our hope to bring together speakers from the corporate, government, NGO and academic sectors to explore lessons learned to date, as well as to discuss interstices in legal and regulatory frameworks, and approaches that can help to streamline governance mechanisms, while protecting the interests of all stakeholders. We will seek to address both procedural aspects of governance, including the role of public engagement, as well as pertinent substantive laws and regulations.
The agenda is as follows:
*Subject to change
Tuesday, September 27th, 2022
9:30 am – 10:30 am EDT
ROUNDTABLE: Aligning Federal Policies with Carbon Removal Solutions to Accelerate Deployment
10:35 am – 12:05 pm EDT
PANEL: Carbon Dioxide Removal and Environmental Justice
12:10 pm -1:00pm EDT
Keynote address: Dr. Jennifer Wilcox, Principal Deputy Assistant Secretary for the Office of Fossil Energy and Carbon Management
1:45 pm – 2:45 pm EDT
PANEL: Emerging Issues in U.S. Federal Law for Carbon Dioxide Removal
2:50 pm – 4:05 pm EDT
PANEL: The Challenge of Measurement, Reporting, and Verification for Ocean-Based Carbon Dioxide Approaches
Wednesday, September 28th, 2022
09:00 am – 10:30 am EDT
PANEL: The Current Legal Terrain for Greenhouse Gas Removal in the United Kingdom in the European Union
10:35 am - 12:05 pm EDT
PANEL: Review of the Diversity of State Policies and Regulations of CO2 Storage
See the full agenda here.