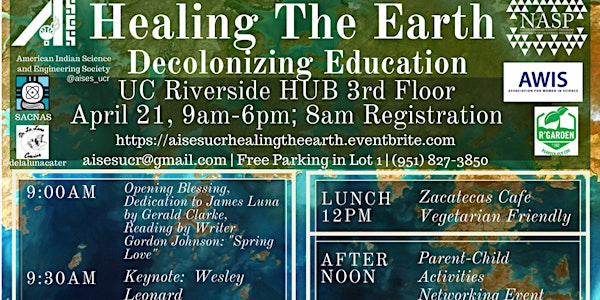 2nd Annual Conference of Healing the Earth: Decolonizing Education
Location
UC Riverside HUB 3rd floor
Parking in Lot 1
Riverside, CA 92507
United States
Description
Information
Development of a space unique, and bold in inclusivity, and critical theories of sciences, arts, and society; through the lens of indigeneity and marginalized communities around the Americas. For many of us, we have never had a space to share, express, and discuss the very topic of Indigenous STEM separate from the academies of Africa, Europe and Asia; let alone the ideas and concepts resulting from such a space. Through the annual "Healing the Earth" conferences, we focus on bridging communities and sharing discussion through faculty, professional and student panels, and research - in addition to sharing delicious, sustainable food.
Agenda
8-9 am: Registration
9am - Opening Blessing, Dedication to James Luna by Dr. Gerald Clarke,
Reading by Gordon Johnson: "Spring Love"
9:30AM - Keynote: Dr. Wesley Leonard; Professor of Linguistics and Ethnic Studies; Faculty advisor for AISES UCR chapter
9:50AM – Keynote: Suzanne Pierre, Extracting Imperialism from Environmental Education; PhD Candidate: Cornell.
10:30AM - Sovereignty of Knowledge Panel; Gordon Johnson,
Ethnobotanist Donna House, and UCR Faculty: Dr. Allison Hedgcoke, Dr. Mark Minch, Dr. Wesley Leonard.
11:30AM - Tabling and Networking Event, Parent-Child supervised activities.
Lunch 12PM – Zacatecas Café, vegetarian friendly

1:00PM - Graduate Student STEM Panel: Identity and Culture; BioGeo-Chemistry, Chemistry, Molecular Biology, Engineering.
2:00PM - Research and Community Presentations Featuring: The Intertribal Agricultural Council.
3:00PM – Responsibly Disseminating Knowledge Workshop; AISES and AWIS.
3:00PM – Screening "Zapatista Moon"

4:00PM - AISES Region 2 General Assembly
4:30PM – Screening "Mesoamerican Diet: Origins"

5:00PM – Reception and close by 6PM
Aims:
Development of unique space
Critical theories of sciences, arts, and society;
Lens of indigeneity and marginalized communities around the Americas.
Inclusive to all academic backgrounds
Conference Activities:
Bridging communities and sharing discussion
Faculty, professional, and student panels
Research presentations
Sustainable, native food
Receptions are held so that we may network and exchange ideas.
Audience
The Indigenous communities of Southern California and beyond
UCR community
Regional and National AISES and SACNAS chapters
Anybody willing to accept that sustainability is directly impacted by our actions
Those interested in emissions and the state of the world's ecosystem, but also by the state of the indigenous sovereignty
Philosophers, cultural critics, and people of community oriented populations