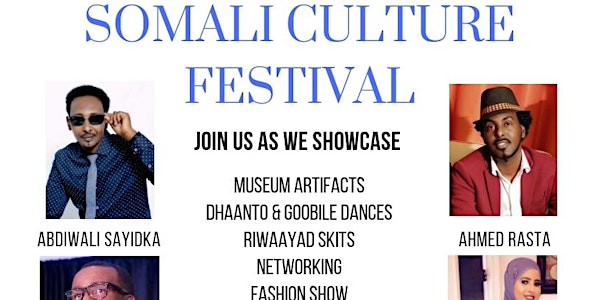 2nd Annual Columbus Somali Festival
When and where
Location
4411 Tamarack Blvd 4411 Tamarack Boulevard Columbus, OH 43229
Description
Columbus' exploding international population means a melting pot of cultures welcomes visitors with unusual cuisines, arts and traditions. Underscoring the celebrated diversity of Ohio's capital city, some 60,000 Somali people now call Columbus home, creating the second-largest concentration of Somali immigrants in the United States. The festival is designed to celebrate the city's openness to immigrants and allow visitors and locals alike to experience the uniqueness of Somali culture through its food, art and history.
Colorful presentations of historical artifacts, Dhaanto and Goobile dances, Riwaayad skits and a fashion show will take place, alongside the artistry of two of Somalia's most celebrated performers, Abdiwali Sayidka and Ahmed Rasta. Wildly interesting, Somali cuisine varies regionally and is a fusion of different traditions, including East African, Arab, Turkish and Italian influences. Festival tickets are available at the door for $15 or online here.
The festival is hosted by the Our Helpers, a Columbus nonprofit working to help new Americans overcome social and economic obstacles through advocacy, job placement and connection to community resources. Since 2012, it has helped thousands of immigrants break down language and cultural barriers in order to become self-sufficient members of the local economy and part of a cohesive area community. More than 500 independent Somali-owned businesses contribute to Columbus's fascinating and diverse local culture, including retail shops, restaurants and specialized trades.
"Our immigrant population is part of the fabric of what makes Columbus so vibrant," Mayor Ginther said in a press release. "They are our neighbors. We must not turn our backs on them, now or ever."
Please get your tickets fast as seating is limited. Kids under 12 are free so bring the kids.